Friday, April 12, 2019
Makar Leads Award Honorees
Hobey Baker Award winner is the first from UMass.
---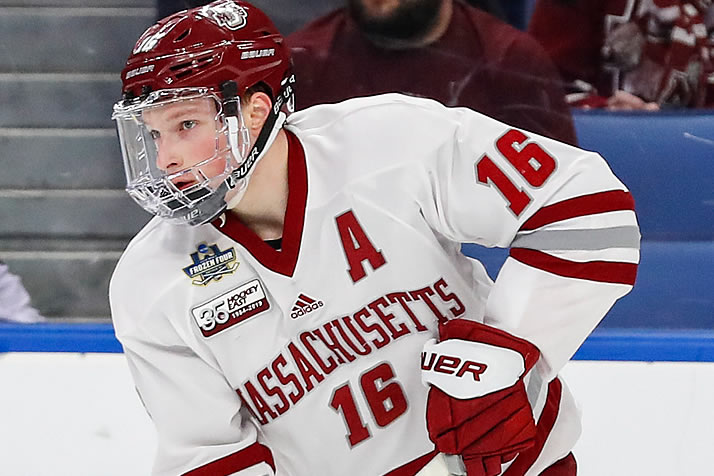 Cale Makar enters the NCAA championship game one point off the national scoring lead (Photo by Matt Dewkett).
On the eve of the national championship game, Massachusetts sophomore defenseman Cale Makar captured the 2019 Hobey Baker Award as the top player this year in college hockey.
Makar's honor headlined the Friday at the Frozen Four awards ceremony at Buffalo's HarborCenter. Also honored:
Mike Richter Award: Cayden Primeau, Northeastern
Hockey Humanitarian Award: Jake Bunz, Wisconsin
Tim Taylor National Rookie of the Year: Joel Farabee, Boston University
Derek Hines Unsung Hero Award: Brendon Kearney, Ohio State
AHCA All-America Teams – listed below
Makar enters the national championship game with 49 points, one shy of the national scoring lead. He beat out two other defensemen, Harvard's Adam Fox and St. Cloud State's Jimmy Schuldt, who were the other members of the Hobey Hat Trick.
The Calgary native was also named a first-team All-American along with teammate Mitchell Chaffee. St. Cloud State led all schools with four All-America selections.
Wisconsin's Jake Bunz claimed the Hockey Humanitarian Award as "college hockey's finest citizen." After a mission trip to benefit an orphanage in Haiti, Bunz became actively involved in the development of the Fond Blanc Foundation to further assist the orphanage.
"As we got on the bus to leave, I'm seeing all the kids and it just hit me, we're going to go back and live this comfortable life back in the States and nothing is going to change for these kids," Bunz said. "They're going to stay in these same conditions. I looked at my mom and said, 'You always told us not to turn our head from people in need. We need to do something about this.' That was the catalyst and when the foundation started."
---
2019 AHCA All-Americans
First Team East CCM Hockey All-Americans
Cayden Primeau, SO, Northeastern University
(Voorhees, NJ)
Goalie
Adam Fox, JR, Harvard University*#
(Jericho, NY)
Defense
Cale Makar, SO, University of Massachusetts
(Calgary, AB)
Defense
Mitchell Chaffee, SO, University of Massachusetts
(Rockford, MI)
Forward
Ryan Kuffner, SR, Princeton University @
(Ottawa, ON)
Forward
Nico Sturm, JR, Clarkson University
(Augsburg, Germany)
Forward
Second Team East CCM Hockey All-Americans
Andrew Shortridge, JR, Quinnipiac University
(Anchorage, AK)
Goalie
Jeremy Davies, JR, Northeastern University#
(Sainte Anne-de-Bellevue, QC)
Defense
Joseph Duszak, JR, Mercyhurst University
(Franklin Square, NY)
Defense
Blake Christensen, JR, American International College
(Coral Springs, FL)
Forward
David Cotton, JR, Boston College
(Parker, TX)
Forward
Josh Wilkins, JR, Providence College
(Raleigh, NC)
Forward
First Team West CCM Hockey All-Americans
Hunter Shepard, JR, University of Minnesota Duluth
(Cohasset, MN)
Goalie
Quinn Hughes, SO, University of Michigan
(Orlando, FL)
Defense
Jimmy Schuldt, SR, St. Cloud State University
(Minnetonka, MN)
Defense
Taro Hirose, JR, Michigan State University
(Calgary, AB)
Forward
Patrick Newell, SR, St. Cloud State University
(Thousand Oaks, CA)
Forward
Rem Pitlick, JR, University of Minnesota
(Plymouth, MN)
Forward
Second Team West CCM Hockey All-Americans
Joey Daccord, JR, Arizona State University
(North Andover, MA)
Goalie
Jack Ahcan, JR, St. Cloud State University
(Savage, MN)
Defense
Bobby Nardella, SR, University of Notre Dame
(Rosemont, IL)
Defense
Scott Perunovich, SO, University of Minnesota Duluth#
Hibbing, MN)
Defense
Mason Jobst, SR, The Ohio State University%
(Speedway, IN)
Forward
Blake Lizotte, SO, St. Cloud State University
(Lindstrom, MN)
Forward
Troy Loggins, SR, Northern Michigan University
(Huntington Beach, CA)
Forward
# First Team in 2017-18; @ Second Team in 2017-18
* First Team in 2016-17; % Second Team in 2016-17