Wednesday, April 10, 2019
Printz Eyes Another Title
Providence sophomore hopes to follow in the footsteps of his favorite NHL team.
---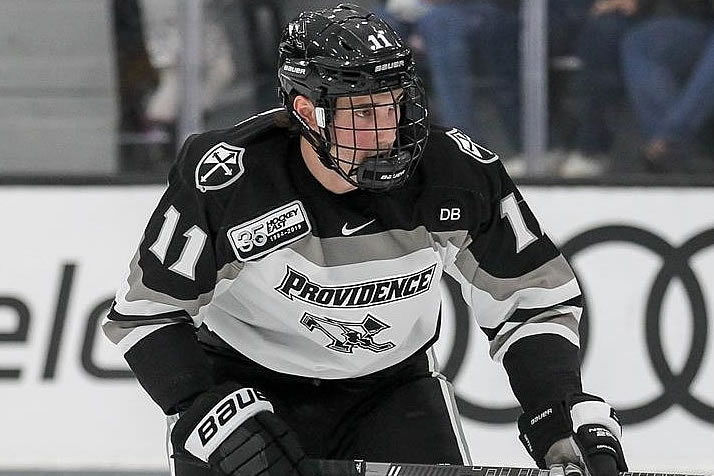 Providence sophomore hopes to follow in the footsteps of his favorite NHL team.
By Nate Ewell
As Greg Printz plays in the biggest game of his career Thursday night in the Frozen Four, the Providence sophomore fully understands that his family – parents Regina and Jack and sister Jessica – may have one eye on an iPad or phone in the KeyBank Center stands.
Wednesday at the Frozen Four: Cale Makar | Parker Mackay | Jarid Lukosevicius
The Printz family of Washington, D.C., suburb Fairfax, Va., will not just be keeping tabs on Greg and the Friars, but also the start of the Stanley Cup Playoffs as their beloved Capitals begin their defense of the Stanley Cup.
"It was awesome," Greg said of watching last spring's run. "Especially after the last six years of them never getting out of the second round. My parents and my sister would go to all the games and they went to the parade. It was just amazing to get to watch. It felt like I was a part of it because I had grown up around it so much."
Frozen Four Storylines | Media Kit (.pdf)
Printz became a fan as Alex Ovechkin entered the league, and has pictures of Ovechkin celebrating at the glass with Printz in the background, having moved down from his 400-level seats. Printz identified more with Ovechkin's right wing at the time, Clarkson alum Chris Clark, who is now with the Columbus Blue Jackets in player development.
Last summer, Clark invited Printz to the Blue Jackets' development camp. That was part of a critical summer for Printz's development, amid the celebration of the Caps' Cup.
He spent most of the summer on campus, where he worked on his skating, his shot and his hockey sense. The result has been an 11-goal, 18-point season, a big jump from his 4-6—10 line as a freshman.
"He had a really big off-season," associate head coach Kris Mayotte said. "He put on good weight and was able to take advantage of our weight room and shooting room. His shot and release have really improved, and he went into the season with confidence."
Now Printz – who played for the Little Caps as a kid – carries that confidence into Thursday's NCAA semifinals, and sees parallels in Providence's pursuit of a championship
"After [the Caps] won, seeing how they brought the city together was special," he said. "It gives you something to follow and something you want to strive for. If we can win at this level, and get to do what they did, we can bring the city of Providence together. Even after winning the regional we could feel that a bit."