Friday, April 19, 2019
Top Recruiting Tips with New Rules
New NCAA rules may slightly alter the approach for prospective student-athletes.
---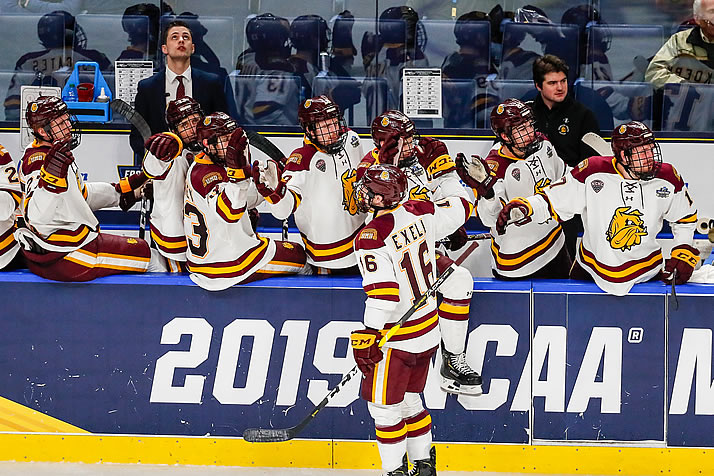 New rules will impact how prospective recruits find their way to NCAA benches.
The new rules approved by the NCAA in April 2019 will significantly alter the recruiting timeline for prospective men's hockey student-athletes. Prospects' approach to recruiting will in many ways remain the same, with some slight alterations to fit the rule changes.
New Rule Details | NCAA Recruiting | Recruiting FAQ
Here are five top tips to succeed in the new environment:
Be Patient. Recruiting has always required patience, but the new rules will emphasize it more than ever before. Previously college coaches could speak with prospective players at any age, so top players were often encouraged to be proactive and reach out to coaches.

Now coaches cannot field those calls from prospects prior to Jan. 1 of their sophomore year (grade 10). Prospects younger than that should be patient and put concerns about their college future aside. In many cases the recruiting process will not begin until much later. Prospects should focus on where they are playing and not worry about what lies ahead.


Emphasize Development. Inevitably, the best players at 14 are not always the best players at 19. Continue to work on your game and put yourself in position to capture coaches' attention once they can initiate recruiting conversations.

The new rules should benefit those players who develop the most in bantam, midget or high school hockey, putting them in position to attract recruiting attention once conversations and verbal offers are permitted.


Focus on Academics. The NCAA Eligibility Center and school admissions offices consider your grades throughout high school, so prospects should strive for academic success at all times. The better a prospect's grades, the more schools can recruit them – and some can offer financial assistance based upon academic performance.

Prospects also must take what the Eligibility Center considers 16 core courses in high school, so be sure to take care in what courses you take as early as freshman year (grade 9). Find out more about academic requirements in this story.


Do Your Research. The new timeline will give some top prospects more time before they field their first offers from schools. Take that time to consider what you want out of a university and its hockey program. Among the things to consider:

What size or location school appeals to you?
What academic programs would you want a school to offer?
What is the coach's style and does it fit your game?



Prospects can find answers to many those questions on school web sites, or visit collegeboard.org for more information about schools across the country. Current and former college players and their parents can also be a great source of information as prospects begin to consider what they want in a college.


Get to Campus. Timing for unofficial visits (beginning Jan. 1 of sophomore year) and official visits (beginning Aug. 1 before junior year) dictates when college coaches can have recruiting contact with you on campus.

Even before then, prospects can visit campus without recruiting contact. Taking a campus tour or attending a game can help prospects put into focus the type of school they might want to attend. You may even consider attending a hockey camp on campus, though recruiting conversations cannot take place there until Jan. 1 of sophomore year.
In the end, the recruiting timeline may have changed, but the goal of college coaches remains the same: identify and attract quality players and people to their programs. If you fit those characteristics, the recruiting process can be a fun one whenever it begins.