Friday, May 10, 2019
Alums Aim for Cup Final
30 former college players have appeared in playoffs for Conference Final teams.
---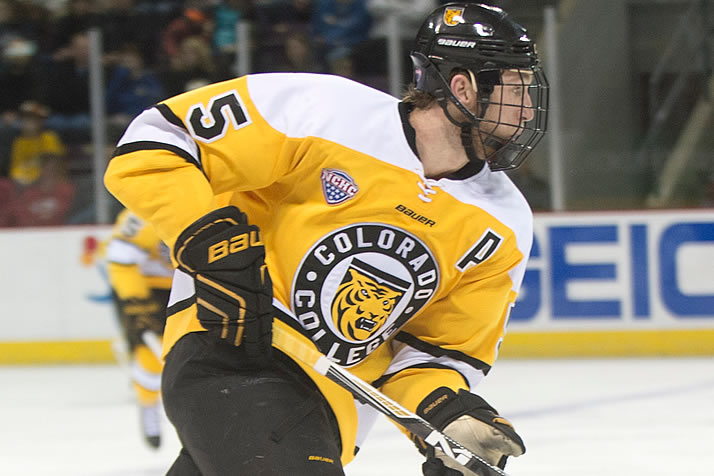 Jaccob Slavin is one of two Colorado College alums leading his team in scoring in the playoffs.
Thirty former NCAA players have helped lead their NHL teams into the Conference Finals, as Boston-Carolina and San Jose-St. Louis face off to determine this year's Stanley Cup Final participants.
Alumni in the field include two team-leading scorers (Jaccob Slavin and Jaden Schwartz), a team captain (Joe Pavelski), two general managers (Don Sweeney and Don Waddell) and a head coach (Rod Brind'Amour).
Boston leads the four teams with 12 former college players having seen playoff action for the Bruins. Three Boston University alumni on the Bruins lead a group of 10 schools represented in black and gold.
In total, 19 schools have a player who has appeared in the playoffs for one of the four teams. Boston University, Colorado College, Denver and New Hampshire lead all schools with three representatives each.
Boston – Carolina
Nineteen players representing 13 schools have appeared in the playoffs for the two teams
Minnesota Duluth is the only school represented on both rosters, with former NCAA champions Justin Faulk (Carolina) and Karson Kuhlman (Boston)
New Hampshire boasts three alumni on Carolina (Warren Foegele, Brett Pesce, Trevor van Riemsdyk), while Colorado College has two (Curtis McElhinney, Jaccob Slavin)
Both general managers played college hockey: Boston's Don Sweeney (Harvard) and Carolina's Don Waddell (Northern Michigan)
San Jose – St. Louis
Ten players representing nine schools have dressed in the playoffs for the two teams
San Jose's Joe Pavelski (Wisconsin) is one of six NCAA alumni to wear the 'C' in the NHL this season
Jaden Schwartz (Colorado College) leads the Blues in playoff scoring