Wednesday, May 8, 2019
Commits Face off for USHL Title
Chicago, Sioux Falls contend for 2019 Clark Cup.
---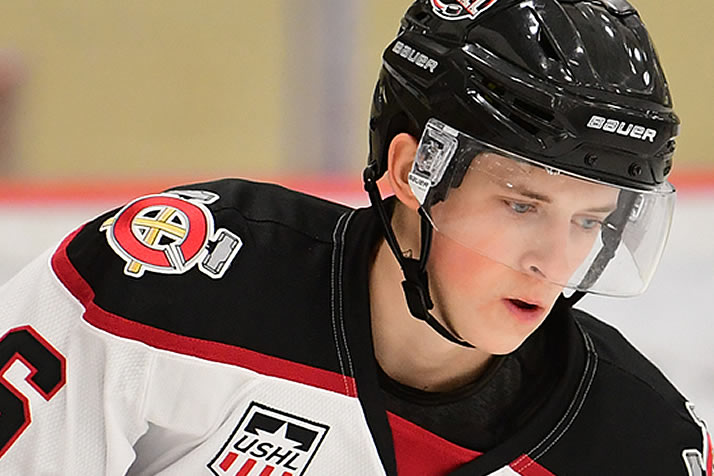 Harvard commit Nick Abruzzese of Chicago leads all USHL players in playoff goals and shares the lead in playoff points (Photo by Hickling Images).
Dozens of future NCAA will compete for the USHL's Clark Cup when the puck drops on the 2019 Clark Cup Final Friday between the Chicago Steel and Sioux Falls Stampede.
Twenty-five schools have commits who have played for the Steel or Stampede in the playoffs entering the best-of-five final series. In total, 42 players between the two teams are committed to NCAA programs representing all six Division I conferences.
Clark Cup Playoffs Hub | Watch on HockeyTV
UMass Lowell, Minnesota State and Penn State lead all schools with three commits participating in the final. Eight schools – Boston University, Miami, Michigan, Minnesota, Penn State, Quinnipiac, Rensselaer and Wisconsin – have future teammates that will face each other in the series.
Chicago's Nick Abruzzese (Harvard) and Robert Mastrosimone (Boston University) lead all playoff performers in points (13) through eight playoff games. Max Crozier (Providence) tops all Sioux Falls scorers and ranks third in the league with 10 playoff points.
Sioux Falls' Jaxson Stauber (Minnesota State) leads all playoff goaltenders with a .943 save percentage and a 1.49 goals-against average. He has an 8-1-0 record through nine playoff games.
Sioux Falls is the higher seed and will host Games 1, 2 and (if necessary) 5. The Stampede are seeking their second Clark Cup in five seasons, having won in 2015, while Chicago is pursuing its second in three years.
Each game in the Clark Cup Final will be broadcast on HockeyTV.
Clark Cup Final Schedule
Game 1: Friday, May 10, 7:05 p.m. CT in Sioux Falls
Game 2: Sunday, May 12, 5:05 p.m. CT in Sioux Falls
Game 3: Friday, May 17, 7:05 p.m. CT in Chicago
Game 4 (if necessary): Sunday, May 18, 7:05 p.m. CT in Chicago
Game 5 (if necessary): Tuesday, May 21, 7:05 p.m. CT in Sioux Falls
---
Clark Cup Final Rosters
Chicago Steel
Nick Abruzzese
F
Harvard
Hunter Carrick
D
Penn State
Sam Colangelo
F
Northeastern
Mathieu De St. Phalle
F
Wisconsin
Jimmy Dowd
D
Penn State
Gunnarwolfe Fontaine
F
Josh Groll
F
Michigan
Reilly Herbst
G
Jackson LaCombe
D
Minnesota
Robert Mastrosimone
F
Boston University
Matteo Pietroniro
D
Owen Power
D
Cole Quisenberry
F
Brown
Ville Rasanen
D
Luke Reid
D
North Dakota
Adam Robbins
F
Princeton
Justin Robbins
G
Quinnipiac
Uula Ruikka
D
Miami
Matthew Samoskevich
F
Christian Sarlo
F
Rensselaer
Jake Schmaltz
F
North Dakota
Neil Shea
F
Northeastern
Josiah Slavin
F
Colorado College
John Spetz
D
Merrimack
Matthew Sutton
F
Brown
Travis Treloar
F
Western Michigan

Sioux Falls Stampede
Carl Berglund
F
UMass Lowell
Cade Borchardt
F
Minnesota State
Blake Bride
F
Air Force
Logan Britt
D
Quinnipiac
Evan Bushy
D
St. Cloud State
Brian Chambers
F
UMass Lowell
Max Crozier
D
Providence
Artem Ivanyuzhenkov
F
Ryan Johnson
D
Minnesota
Matt Kessel
D
Miami
Mason Klee
D
Rensselaer
Jami Krannila
F
St. Cloud State
Josh Langford
G
Maine
Andre Lee
F
UMass Lowell
Brenden Olson
F
Minnesota State
Ethan Phillips
F
Boston University
Anthony Romano
F
Clarkson
Artem Shlaine
F
Jaxson Stauber
G
Minnesota State
Sam Stevens
F
Wisconsin
Ryan Sullivan
F
Massachusetts
Austen Swankler
F
Michigan
Brandon Tabakin
D
Yale
Jared Westcott
F
Penn State
All players who have appeared in 2019 Clark Cup playoffs listed