Saturday, June 22, 2019
71 Selected in NHL Draft
Most NCAA selections in 12 years highlights 2019 NHL Draft.
---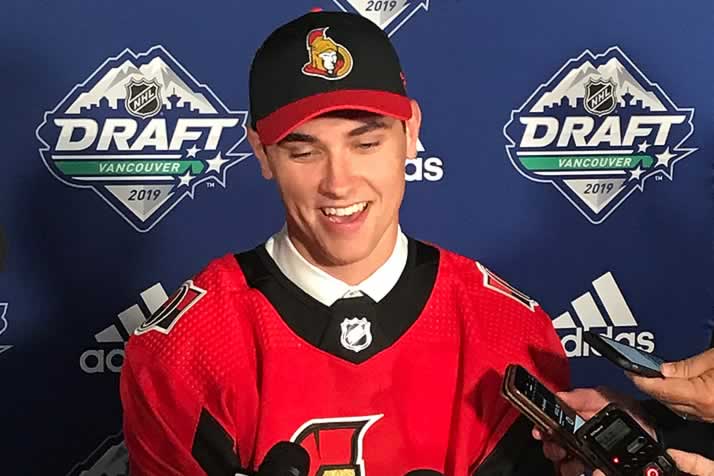 North Dakota commit Shane Pinto was the first player selected on day two of the NHL Draft.
Seventy-one NCAA players, the most in 12 years, were selected in the 2019 NHL Draft, which concluded Saturday at Rogers Arena in Vancouver.
Twenty-six schools – nearly half of the 60 in Division I – had at least one player or recruit selected in the draft, which opened with nine NCAA players selected in Friday's first round. At least eight college players were selected in each of rounds two through seven on Saturday.
Sortable: NCAA Selections in 2019 NHL Draft
Boston University led all schools with eight selections in the draft, while Minnesota had seven.
Other notes:
The 71 NCAA players were the most selected since 75 were taken in 2007. That was the only draft with more college picks than this year since the seven-round format of the draft was adopted in 2005.
26 of the 31 NHL teams selected at least one NCAA player (Columbus, NY Islanders, San Jose, St. Louis and Washington were the exceptions).
The only times that more than nine NCAA players were taken in the first round were when a record 11 college players were selected in 2007 and 2016. The nine NCAA selections are tied for third all-time with the 2003 NHL Draft.
Seven of the first 16 selections were NCAA recruits. Prior to Friday night, there had never been more than four NCAA players among the first 16 selections in a draft.
The majority of the NCAA players selected will be freshmen in school this fall. Four rising sophomores were among those selected, including two from Massachusetts (Marc Del Gaizo and Filip Lindberg).
Sixteen of the NCAA players selected spent the past season with USA Hockey's National Team Development Program.