Tuesday, June 25, 2019
York Named to Hockey Hall of Fame
Winningest coach in college history honored in class of 2019.
---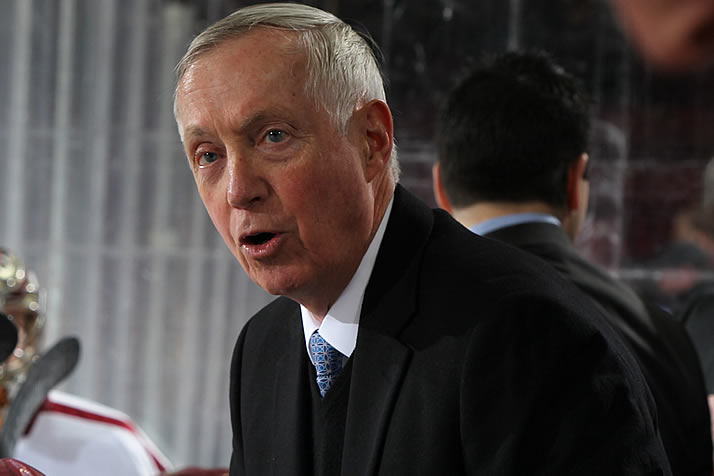 Jerry York will enter his 48th season as a college head coach with 1,067 wins.
Jerry York, the winningest head coach in college hockey history, will be inducted in the Hockey Hall of Fame as part of its class of 2019, the Hall announced Tuesday.
York, who enters his 48th season as a head coach with 1,067 career victories and five national championships, has been elected to the Hall of Fame as a builder.
NCAA in the Hockey Hall of Fame
York is the fifth college coach to earn induction in the Hockey Hall of Fame, joining Lou Lamoriello (2009), Herb Brooks (2006), Bob Johnson (1992) and John Mariucci (1985). He is the 15th former college hockey player to be inducted in the Hockey Hall of Fame in its last 12 classes.
York was a star player at Boston College before embarking on his head coaching career at Clarkson in 1972. He moved on to Bowling Green in 1979, leading the Falcons to the 1984 NCAA championship. He took over as head coach at his alma mater in 1994 and has led Boston College to four national titles (2001, 2008, 2010, 2012).
York became college hockey's winningest coach in 2012, earning his 925th victory behind the bench to surpass Ron Mason's mark. He won the Lester Patrick Trophy in 2010 for outstanding service to the sport in the United States and was the Spencer Penrose Award winner as the national coach of the year in 1977.
York has coached four Hobey Baker winners and numerous players who went on to star in the NHL, including fellow Hall of Famer Rob Blake and NHL general managers Dave Taylor, George McPhee, Brian MacLellan and Blake.
The 2019 Induction Celebration will be held on Nov. 18 at the Hockey Hall of Fame in Toronto.