Monday, July 22, 2019
Summer Showcase Features NCAA Stars
Nineteen schools have players participating in World Junior preview event.
---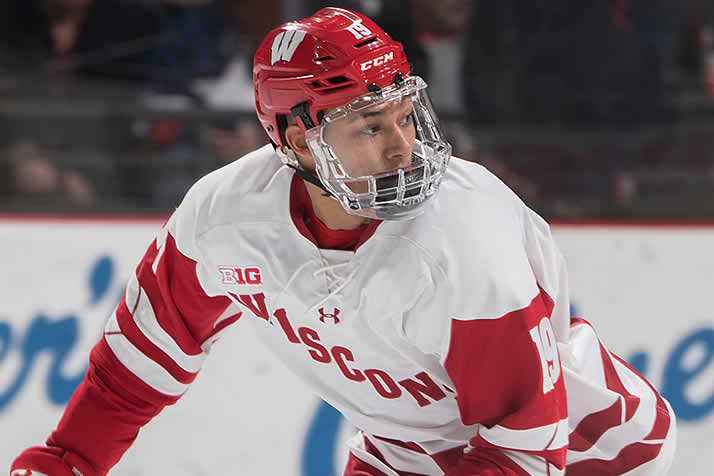 Wisconsin's K'Andre Miller is among the returning players from the 2019 U.S. National Junior Team attending the World Junior Summer Showcase.
Dozens of college players will take the ice in the 2019 World Junior Summer Showcase, set for July 26 through Aug. 3 at USA Hockey Arena in Plymouth, Mich.
The showcase serves as an evaluation camp for the 2020 United States National Junior Team and features two U.S. teams plus entries from Canada, Finland and Sweden.
In addition, the event provides a look at some of college hockey's top talent in 2019-20, including many players who will be impact freshmen. The U.S. rosters feature 38 NCAA players, representing 19 schools. All but three former NCAA players will be playing college hockey in 2019-20.
Boston College and Wisconsin lead all schools with five players on the U.S. rosters; Boston University boasts four, while Minnesota and Notre Dame each have three.
Canada's roster features five college players: Jacob Bernard-Docker and Jonny Tychonick of North Dakota, Jack McBain and Alex Newhook of Boston College, and Peter Diliberatore of Quinnipiac. Finland's roster features Minnesota sophomore Sampo Ranta, while Sewden's includes future Michigan goaltender Erik Portillo.
HockeyTV and NHL Network will provide coverage of the 2019 World Junior Summer Showcase, with NHL Network carrying the final six games of the event (July 31-Aug. 3).
Minnesota Duluth's Scott Sandelin is the head coach of the 2020 U.S. National Junior Team, with assistant coaches David Lassonde (Dartmouth), Steve Miller (Ohio State), Brett Larson (St. Cloud State) and Jerry Keefe (Northeastern).
U.S. Team Blue
No.
Name
NCAA Team
Goaltenders
1
Isaiah Saville
Omaha
30
Spencer Knight
Boston College

Defensemen
2
Mattias Samuelsson
Western Michigan
3
Ty Emberson
Wisconsin
4
Ryan Johnson
Minnesota
5
Christian Krygier
Michigan State
6
Jackson LaCombe
Minnesota
7
Spencer Stastney
Notre Dame
8
Cam York
Michigan
11
Marshall Warren
Boston College

Forwards
12
Bobby Brink
Denver
14
Cole Caufield
Wisconsin
15
Joel Farabee
Boston University*
16
Parker Ford
Providence
17
Jon Gruden
Miami*
18
John Beecher
Michigan
19
Alex Turcotte
Wisconsin
20
Luke Loheit
Minnesota Duluth
21
Blake McLaughlin
Minnesota
22
Owen Lindmark
Wisconsin
23
Shane Pinto
North Dakota
25
Luke Toporowski
U.S. Team White
No.
Name
NCAA Team
Goaltenders
1
Drew DeRidder
Michigan State
30
Dustin Wolf

Defensemen
2
Alex Vlasic
Boston University
3
Slava Demin
Denver
4
Drew Helleson
Boston College
5
Jordan Harris
Northeastern
6
Zac Jones
Massachusetts
7
Case McCarthy
Boston University
8
Bode Wilde
11
K'Andre Miller
Wisconsin

Forwards
9
Matthew Boldy
Boston College
10
Jack Drury
Harvard
14
Nick Robertson
15
John Farinacci
Harvard
16
Trevor Janicke
Notre Dame
17
Blade Jenkins
18
Curtis Hall
Yale
19
Arthur Kaliyev
20
Jacob Pivonka
Notre Dame
21
Trevor Zegras
Boston University
22
Demetrios Koumontzis
Arizona State
25
Oliver Wahlstrom
Boston College*
* Former player