Monday, September 30, 2019
Champs Lead Preseason Polls
Minnesota Duluth captures vast majority of first-place votes entering 2019-20.
---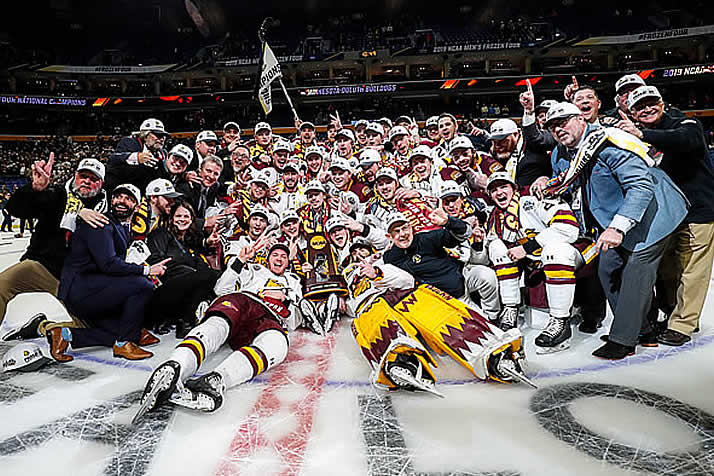 The Bulldogs celebrated their second consecutive NCAA title in April (Photo by Matt Dewkett).
Minnesota Duluth is the preseason favorite to capture a third straight national title according to the men's Division I preseason polls released by USCHO.com and USA Hockey on Monday.
The Bulldogs claimed 81 of a possible 84 first-place votes between the two polls. They enter the season led by senior goaltender Hunter Shepard (Cohasset, Minn./Bismarck-NAHL) and junior defenseman Scott Perunovich (Hibbing, Minn./Cedar Rapids-USHL/STL), two All-Americans who return after winning back-to-back national championships. UMD is seeking to join Michigan (1951-53) as only the second school to win three straight national titles.
Denver, Minnesota State, Massachusetts and Cornell comprise the rest of the top five in both polls. Denver and Massachusetts both made Frozen Four appearances last spring, while Minnesota State and Cornell are defending champions in the WCHA and ECAC Hockey, respectively. Denver had the two-first place votes in the USA Today/USA Hockey Magazine poll that did not go to Minnesota Duluth; Minnesota State had the lone first-place vote in the USCHO.com poll that did not go to the Bulldogs.
Outside of the top five the two polls diverge, but both are strong examples of the parity evident across college hockey. Ten of the top 15 teams in both polls have never won an NCAA championship.
Thirty-six of the 60 teams in Division I received votes in the USCHO.com top 20 poll. The USA Today/USA Hockey Magazine top 15 saw 25 teams earn votes. Both polls feature coaches and journalists among their voters.