Monday, September 30, 2019
Leagues Name Preseason Favorites
Coaches, media project their top teams by conference for 2019-20.
---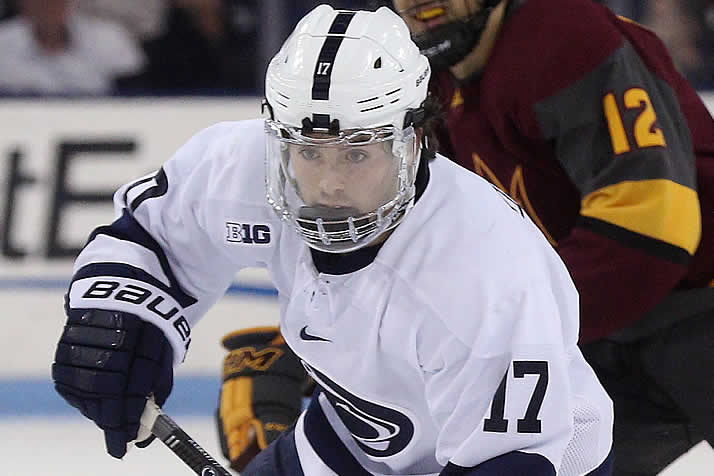 Penn State returns its top five scorers from 2018-19, including junior Evan Barratt.
As the Oct. 5 puck drop for the 2019-20 season rapidly approaches, Division I men's conferences have released preseason coaches' and media polls projecting the favorites entering the campaign.
Defending league champions take the top spot in Atlantic Hockey (American International), ECAC Hockey (Cornell) and the WCHA (Minnesota State). The two-time defending national champion Minnesota Duluth Bulldogs take the top spot in the NCHC preseason poll.
Penn State and Boston College, two teams that lost in their conference championship games last March, are picked first in the Big Ten and Hockey East, respectively.
Last season's preseason polls correctly predicted three of six conference champions.
---
Atlantic Hockey Coaches Poll
1.
American International (10)
100
2.
Niagara
78
3.
Bentley (1)
77
Sacred Heart
77
5.
RIT
66
6.
Air Force
60
7.
Robert Morris
46
8.
Army West Point
38
9.
Mercyhurst
25
10.
Holy Cross
21
11.
Canisius
17
---
Big Ten Coaches Poll
1.
Penn State
2.
Notre Dame
3.
Wisconsin
4.
Ohio State
5.
Minnesota
6.
Michigan
7.
Michigan State
---
ECAC Hockey Coaches Poll
1.
Cornell (8)
118
2.
Quinnipiac (3)
109
3.
Clarkson (1)
100
4.
Harvard
93
5.
Yale
74
6.
Dartmouth
68
7.
Brown
61
8.
Union
57
9.
Rensselaer
31
10.
Princeton
31
11.
Colgate
29
12.
St. Lawrence
21
---
ECAC Hockey Media Poll
1.
Cornell (13)
185
2.
Clarkson
163
3.
Quinnipiac (1)
162
4.
Harvard (1)
150
5.
Dartmouth (1)
123
6.
Yale
108
7.
Brown
96
8.
Union
86
9.
Colgate
54
10.
Rensselaer
52
11.
Princeton
50
12.
St. Lawrence
19
---
Hockey East Coaches Poll
1.
Boston College (8)
97
2.
Massachusetts (2)
85
3.
Providence
78
4.
Northeastern (1)
73
5.
Boston University
72
6.
UMass Lowell
53
7.
New Hampshire
40
8.
Maine
39
9.
Connecticut
38
10.
Vermont
19
11.
Merrimack
11
---
NCHC Media Poll
1.
Minnesota Duluth (23)
218
2.
Denver (2)
178
3.
Western Michigan (3)
156
4.
North Dakota
143
5.
St. Cloud State
138
6.
Colorado College
81
7.
Omaha
53
8.
Miami
41
---
WCHA Coaches Poll
1.
Minnesota State (9)
90
2.
Bowling Green (1)
82
3.
Bemidji State
63
4.
Northern Michigan
61
5.
Michigan Tech
59
6.
Lake Superior State
58
7.
Alaska
39
8.
Ferris State
38
9.
Alabama Huntsville
30
10.
Alaska Anchorage
20
---
WCHA Media Poll
1.
Minnesota State (10)
100
2.
Bowling Green
89
3.
Northern Michigan
72
4.
Michigan Tech
68
5.
Bemidji State
62
6.
Lake Superior State
57
7.
Ferris State
37
8.
Alaska
27
9.
Alabama Huntsville
26
10.
Alaska Anchorage
12