Monday, September 23, 2019
LSSU Takes Game Across Border
Lakers will face UAH in Sault Ste. Marie, Ontario.
---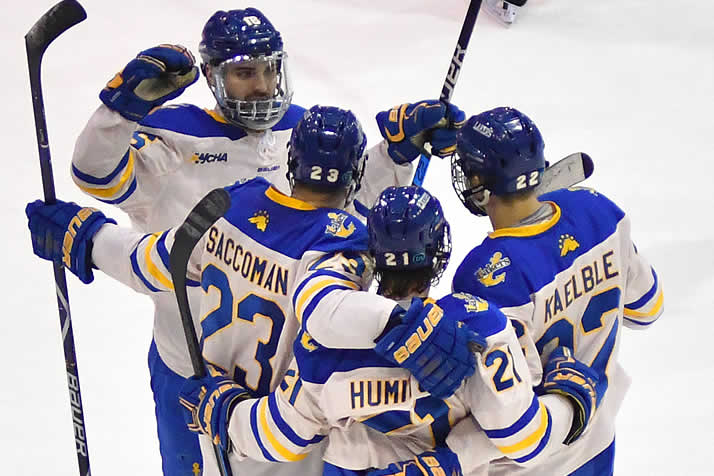 Lake Superior State posted 23 wins in 2018-19.
Lake Superior State plans to take the college game across the border, as the Lakers announced plans to face Alabama Huntsville at the GFL Memorial Gardens in Sault Ste. Marie, Ontario, on Saturday, Feb. 15.
The game will be the first played by LSSU in Sault Ste. Marie, Ontario, and the first NCAA Division I men's game in Canada since Jan. 7, 2012, when North Dakota and Clarkson met in Winnipeg.
"Laker hockey is very excited to partner with the City of Sault Ste. Marie, Ontario and the GFL Memorial Gardens for this event," said Lake Superior State head coach Damon Whitten. "It is great to be involved in an event that can connect the storied hockey history that these sister cities share. We hope to continue to build this relationship and there's no better way to do it than through the great game of hockey."
"It's exciting any time we can expose new fans to the college game," said College Hockey Inc. Executive Director Mike Snee. "We are confident that fans in Canada will embrace the skill and passion on display when Lake Superior State hosts Alabama Huntsville in Sault Ste Marie, Ontario."
"All of us at the Western Collegiate Hockey Association are excited to see Lake Superior State and Alabama Huntsville take our game north of the border, I want to congratulate David Paitson, Damon Whitten and the athletic department staff at Lake Superior State for their work to make this unique opportunity a reality. This is a great day for the WCHA and collegiate hockey," said Bill Robertson, WCHA President and Men's League Commissioner.
The game will be the second in a two-game series that will open Friday night at LSSU's Taffy Abel Arena in Sault Ste. Marie, Mich. The two cities are separated by the St. Mary's River. The GFL Memorial Gardens is home to the OHL's Soo Greyhounds.
"There is a unique and rich hockey tradition on both sides of the St. Mary's River," said Dr. David Paitson, Director of Athletics at Lake Superior State. "With only 3.5 miles separating them, no NCAA Division I hockey program and Major Junior program are closer in proximity. We see this as an opportunity to celebrate the game at all levels as well as a stage to showcase the many positive aspects of our university. We're thrilled to be in partnership with GFL Gardens."