Friday, October 4, 2019
NHL.com Introduces 'On Campus'
Award-winning journalist Mark Divver to feature college hockey on league web site.
---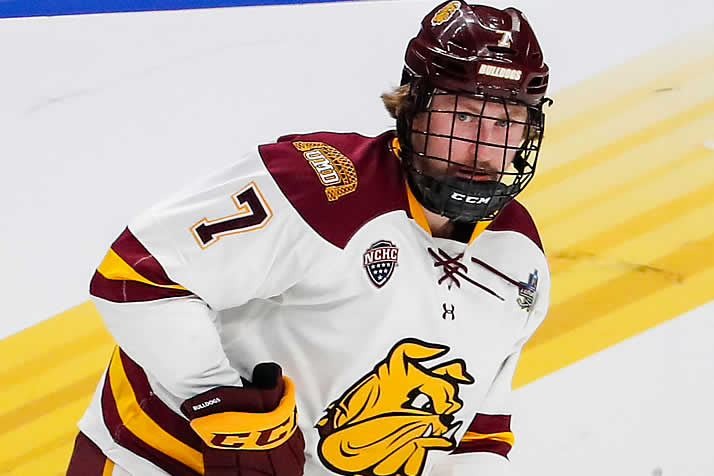 Scott Perunovich was one of 10 draft picks highlighted in the first edition of 'On Campus' (Photo by Matt Dewkett).
On the eve of the 2019-20 NCAA hockey season, NHL.com introduced a new feature as "On Campus" spotlights some of the future NHL stars playing at the college level.
Award-winning journalist Mark Divver is writing the feature, which opened with a look at 10 drafted players to watch in college hockey this season.
"The 2019-20 NCAA Division I hockey season starts Saturday," Divver writes, "and its importance to the NHL has never been more pronounced."
Each of the 10 players profiled is a sophomore, junior or senior, and only two – Wisconsin's K'Andre Miller (Minnetonka, Minn./U.S. NTDP/NYR) and North Dakota's Jacob Bernard-Docker (Canmore, Alta./Okotoks-AJHL/OTT) – were first-round NHL draft picks.
Divver, a longtime journalist with the Providence Journal, also writes for USCHO.com. He was the 2019 recipient of Hockey East's Joe Concannon Media Award.