Wednesday, October 30, 2019
Notes: Offense on Display
Penn State-Wisconsin series will showcase two of the nation's most dangerous offenses.
---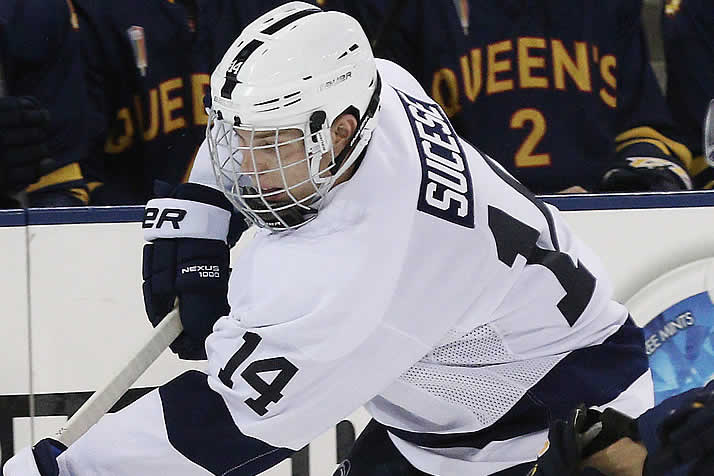 Nate Sucese ranks second nationally in points (11) and assists (9).
By Nate Ewell
Two of the nation's most potent offenses square off in a Thursday-Friday series as Wisconsin visits Penn State. The Nittany Lions boast three 100-point career scorers – as many as the rest of the nation combined. Leading that trio is senior Nate Sucese (Fairport, N.Y./Dubuque-USHL), whose 11 points this season rank second nationally. The speedy Sucese, who has played both center and wing at PSU, produced at least 14 goals and 29 points in each of his first three seasons in State College. | Thursday and Friday's games are on BTN
Active 100-Point Career Scorers
124 – Marc Michaelis, Minnesota State
116 – Tanner Laczynski, Ohio State (PHI)
113 – Nate Sucese, Penn State
101 – Denis Smirnov, Penn State (COL)
100 – Philip Beaulieu, Northern Michigan
100 – Brandon Biro, Penn State
---
Must Read/See/Hear Material
Bemidji Pioneer: Leitner's first college goal was 'blessed from grandma'
ESPN.com: Miller's unique path to becoming a top Rangers prospect
NCHChockey.com: Around the globe and back
The Daily Gazette: Union's Hanson shakes off extra pressure
The Rink Live: So far, Gophers' lefty Moe is all right in goal
The Athletic: How Mastrosimone keeps proving doubters wrong
The Athletic: The future of the Wild
The State Press: Pasichnuk brothers reflect, look ahead in final NCAA season
---
Five More Storylines No One Should Be Without
Florida freshmen fuel MSU – No. 2 Minnesota State hosts No. 18 Bowling Green in a rematch of last season's WCHA championship game, though two newcomers to the rivalry have been leading the Mavericks thus far. Freshman Floridians Lucas Sowder (Trinity, Fla./Wenatchee-BCHL) and Nathan Smith (Hudson, Fla/Cedar Rapids-USHL/WPG) stand 1-2 on Minnesota State in scoring through six games, even with Smith missing a pair due to injury. The pair has played together since roller hockey at age 6, and the Mavericks have benefitted from the well established chemistry. | Mankato Free Press: Florida freshmen fit right in for Minnesota State
Ivies underway – The six Ivy League schools open play this weekend, highlighted by a home-and-home series between Ivy foes Brown and Yale. The top-ranked Ivy, No. 4 Cornell, travels to Michigan State for two games and a chance to avenge two losses in the Big Red's season-opening weekend from a year ago.
Ivy Games this Weekend
Brown: at Yale (Fri.), vs. Yale (Sat.)
Cornell: at Michigan State (Fri.-Sat.)
Dartmouth: at Harvard (Fri.), at UNH (Sat.)
Harvard: vs. Dartmouth (Fri.)
Princeton: at St. Cloud State (Fri.-Sat.)
Yale: vs. Brown (Fri.), at Brown (Sat.)
Air Jordan – Omaha heads to Alaska Anchorage at 3-1-0, led by three goals in those four games from senior Zach Jordan (Collinsville, Ill./Des Moines-USHL). Jordan, who scored just one goal as a freshman, had 25 the past two seasons combined. He is one of only 16 players nationwide averaging more than four shots on goal per game.
UMass Lowell's Wall in net – A 4-1-2 start from goaltender Tyler Wall (Leamington, Ont./Leamington-GOJHL/NYR) has helped move UMass Lowell into the national rankings. Wall, a mechanical engineering major, gives the River Hawks one of the nation's most experienced goaltenders, ranking sixth nationally with 44 career wins. UMass Lowell heads to Vermont for a two-game series boasting a 1-0-1 start in Hockey East play.
National Save Percentage Leaders
.966 – Logan Drackett, RIT
.961 – Justin Kapelmaster, Robert Morris
.947 – Craig Pantano, Northeastern
.947 – Tyler Wall, UMass Lowell (NYR)
.945 – Frank Marotte, Clarkson
Young goalies lead Holy Cross – Holy Cross enters conference play after a 1-1-2 start, allowing just two goals in three of the four outings. Freshman Matt Radomsky (Winnipeg, Man./Steinbach-MJHL) and sophomore Erik Gordon (Duluth, Ga./Calgary-AJHL) have combined for a .917 save percentage for the Crusaders, a marked increase from the team's .896 total a year ago. That young tandem leads Holy Cross into its Atlantic Hockey opener at RIT Friday and Saturday.
---
Fries at the Bottom of the Bag
North Dakota hosts Michigan Tech in the U.S. Hockey Hall of Fame Game on Saturday … An NCAA Tournament rematch is on tap in Tempe as Quinnipiac visits Arizona State for two games … No. 1 Denver celebrates its 70th anniversary weekend with the return of more than 160 alumni for its series vs. Niagara … Eight games this weekend are on national/regional sports networks.