Wednesday, October 23, 2019
Notes: Walker Leads Minnesota
Gophers have won three straight entering home-and-home series with UMD.
---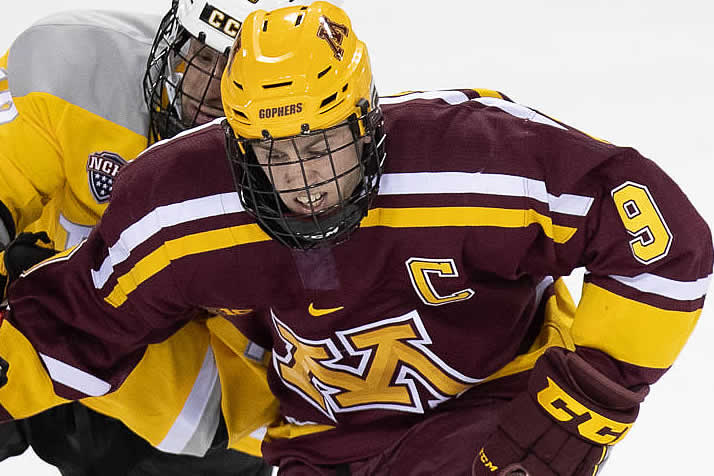 Sammy Walker was the 2018-19 Big Ten Freshman of the Year (Photo by Jim Rosvold/University of Minnesota).
By Nate Ewell
Minnesota has won three in a row entering a home-and-home with defending NCAA champion Minnesota Duluth. The Golden Gophers feature 11 freshmen and a young leader in co-captain Sammy Walker (Edina, Minn./Edina HS/TBL), who is one of four sophomore captains around the country. Walker scored the overtime goal in Friday's win against Niagara and leads the Gophers with three goals, five points and 14 shots on goal. | Friday's game is on FOX Sports North+
Sophomore Captains
Michael Callahan, Providence
Grant Cruickshank, Colorado College
Chase Gresock, Merrimack
Sammy Walker, Minnesota
---
Must Read/See/Hear Material
Burlington Free Press: Is Lekkas the best goaltender in UVM history?
The Gazette: Long odds no sweat for Air Force's Bride
The Athletic: Mitchell out to be 'the best player in college hockey'
The Rink Live: Ranta looking to keep early spark going for Gophers
Grand Forks Herald: Teams learn to manage NHL teams' pursuit of free agents
Union Leader: UNH's Sato thriving by slowing things down
Mankato Free Press: Patience paid off for Mavericks' Hookenson
Las Vegas Sun: Garcia helping ASU 'be the tradition'
---
Five More Storylines No One Should Be Without
de Mey days – Sophomore Vincent de Mey (Los Angeles, Calif./Muskegon-USHL) has matched last season's offensive totals with five goals and six points entering Northern Michigan's WCHA opener at Ferris State. The California native is following in the footsteps of another Golden Stater who led NMU in scoring last season, Troy Loggins of Huntington Beach. de Mey has at least a goal in all four games this season and has earned back-to-back WCHA Offensive Player of the Week honors.
Husky showdown – No. 14 St. Cloud State hosts No. 11 Northeastern in a series featuring two teams who won conference titles last season (St. Cloud in the regular season, Northeastern in the tournament). The two Huskies are a combined 3-0-3 to start the season, two of six teams that have played and not suffered a loss. Saturday St. Cloud State will unveil a new statue of Herb Brooks – who coached the Huskies in 1986-87 and played a key role in helping SCSU elevate to Division I – outside the Herb Brooks National Hockey Center.
Teams Without a Loss (Min. 1 GP)
6-0-0 – Denver
2-0-0 – Notre Dame
3-0-1 – Minnesota State
3-0-1 – Northeastern
0-0-2 – Bemidji State
0-0-2 – St. Cloud State
AIC's defensive leader – Western Massachusetts was home to two of college hockey's best stories last season, and neighbors UMass and American International meet at UMass Friday night. AIC is led by junior defenseman Brennan Kapcheck (Mt. Prospect, Ill./Aston-NAHL), who has two points in the team's three games – all decided by one goal – so far this season. Kapcheck was a first-team All-Atlantic Hockey selection last year after earning conference Rookie of the Year honors as a freshman.
RPI's starring senior – Senior Patrick Polino (Buffalo, N.Y./Lincoln-USHL) is off to a fast start for Rensselaer, which faces rival Union in a home-and-home this weekend. Polino's six points are more than halfway to the 11 he totaled in each of his first three seasons. He produced a career-best four points in Saturday's win against Canisius and earned ECAC Hockey Player of the Week honors.
Thompson sparks PC – Sophomore Tyce Thompson (Milford, Conn./Dubuque-USHL/NJD) had three goals and five points last weekend to help No. 7 Providence improve to 3-1-0 entering games at Boston College and vs. UMass Lowell. Thompson, whose father, Brent, and brother, Tage, have both played in the NHL, was drafted last June in his final year of NHL Draft eligibility. | Friday's game is on NESNplus; Saturday's is on NESN
---
NHL Note of the Week
With the recall of Anders Bjork, the Boston Bruins roster features 13 NCAA alumni representing 11 schools. | NHL Matchup Tool
---
Fries at the Bottom of the Bag
St. Lawrence tours the former homes of its two first-year assistant coaches this weekend with games at Holy Cross (Tommy Hill) and Bentley (Ben Murphy) … Five active players have 100 career points; eight more are within nine points of the milestone … Nine weekend games are on national/regional sports networks … New Hampshire leads the nation with a 42.9% power play.