Friday, October 4, 2019
Top 2019-20 Preseason Storylines
What to watch as the puck drops on the new season.
---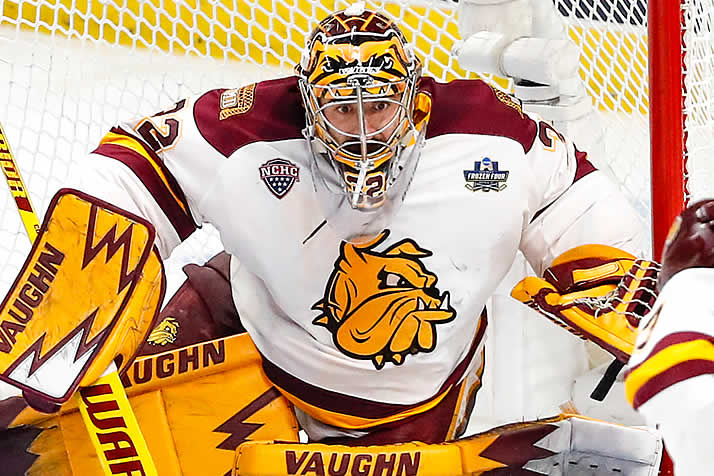 Hunter Shepard and Minnesota Duluth are seeking a third consecutive national championship (Photo by Matt Dewkett).
By Nate Ewell
The NCAA Division I men's hockey season opens Oct. 5 as the race to Detroit and the 2020 Frozen Four kicks off with 16 regular-season games and 23 exhibitions on the weekend.
College hockey enters 2019-20 enjoying an era of tremendous parity and success in developing players for the professional ranks. Below are some of the top storylines and elite performers to watch as the season gets underway.
CHI Media Kit (.pdf) | Podcast: Season Preview
Seeking three – College hockey has a two-time defending champion for the first time in 14 years as Minnesota Duluth seeks to become just the second school to win three straight crowns (Michigan, 1951-53). The Bulldogs have been in three consecutive national championship games; no school has ever played in four straight.
Player spotlight … UMD senior goaltender Hunter Shepard (Cohasset, Minn./Bismarck-NAHL) has started 81 consecutive games, the longest active streak in the nation, including wins in each of the last two national championship games.
Anybody's game – While the defending champions are the overwhelming favorites in the preseason polls, beyond that the field is wide open. More than half of all Division I teams have made the 16-team NCAA tournament in the last five years (33), with 13 schools making at least one Frozen Four appearance in that time. Ten of the top 15 teams in both preseason polls are pursuing their first NCAA championship.
NCAA Tournament Appearances, Last 5 Seasons (Frozen Four participants in italics)
5 – Denver, Minnesota Duluth, Providence
4 – Boston University, Harvard, Notre Dame, St. Cloud State
3 – Cornell, Michigan Tech, Minnesota State, North Dakota, Northeastern, Ohio State, Quinnipiac
2 – Air Force, Boston College, Clarkson, UMass Lowell, Michigan, Minnesota, Penn State, RIT, Yale
1 – American International, Arizona State, Bowling Green, Ferris State, Massachusetts, Miami, Omaha, Princeton, Union, Western Michigan
Did you know? … Ten of the top 15 teams in the national preseason polls have never won a national championship.
National Polls | Conference Preseason Polls
Another year of the D? – Last season was the year of the defenseman in college hockey, with all three Hobey Hat Trick finalists playing defense. There could be more of the same this year, as All-Americans Jack Ahcan (St. Cloud State) and Scott Perunovich (Minnesota Duluth) headline a talented group of blueliners back in college. Both returning first-round NHL draft picks are defensemen (K'Andre Miller of Wisconsin and Jacob Bernard-Docker of North Dakota), while talented freshmen like Cam York (Michigan) and Ryan Johnson (Minnesota) look to make an immediate impact.
Player spotlight … Wyatt Kalynuk and K'Andre Miller lead a Wisconsin team that looks to return to the NCAA Tournament for the first time since 2014. Kalynuk is the Badgers' captain, while Miller returns after leading the team in scoring as a rookie defenseman in 2018-19.
Did you know? … Ten of the last 16 NHL All-Rookie Team defensemen played NCAA hockey.
National Scoreboard | National Stats
Young guns – Four freshmen have been named first-team All-Americans the past three seasons, as rookies are entering college ready to make an impact like never before. Some extremely talented newcomers come to campus this fall, led by nine first-round draft picks and 11 of the top 34 selections in the 2019 NHL Draft.
Player spotlight … Boston College welcomes three first-round draft picks in goaltender Spencer Knight (Darien, Conn./U.S. NTDP/FLA) and forwards Matt Boldy (Millis, Mass./U.S. NTDP/MIN) and Alex Newhook (St. John's, Newf./Victoria-BCHL/COL).
First things first – Eleven NHL first-round draft picks will play in the NCAA ranks this season, leading more than 200 NHL draft picks on college rosters. All 31 NHL teams have prospects in the college game, while 43 NCAA rosters feature at least one NHL draft pick. College hockey produced a record 327 NHL players in 2018-19, comprising one-third of all NHLers (another record). There were 202 former college players on NHL opening night rosters this season.
Did you know? … 31 NCAA players have been selected in the first round of the last four NHL Drafts, the same number as the previous seven drafts combined.
NHL Draft Picks in NCAA Hockey
Show stoppers – Five of the top eight goaltenders in save percentage last year return in 2019-20. Among the returnees are national champion Hunter Shepard (Minnesota Duluth) and fellow Mike Richter Award semifinalists Stefanos Lekkas (Vermont), Dryden McKay (Minnesota State), Cale Morris (Notre Dame) and Tommy Nappier (Ohio State).
Active Career Shutout Leaders
15 – Hunter Shepard, Minnesota Duluth
14 – Matthew Galajda, Cornell
8 – Cale Morris, Notre Dame; Francis Marotte, Clarkson
7 – Adrian Clark, Dartmouth; David Hrenak, St. Cloud State; Tyler Wall, UMass Lowell – 7
Player spotlight … Matthew Galajda and Cale Morris were Hobey Baker Award finalists in 2018 and enter this season with two years of starting experience each. They have Cornell and Notre Dame, respectively, as preseason top-10 teams entering 2019-20.
Did you know? … A record 28 former NCAA goaltenders appeared in the NHL in 2018-19.
Who takes home the Hobey? – None of the 10 finalists for the 2019 Hobey Baker Award return in 2019-20, just the second time in the last 26 years that has happened (also 2016-17). That leaves a wide-open race for college hockey's highest individual honor. Among the top preseason candidates is Penn State junior Alex Limoges (Winchester, Va./Waterloo-USHL), who shared the national lead in points last season with 50. This is the first time in nine years that the national scoring leader returns to college hockey (Maine's Gustav Nyquist in 2010-11).
Did you know? … Penn State returns 145 goals and 392 points from 2018-19, both leading all schools. Highest Percentage of Returning Points:
Minnesota State – 96%
American International – 89%
St. Lawrence – 88%
Niagara – 87%
Sacred Heart – 86%
Colgate – 83%
Penn State – 82%
Arizona State – 81%
Denver – 81%
Western Michigan – 80%
International game – NCAA hockey features talent from around the globe, including a growing European influence. A record 117 Europeans will play Division I men's college hockey this season.
Player spotlight … Minnesota State senior Marc Michaelis is a three-time first-team All-WCHA selection who has represented Germany in the World Junior Championship (2015) and the World Championship (2018). He is the top returner for a Maverick team picked to repeat as WCHA regular-season champs.
The new bosses – Only three new head coaches are behind NCAA benches after a total of 17 coaching changes in the prior two seasons. Two of the three new coaches – Miami's Chris Bergeron and Bowling Green's Ty Eigner – were on the same staff at BGSU last season and face each other to open the season Sunday night. Brent Brekke takes over at St. Lawrence as the third new head coach in college hockey.
Smart guys – The talent U.S. college hockey players display on the rink is matched by their performance in the classroom. Hockey is among the very best NCAA Division I men's sports in the NCAA's two biggest academic metrics – the Graduation Success Rate (90%) and Academic Progress Rate.
A number of NHLers have worked to complete their degrees after leaving campus as well. Recently Alec Martinez (Miami), Torey Krug (Michigan State), Colton Parayko (Alaska) and David Backes (Minnesota State) have joined the ranks of graduates.