Wednesday, November 20, 2019
Commits Named to U.S. Select Team
USHL stars to represent U.S. in World Junior A Challenge.
---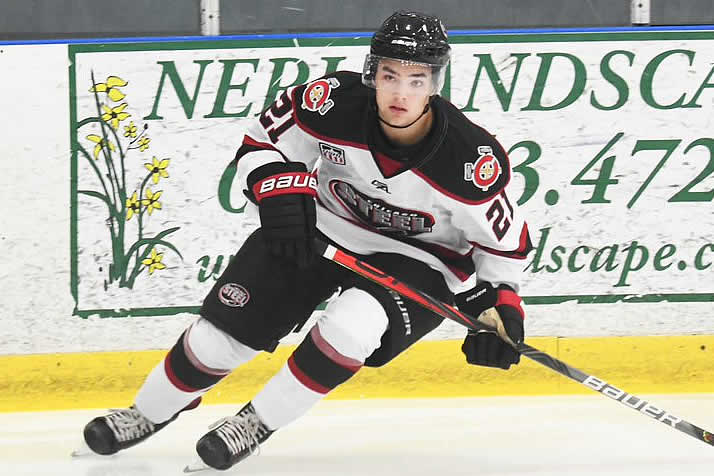 Harvard commit Sean Farrell leads the USHL in scoring with 23 points through 16 games (Photo by Chicago Steel).
Twenty Division I commits were named to the U.S. Junior Select Team that will compete in the 2019 World Junior A Challenge from Dec. 7-15 in Dawson Creek, B.C. USA Hockey announced the team, which consists of 21 players currently in the USHL, on Tuesday.
Fourteen schools have commits on the roster. Harvard (3), Minnesota (3), Michigan (2) and Notre Dame (2) each boast multiple future players on the team.
The roster features three returnees from last year's team that won the World Junior A Challenge: Connor Caponi (Waterloo/Denver), Mitch Miller (Tri-City/North Dakota) and Grant Silianoff (Cedar Rapids/Notre Dame).
The U.S. Junior Select Team will be coached by the same group as a year ago, led by head coach Anthony Nordeen of the Tri-City Storm. Nordeen's assistants will be Mark Abalan (Sioux City), Shane Fukushima (Waterloo) and David Wilkie (Omaha). The staff returns after leading the U.S. to its eighth championship in 12 appearances in the World Junior A Challenge.
The U.S. will face Canada East in a pre-tournament exhibition game on Thursday, Dec. 5, before opening competition on Saturday, Dec. 7, against Canada West at 9 p.m. ET.
2019 U.S. Junior Select Team
No.
Name
Pos.
Current Team
NCAA Commitment
1
Logan Stein
G
Waterloo
Ferris State
2
Mitch Miller
D
Tri-City
North Dakota
4
Luke Reid
D
Chicago
Uncommitted
5
Michael Koster
D
Tri-City
Minnesota
7
Rhett Pitlick
F
Omaha
Minnesota
9
Grant Silianoff
F
Cedar Rapids
Notre Dame
10
Nolan Krenzen
D
Sioux City
Omaha
11
Ben Meehan
D
Cedar Rapids
UMass Lowell
12
Ryder Rolston
F
Waterloo
Notre Dame
13
Gunnarwolfe Fontaine
F
Chicago
Northeastern
14
Alex Leferriere
F
Des Moines
Harvard
15
Jack Millar
D
Cedar Rapids
Colorado College
16
Trevor Kuntar
F
Youngstown
Harvard
17
Connor Caponi
F
Waterloo
Denver
18
Matt Knies
F
Tri-City
Minnesota
19
Brendan Brisson
F
Chicago
Michigan
21
Sean Farrell
F
Chicago
Harvard
22
Christian Berger
D
Omaha
Penn State
23
Josh Lopina
F
Lincoln
Massachusetts
24
Josh Groll
F
Lincoln
Michigan
30
Ethan Haider
G
Sioux City
Clarkson