Tuesday, November 12, 2019
Draft Rankings Feature 113
Updated Players to Watch list highlights current and future collegians.
---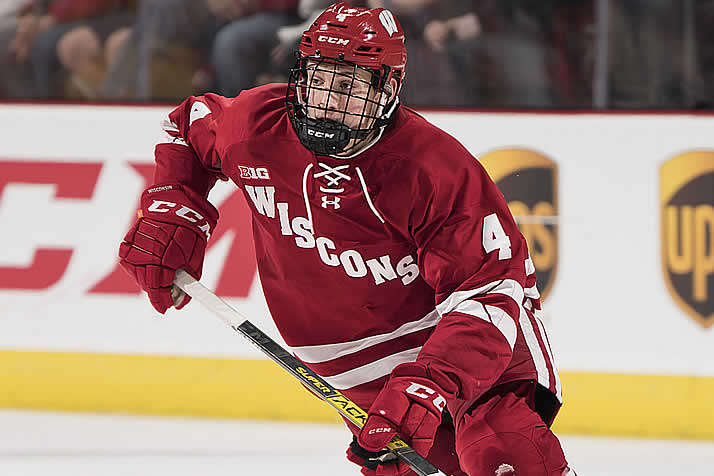 Wisconsin freshman Dylan Holloway earned an 'A' rating as a first-round prospect.
More than 100 current and future NCAA players are highlighted as 2020 NHL Draft prospects in NHL Central Scouting's updated "Players to Watch" list, released Monday.
More than half of all Division I schools (33 of 60) have a player or recruit listed in the rankings. In total, 113 players who are committed to schools or playing in NCAA-eligible North American junior leagues are featured.
Sortable: NCAA Players to Watch for 2020 NHL Draft
Wisconsin has eight representatives on the list to lead all schools, including two current Badgers. Harvard and North Dakota both have seven representatives listed, while Michigan and Minnesota Duluth each have six.
Fifteen of the prospects listed have not committed to a school but are playing in an NCAA-eligible North American junior or high school league.
Wisconsin's Dylan Holloway (Bragg Creek, Alta./Okotoks-AJHL) leads a group of six NCAA freshmen highlighted by NHL Central Scouting. Holloway earned an 'A' rating as a first-round prospect. Connecticut's Yan Kuznetsov (Murmansk, Russia/Sioux Falls-USHL) earned a 'B' rating as a second- or third-round candidate.
Other freshmen listed included Ohio State's Michael Gildon (Plano, Texas/U.S. NTDP), Harvard's Ryan Siedem (Madison, N.J./Central Illinois-USHL), Merrimack's Zachary Uens (Belleville, Ont./Wellington-OJHL) and Wisconsin's Michael Vorlicky (Edina, Minn./Edina HS).