Tuesday, November 26, 2019
Notes: Game Returns to Northern Ireland
Four teams competing in fifth annual Friendship Four tournament.
---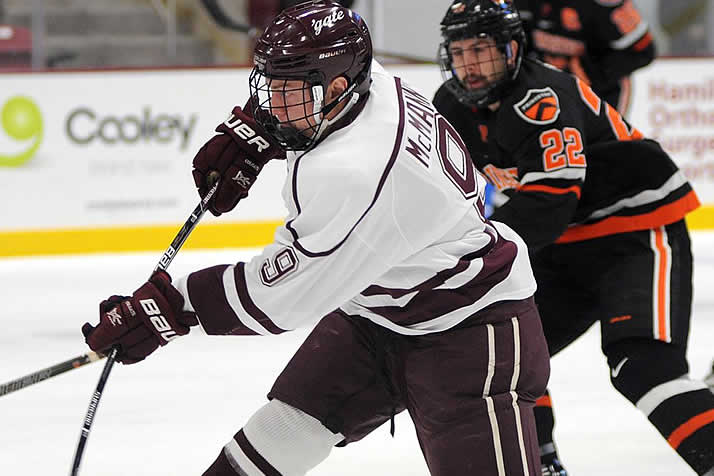 Senior captain Bobby McMann leads Colgate into the Friendship Four.
By Nate Ewell
The fifth annual Friendship Four faces off this weekend in Belfast, Northern Ireland, opening with two league games: New Hampshire vs. Northeastern and Colgate vs. Princeton. Colgate enters on a 4-3-4 run since an 0-3-0 start, including a 3-1 win Saturday against Quinnipiac. Senior captain Bobby McMann (Wainwright, Alta./Bonnyville-AJHL) is the top career scorer among a balanced offense for the Raiders. The former AJHL MVP has twice been named Colgate's Best Offensive Player after leading the team in scoring each of the past two seasons.
2019 Friendship Four – Belfast, Northern Ireland
Fri., 10 a.m. ET: New Hampshire vs. Northeastern (NESN/TSN2)
Fri., 2 p.m. ET: Colgate vs. Princeton (NESN/TSN.ca)
Sat., 10 a.m. ET: Third-Place Game (NESN/TSN.ca)
Sat., 2 p.m. ET: Championship Game (NESN/TSN.ca)
---
Must Read/See/Hear Material
Bemidji Pioneer: Miller is a gamer, on and off the ice
Duluth News Tribune: Perunovich evolves into patient puck handler
The Athletic: Turcotte must conquer college before L.A.
Boston Globe: Bruins first-rounder Beecher making his way in college hockey
Mankato Free Press: Mavericks goalie takes it up another notch
FloHockey: From Princeton to the Great Lakes
The Rink Live: Krannila's start has had some surprises for SCSU
WCHA.com: The blink of an eye
NHL.com: Abruzzese turning heads at Harvard
---
Five More Storylines No One Should Be Without
High-flying Farrance – Boston University junior defenseman David Farrance (Victor, N.Y./U.S. NTDP/NSH) is scoring at a blistering pace entering Saturday's meeting with Cornell at Madison Square Garden. His 10 goals are four more than any other defenseman nationally and only one off the national lead for all players. He has already scored three more goals than his first two seasons combined (seven) and his next point will be his 20th, matching his season high set last year.
Top Scoring Defensemen
20 points – Scott Perunovich, Minnesota Duluth (STL)
19 – David Farrance, Boston University (NSH)
14 – Mike Lee, Sacred Heart
13 – Max Gildon, New Hampshire (FLA)
Another rival awaits Minnesota – One of college hockey's best rivalries is renewed with a rare Thanksgiving game as North Dakota visits Minnesota in a Thursday-Friday series. The Gophers got a win and a tie against another rival, Wisconsin, last weekend, with junior Scott Reedy (Prior Lake, Minn./U.S. NTDP/SJS) scoring in both games. Reedy has a team-high six goals on the season, one shy of his total in each of his first two seasons. | Both games are on FOX Sports North
Transfer sparks Niagara – Niagara has won three straight entering a home series with Air Force. The Purple Eagles – who didn't score more than two goals in their first nine games – have averaged 4.3 in the win streak. Sophomore Jack Billings (Oak Lawn, Ill./Brockville-CCHL) has scored in each of those games and has seven points on the season, his first with Niagara after transferring from Salve Regina. Billings is one of only two Division III transfers playing in Division I this season.
Miami legacy – Senior forward Gordie Green (Ann Arbor, Mich./Dubuque-USHL) leads Miami east for a series at Connecticut. Green leads the RedHawks in goals (6), assists (9) and points (15) and has an active five-game point streak. He's a second-generation RedHawk – his mother, Ann, was a synchronized skater at Miami – while his father, Mike, was a collegiate golfer at Michigan.
Dop stops the puck – Bowling Green enters a home-and-home with Notre Dame having won seven of its last 10 games. The Falcons appear to have found a worthy successor to departed goaltender Ryan Bednard in junior Eric Dop (Lewis Center, Ohio/Tri-City-USHL). The in-state product has allowed one goal or fewer six times – all wins – while starting 12 of 13 games.
---
NHL Note of the Week
The Boston Bruins, who boast the second-best record in the league, have dressed the most NCAA alumni this season. | NHL Matchup Tool
Most NCAA Players Used
15 – Boston
14 – Pittsburgh
11 – Buffalo, Colorado, Minnesota, New Jersey, Winnipeg
---
Fries at the Bottom of the Bag
The nation's No. 1 team (Minnesota State) visits the two-time defending national champions (Minnesota Duluth) for two games this weekend. That series includes Minnesota State freshman Ryan Sandelin (Hermantown, Minn./Penticton-BCHL) facing off against his father, Minnesota Duluth head coach Scott Sandelin … Scott Perunovich (Hibbing, Minn./Cedar Rapids-USHL/STL) has assisted on 11 of Minnesota Duluth's last 13 goals … Cornell (8-0-0) and Harvard (6-0-0) remain the lone unbeaten teams; both play non-league games this weekend … Eleven games are on national/regional sports networks this weekend.