Wednesday, November 20, 2019
Notes: MTU Seeks Another U.P. Sweep
Balanced offense powering Michigan Tech.
---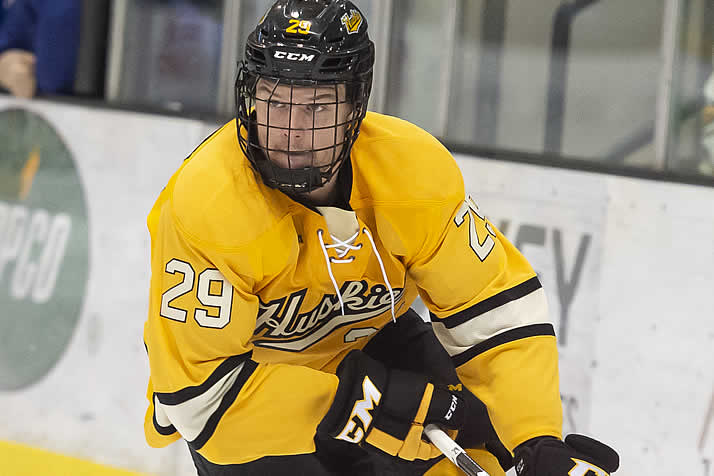 Alec Broetzman is one of three players atop Michigan Tech's scoring chart.
By Nate Ewell
Michigan Tech, coming off a sweep of Lake Superior State, faces its other Upper Peninsula rival this weekend in a home-and-home with Northern Michigan. The Huskies are benefitting from a balanced offense led by three players with seven points each. Of the 18 players nationally with hat tricks, only two are teammates: MTU sophomores Alec Broetzman (Hudson, Wisc./Madison-USHL) and Tommy Parrottino (Rochester Hills, Mich./Youngstown-USHL). The Huskies are 5-1-0 when scoring at least two goals in a game.
---
Must Read/See/Hear Material
Grand Forks Herald: Kawaguchi inspired by late grandfather and his remarkable journey
Grand Forks Herald: Reiger was eating buffalo wings when he found out he was playing
CBC.ca: Nova Scotian leads Cornell to unbeaten start
The Gazette: Colorado College's 'Dr. Jacked'
The Rink Live: McManus heating up at the right time for Gophers
The Rink Live: Cates brothers making strong case to remain together
---
Five More Storylines No One Should Be Without
Tufto nears 100 – Junior Odeen Tufto (Chaska, Minn./Sioux City-USHL) leads Quinnipiac into its series at Cornell and Colgate with 13 points through 11 games. Tufto enters the weekend with 96 career points, on the verge of becoming the first active junior to hit the century mark. His 1.10 career points per game lead all active juniors and seniors.
Most Career Points Per Game (Juniors and Seniors)
1.10 – Odeen Tufto, Quinnipiac
1.06 – Tanner Laczynski, Ohio State (PHI)
1.02 – Marc Michaelis, Minnesota State
0.97 – Evan Barratt, Penn State (CHI)
0.97 – Nate Sucese, Penn State
Halloran rebounds from surgery – Colorado College senior Nick Halloran (Draper, Utah/Trail-BCHL) scored goals in each game of the Tigers' sweep at St. Cloud State, further proof that the dynamic winger is back after hip surgery cut short his junior season. An All-American as a sophomore, Halloran has since had surgery on both hips and was limited to 20 games a year ago. He's missed just one game this season and is averaging more than a point per game in the seven he's played, entering this weekend's series at Minnesota Duluth.
Undrafted Ahcan stars at UW – Wisconsin enters its border battle with Minnesota after handing Notre Dame its first loss of the season Friday. The Badgers boast 12 NHL draft picks; their top seven scorers consist of six draft picks plus undrafted sophomore Roman Ahcan (Savage, Minn./Cedar Rapids-USHL). Ahcan, whose brother Jack is an All-American defenseman at St. Cloud State, has 12 points and a team-leading +10 rating. He has nearly matched his point total from last season (15) already. | Friday's game is on FOX Sports North; Saturday's is on FOX Sports North+
Air Force, Tomlak flying – Air Force has won three in a row after an 0-7-0 start heading into a visit to Atlantic Hockey-leading Robert Morris. The biggest difference: the offense has come alive, led by senior Brady Tomlak (Oakland, Mich./Springfield-NAHL). Tomlak, whose father, Mike, played for the Hartford Whalers, took part in flight training this past summer and was able to fly solo by the end of the course. Air Force Record GF GA First 7 Games 0-7-0 8 28 Last 3 Games 3-0-0 11 7
Chaffee elevates game – While Cale Makar lights up the NHL, his alma mater – Massachusetts – has maintained a No. 7 national ranking entering a home-and-home with Merrimack. Leading the way is junior Mitchell Chaffee (Rockford, Mich./Bloomington-USHL), whose nine goals share the national lead. Chaffee is one of two returning first-team All-Americans in the nation (UMD's Hunter Shepard is the other), but he seems to have elevated his game even further as a junior. He carries a seven-game point streak into the weekend. | Friday's game is on NESN
Longest Active Home Unbeaten Streak
15 – Massachusetts (15-0-0)
13 – Harvard (12-0-1)
10 – Notre Dame (10-0-0)
10 – Maine (9-0-1)
---
Fries at the Bottom of the Bag
The only unbeaten teams in Division I men's hockey are Cornell (6-0-0) and Harvard (5-0-0); the only unbeaten teams in Division I women's hockey are Cornell (7-0-1) and Harvard (5-0-0) … Eighteen players have recorded a hat trick this season; none has more than one … Seven games are on national/regional sports networks this Friday and Saturday.