Wednesday, November 6, 2019
Notes: Summit Meeting in Duluth
No. 1 faces off against the defending champions in weekend's biggest series.
---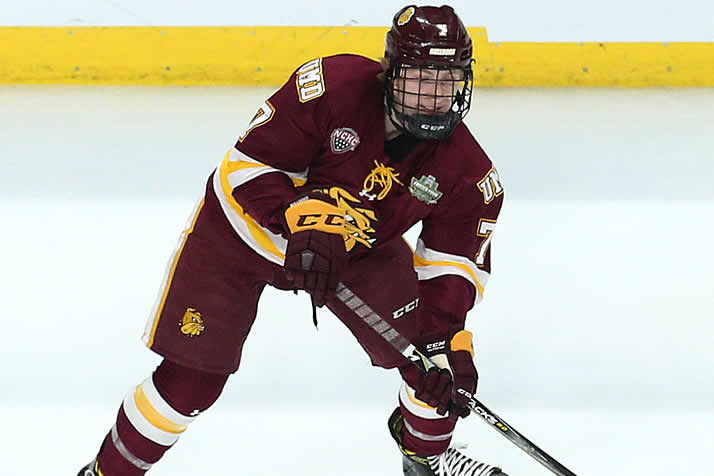 Scott Perunovich has two goals, both on the power play, this season (Photo by Larry Radloff).
By Nate Ewell
Denver and Minnesota Duluth – home between them to the last three national championships – open NCHC play this weekend in Duluth. UMD junior Scott Perunovich (Hibbing, Minn./Cedar Rapids-USHL/STL) knows nothing but titles, having led the Bulldogs to the 2018 and '19 crowns and earning All-America honors both seasons. Perunovich leads UMD with six points in as many games this season.
---
Must Read/See/Hear Material
The Crimson: Down but not out
The Athletic: Cole Caufield and the Wisconsin way | A family affair
SI.com: Alex Newhook: Coast to Coast to Coast
Mankato Free Press: Pro prospect Mackey matures with highs, lows of college hockey
Grand Forks Herald: Behind-the-scenes at junior hockey powerhouse Penticton
The Gopher Hockey Blog: College hockey stock report
NHL.com: Dugan aiming to be 'the best player in college hockey'
---
Five More Storylines No One Should Be Without
Singing and scoring for Maine – Maine is 5-1-1 in its last seven and senior Mitchell Fossier (Alpharetta, Ga./Sioux City-USHL) stands tied for second nationally with nine assists. He is closing in on 100 points (95) in only 108 career games played. Fossier is not only skilled on the ice – he's also a talented musician who has released an EP. He and the Black Bears are just outside of the national top 20 entering a potential statement series at No. 14 UMass Lowell.
Goalie battle in South Bend – Notre Dame welcomes Ohio State for a top-10 showdown in South Bend this weekend featuring the top two active goaltenders in career save percentage. The Irish's Cale Morris (Larkspur, Colo./Waterloo-USHL) and Buckeyes' Tommy Nappier (St. Louis, Mo./Omaha-USHL) have been the Big Ten's Goaltenders of the Year the past two years – Nappier in 2019 and Morris in 2018. Both are NHL free agents.
Career Save Percentage, Active Goaltenders (Min. 10 GP)
.938 – Tommy Nappier, Ohio State
.936 – Cale Morris, Notre Dame
.934 – Devin Cooley, Denver
.931 – Filip Lindberg, Massachusetts (MIN)
.930 – Matthew Galajda, Cornell
LSSU's hometown hero – Lake Superior State opened WCHA play with two one-goal wins behind a five-point weekend from sophomore Ashton Calder (Sault Ste. Marie, Mich./Lincoln-USHL). The hometown hero Calder is building off an impressive freshman campaign in which he posted 22 points; 10 games into this season he is already halfway to that total (4g-7a). The Lakers are 4-6-0 but that includes series vs. No. 1 Denver, at Michigan and at No. 5 Notre Dame.
Walsh leads Crimson D – Harvard lost two defensemen from last season to NHL rosters (Adam Fox and John Marino), but the Crimson still have a loaded blueline. Leading the way is junior Reilly Walsh (Andover, N.H./Chicago-USHL/NJD), who had an assist in the season-opening win vs. Dartmouth. Walsh is the son of a former NHLer and a coach; Mike, his dad, coached Reilly at Proctor Academy prior to his heading to Cambridge. | Boston Herald: Walsh will help lead Harvard blue line corps
Vets shine at Sacred Heart – Sacred Heart stands second in Atlantic Hockey with wins in three of its last four games entering a home-and-home with Holy Cross. Senior Vito Bavaro (Sarasota, Fla./Brooks School) has goals in five of the last six games, part of a wealth of experience the Pioneers boast. No team returned more goals from last year's roster than Sacred Heart, and Bavaro is one of four juniors or seniors who have already scored four or five goals.
Highest Percentage of Returning Goals
95% – Sacred Heart
94% – Minnesota State
92% – American International
89% – St. Lawrence
87% – Western Michigan
---
NHL Note of the Week
Two players under 23 years old have recorded hat tricks this season: former North Dakota teammates Tyson Jost and Brock Boeser. | NHL Matchup Tool
---
Fries at the Bottom of the Bag
Six of the top nine teams in the national polls have never won a national championship … Jack Dugan (Rochester, N.Y./Chicago-USHL/VGK) leads the nation with 18 points, four more than any other player … After this weekend, Omaha and St. Cloud State will be the only teams yet to play a conference game … All 60 teams have started their seasons; only Denver (8-0-0), Notre Dame (5-0-1), Cornell (2-0-0) and Harvard (1-0-0) haven't lost.