Wednesday, December 11, 2019
Notes: Second-Half Storylines
Parity, close conference races in spotlight as first half winds down.
---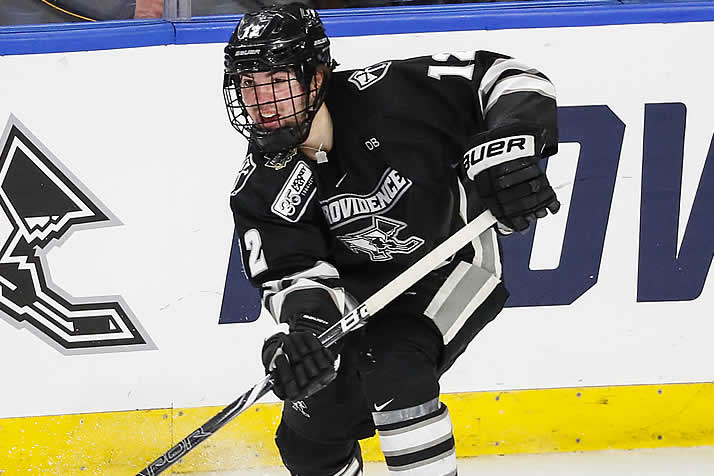 Providence's Jack Dugan has 13 multiple-point games in 17 outings this season (Photo by Matt Dewkett).
By Nate Ewell
More than half of Division I men's teams are off for exams and the holiday break, with 23 games on this weekend's schedule. With that in mind, this week's notes look ahead to the second half, with the first post-Christmas games slated for Dec. 27.
Five of the top nine teams in the national polls are seeking their first national title, a sign of the parity in college hockey as the second half approaches. Leading the way is No. 1 Minnesota State, which will head into March in search of the school's first NCAA Tournament win.
---
Must Read/See/Hear Material
The Rink Live: SCSU's Jaycox wants to run a resort after hockey
California Rubber: Hamacher making his point with RIT
Daily Hampshire Gazette: Fan's love for Makar transcends love for UMass
The Rink Live: In the broadcast booth, Starman is a coach at heart
---
Five More Storylines No One Should Be Without
National scoring race – Providence sophomore Jack Dugan (Rochester, N.Y./Chicago-USHL/VGK) has set a blistering scoring pace with 33 points through 17 team games – one point ahead of Johnny Gaudreau at the same point in 2013-14, when he posted college hockey's most recent 80-point season. Dugan has six points more than the next closest player – teammate Tyce Thompson (Milford, Conn./Dubuque-USHL/NJD) – and a nine-point lead on any non-teammate.
National Points Leaders
33 – Jack Dugan, Providence (VGK)
27 – Tyce Thompson, Providence (NJD)
24 – Jordan Kawaguchi, North Dakota
23 – Nate Sucese, Penn State
22 – David Cotton, Boston College (CAR)
22 – Tyler Madden, Northeastern (VAN)
22 – David Farrance, Boston University (NSH)
Resurgent powers – After a 2019 NCAA Tournament that was notable for what teams were missing – Boston College, Boston University, Michigan, Minnesota, North Dakota and Wisconsin all out for just the second time – some traditional powers are enjoying a return to glory in 2019-20. North Dakota (12-0-1) and Boston College (9-0-0) enter the break with the nation's longest unbeaten and winning streaks, respectively.
Longest Active Unbeaten Streaks
13 – North Dakota (12-0-1)
9 – Boston College (9-0-0)
9 – Minnesota State (9-0-0)
5 – Sacred Heart (5-0-0)
5 – Niagara (4-0-1)
5 – Ohio State (4-0-1)
5 – Arizona State (3-0-2)
Down to the wire – First place in all six conferences could all change in the course of a weekend, with the largest lead in any conference belonging to North Dakota in the NCHC (four points).
Conference Leaders (Point lead)
Atlantic Hockey: Sacred Heart (3 points)
Big Ten: Penn State (2)
ECAC Hockey: Cornell (2)
Hockey East: Providence (1)
NCHC: North Dakota (4)
WCHA: Minnesota State (2)
Experience in net – Nine of the top 11 goaltenders in save percentage are juniors or seniors, showing the value of experience between the pipes. The exceptions are the nation's co-leaders in shutouts with four each: Boston College freshman Spencer Knight (Darien, Conn./U.S. NTDP/FLA) and Minnesota State sophomore Dryden McKay (Downers Grove, Ill./Madison-USHL). McKay also leads the nation in save percentage (.957) and goals-against average (1.06).
National Save Percentage Leaders
.957 – Dryden McKay, Minnesota State
.945 – Tyler Wall, UMass Lowell (NYR)
.941 – John Lethemon, Michigan State
.941 – Justin Kapelmaster, Robert Morris
.941 – Matthew Galajda, Cornell
.940 – Spencer Knight, Boston College (FLA)
Exotic locales – The big games in the second half include some exotic locales in the weeks after the holiday break. Two top-20 teams – Arizona State and Harvard – will meet in Irvine, Calif., on Dec. 28-29, the first Division I men's games in California since the 1999 Frozen Four. On Jan. 3-4, three top-20 teams will visit Las Vegas for the Fortress Invitational between Army West Point, Cornell, Ohio State and Providence. Other highlights of the second half include games at Madison Square Garden, TD Garden, Xcel Energy Center and a meeting between Alabama Huntsville and Lake Superior State in Sault Ste. Marie, Ont. (Feb. 15).
Key Dates
Dec. 26-Jan. 5: IIHF World Junior Championship (Czech Republic)
Dec. 28-29: Arizona State vs. Harvard (Irvine, Calif.)
Jan. 25-26: Connecticut Ice (Webster Bank Arena, Bridgeport, Conn.)
Feb. 3 & 10: Beanpot (TD Garden, Boston)
Feb. 16-23: USA Hockey's Hockey Week Across America
March 6-8: Conference tournament play begins in Atlantic Hockey, Big Ten, ECAC Hockey and WCHA
March 13-15: Conference tournament play begins in Hockey East and NCHC
March 21: Conference championship games
March 22: NCAA Selection Show
March 27-29: NCAA Regionals (Worcester, Mass.; Loveland, Colo.; Albany, N.Y.; Allentown, Pa.)
April 9 & 11: NCAA Frozen Four (Little Caesars Arena; Detroit, Mich.)
---
WJC Note of the Week
As many as 19 schools could be represented at the 2020 World Junior Championship, based on preliminary rosters. Twenty-three current college players have been named to the preliminary roster for the U.S. team.
---
Fries at the Bottom of the Bag
This week's schedule is highlighted by the battle for the Gold Pan between Colorado College and Denver and two top-20 series (Arizona State at Michigan State, Penn State at Notre Dame) … The Colorado Springs city council has unanimously approved Colorado College's new arena … 26 players have recorded a hat trick this season; none has more than one … The nation's top 22 scorers (20+ points) hail from four countries, 10 states and two provinces.