Monday, December 16, 2019
Recruits Named to CJHL Rosters
CJHL Prospects Game set for Jan. 14 in Hamilton, Ont.
---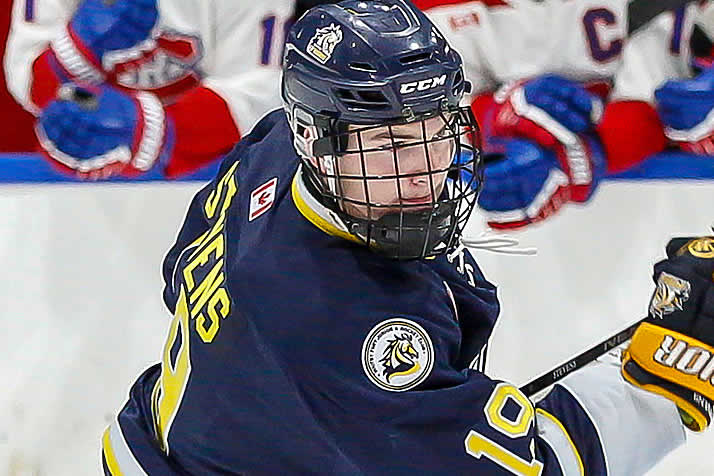 Christian Stevens is one of two Massachusetts commits selected for the 2020 CJHL Prospects Game (Photo by Ray MacAloney/OJHL Images).
Nineteen NCAA commits headed to 15 schools will take the ice Jan. 14 when the CJHL holds its 15th annual CJHL Prospects Game in Hamilton, Ont.
The CJHL, which includes 10 junior A leagues across Canada, announced the rosters for the 2020 CJHL Prospects Game in conjunction with NHL Central Scouting. Each of the participants is eligible for the 2020 NHL Draft.
Denver, Massachusetts, Minnesota Duluth and St. Lawrence each have two recruits slated to play in the game. Eleven other schools have one recruit each on the roster (listed below).
"We extend our sincere congratulations to all of those players who have earned their selection to compete in the 2020 CJHL Prospects Game in Hamilton," said CJHL President Brent Ladds. "We'd also like to acknowledge and recognize NHL Central Scouting for their substantial efforts in helping formalize the Team East and Team West rosters."
Team East

Goaltenders
Tommy Da Silva
St-Jerome (LHJAAAQ)
Devon Levi
Carleton Place (CCHL)
Vermont

Defensemen
Ben Brunette
Carleton Place (CCHL)
UMass Lowell
Thomas Haynes
Brampton (OJHL)
Brendan Kennette
Burlington (OJHL)
Tucker McIntosh
Ottawa (CCHL)
St. Lawrence
Sam McKinney
Campbellton (MHL)
Nathan Porter
Whitby (OJHL)

Forwards
Ryan Alexander
St. Michael's (OJHL)
Arizona State
Giordano Biondi
Rayside-Balfour (NOJHL)
Hunter Brazier
Kemptville (CCHL)
Finn Brown
St. Michael's (OJHL)
Rensselaer
Matteo Costantini
Buffalo (OJHL)
Cole Craft
Rockland (CCHL)
Chase Lammi
Kemptville (CCHL)
St. Lawrence
Colby MacArthur
Summerside (MHL)
Cole O'Hara
North York (OJHL)
Massachusetts
Christos Rodis
Brampton (OJHL)
Western Michigan
Christian Stevens
Whitby (OJHL)
Massachusetts
Ryan Tverberg
Toronto (OJHL)

Team West

Goaltenders
Jackson Glassford
Alberni Valley (BCHL)
Ryan Ouellette
Yorkton (SJHL)

Defensemen
Michael Benning
Sherwood Park (AJHL)
Denver
Kabore Dunn
Fort McMurray (AJHL)
Ethan Edwards
Spruce Grove (AJHL)
Mac Gross
Kindersley (SJHL)
Ryan Helliwell
Langley (BCHL)
Notre Dame
Trey Taylor
Vernon (BCHL)

Forwards
Ethan Bowen
Chilliwack (BCHL)
North Dakota
Nikolas Campbell
Thunder Bay (SIJHL)
Stanley Cooley
Spruce Grove (AJHL)
Northeastern
Graham Gamache
Spruce Grove (AJHL)
Kyler Kovich
Nanaimo (BCHL)
Carter Loney
Steinbach (MJHL)
Minnesota Duluth
Brayden Morrison
Okotoks (AJHL)
Luke Mylymok
Salmon Arm (BCHL)
Minnesota Duluth
Carter Savoie
Sherwood Park (AJHL)
Denver
Danny Weight
Penticton (BCHL)
Boston College
Luc Wilson
Cowichan Valley (BCHL)
Minnesota State
Alex Young
Canmore (AJHL)
Colgate