Wednesday, January 22, 2020
College Hockey Inc., JLG Architects Introduce Scholarship
Grant will go to NCAA student-athlete who contributes to the future of hockey.
---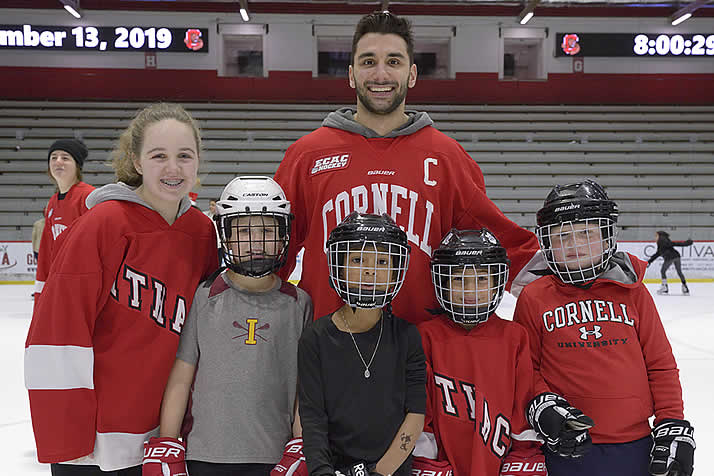 Applications for the College Hockey Inc. Scholarship are due by March 11.
College Hockey Inc., the nonprofit marketing and educational arm of Division I men's college hockey, is proud to introduce the College Hockey Inc. Scholarship, presented by JLG Architects. The $2,500 annual grant is a postgraduate scholarship that will be awarded to an NCAA hockey student-athlete who helps build the game through their support of the next generation of hockey players.
"We are excited to create this scholarship and are grateful for the generous support of JLG Architects that makes it possible," said College Hockey Inc. Executive Director Mike Snee. "College hockey players consistently give back to their communities and we wanted to salute those who do so with a focus on young hockey players."
"Architecture may be in our DNA at JLG, but hockey is in our blood," said JLG Architects CEO Michelle Allen. "We are committed to raising up future architects and design leaders, youth hockey players and collegiate athletes, and are proud to support the people, programs, and communities made better by organizations such as College Hockey Inc."
The College Hockey Inc. Scholarship, presented by JLG Architects, is open to any NCAA hockey player (men's or women's, of any division). The winner will be selected by a committee made up of representatives of College Hockey Inc. and JLG Architects.
NCAA hockey student-athletes are invited to apply for the scholarship at this web site. Applications require an essay (maximum 1,000 words) on the student-athlete's contributions to the youth hockey community, which may be accompanied by videos or other supplemental information. Applications are due by Wednesday, March 11. Applicants must be seniors exhausting their NCAA eligibility in 2019-20.
---
About College Hockey, Inc.
Formed in 2009 in partnership with USA Hockey, College Hockey, Inc. is a nonprofit organization dedicated to promoting Division I men's college hockey to prospective players and fans through extensive marketing and informational efforts. The entity is operated under the auspices of a 12-member Board of Directors and works closely with the commissioners, coaching staffs and administrators of the 60 programs and six conferences that sponsor Division I hockey.
---
About JLG Architects
JLG is a 100% employee-owned architecture firm with over 150 offices across twelve offices in Minnesota, South Dakota, and North Dakota, and has been named one of the Top 25 Sports Facility Architecture Giants in the U.S. by Building Design+Construction, the Best Ice Hockey Arena Architects in the Upper Midwest U.S. by LUXlife International, and one of 50 Most Admired Companies in America by MSN Money. Additionally, JLG's dedicated ice hockey studio is the Preferred Architecture Partner of the National Collegiate Hockey Conference and the Western Collegiate Women's Hockey Association.