Wednesday, January 22, 2020
Notes: Big Stage in Connecticut
UConn has won back-to-back games entering the first Connecticut Ice tournament.
---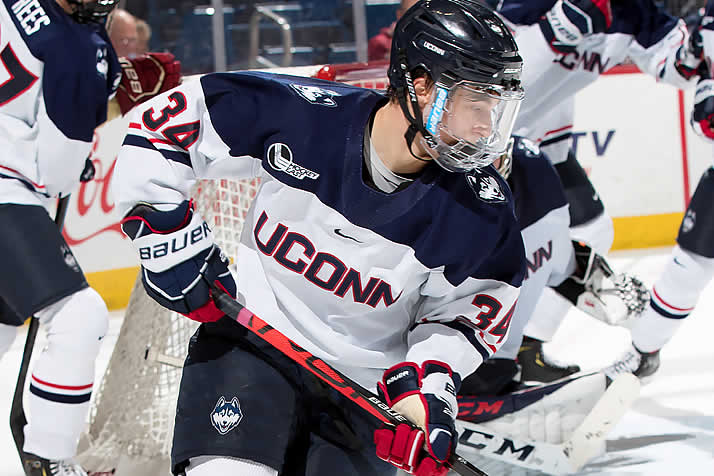 Ruslan Iskhakov assisted on both game-winning goals last week for UConn.
By Nate Ewell
UConn has won back-to-back games and enters this weekend's first ever Connecticut Ice tournament within one game of .500 at 9-10-4. The Huskies boast a potent Russian scoring combination in freshman Vladislav Firstov (Yaroslavl, Russia/Waterloo-USHL/MIN) and sophomore Ruslan Iskhakov (Moscow, Russia/Krasnaya Armiya Moskva/NYI). They rank 1-2 on the team in scoring with 16 and 15 points, respectively. Only three freshmen nationally have scored more than Firstov's nine goals, which included three in last week's pair of wins. | Connecticut Ice will be televised on SNY
Don't Miss: College Hockey Inc., JLG Architects Introduce Scholarship
---
Must Read/See/Hear Material
Valley News: Dartmouth building a 'lumberjack' in O'Connor
Wisconsin State Journal: Passion helps Ahcan give opponents fits
The Gateway: From Espoo to Omaha
The Rink Live: Sowder, Smith have been teammates in Florida roller hockey, at Minnesota State
The Rink Live: Johnson gets his first ice fishing experience
Union Leader: Engaras fitting in nicely for UNH
---
Five More Storylines No One Should Be Without
Aptly named Dryden McKay – With a name like Dryden, you ought to be a goalie – and you better be good. Minnesota State sophomore Dryden McKay (Downers Grove, Ill/Madison-USHL) checks both boxes, and has numbers that would make namesake Ken Dryden jealous. He enters this weekend's key WCHA series with Bemidji State leading the nation in save percentage (.946), goals-against average (1.25), wins (21) and shutouts (7).
Most Shutouts
7 – Dryden McKay, Minnesota State
5 – John Lethemon, Michigan State
4 – Josh Benson, Sacred Heart
4 – Spencer Knight, Boston College (FLA)
4 – Strauss Mann, Michigan
Reilly leads RPI – Rensselaer has matched last season's win total (10) entering Saturday's Mayor's Cup game against Union. Defenseman Will Reilly (Toronto, Ont./Nanaimo-BCHL/PIT) leads the Engineers as team captain after the Penguins draft pick elected to return to school for his senior season. Reilly's 15 points share the team lead and he is one of five seniors in double digits.
Keck back to health – Senior Tristan Keck (Morris, Man./Winkler-MJHL) was among the goal scorers in Omaha's pair of ties vs. Denver last weekend. The Mavericks are 6-4-3 when Keck is in the lineup and went 3-6-2 during an 11-game stretch when he was out due to injury. The former MJHL MVP is averaging a point per game and leads Omaha with a +8 rating.
AIC on a roll – American International is on a 6-1-1 run in Atlantic Hockey play and last year's Cinderella story is back within striking distance of first place in the conference. Leading the way offensively again is returning All-American Blake Christensen (Coral Springs, Fla./Wenatchee-NAHL). Christensen – whose father, Terry, was a longtime assistant coach under Michigan State's legendary Ron Mason – has 18 points to lead the team, 17 of them in conference games.
Khodorenko leads MSU – Picked seventh in the Big Ten, Michigan State is just one point out of first entering a home weekend with Penn State. Senior Patrick Khodorenko (Walnut Creek, Calif./U.S. NTDP) has led the Spartans in goals (11), assists (14) and points (25). The NHL free agent has been a top-three scorer all four years at MSU and has produced multiple-point games in eight of 24 outings this season.
---
NHL Note of the Week
Seven NCAA alumni representing six schools will take part in the 2020 NHL All-Star Game in St. Louis. Michigan has two representatives in Pacific Division teammates Quinn Hughes and Max Pacioretty. | NHL Matchup Tool
---
Fries at the Bottom of the Bag
37 players have a hat trick this season … The first-place lead in four of the six conferences is three points or less … 14 games are on national or regional sports networks this weekend.