Thursday, January 2, 2020
Notes: Headed to Vegas
Vegas tournament highlights the start of play in 2020.
---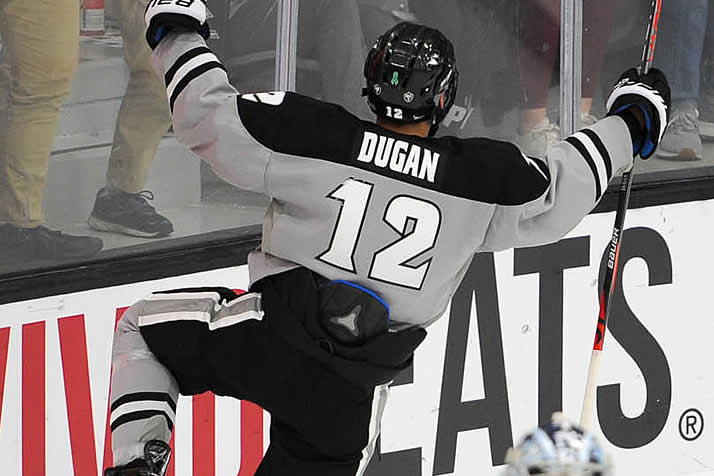 Providence's Jack Dugan has 13 multiple-point games in 17 outings this season.
By Nate Ewell
Las Vegas hosts four of the nation's top 14 teams in winning percentage, all ranked in the top 20, for the Fortress Invitational. Among the top performers in Vegas this weekend will be the nation's leading scorer, Providence's Jack Dugan (Rochester, N.Y./Chicago-USHL/VGK), himself a Vegas Golden Knights draft pick. Dugan leads the NCAA in points (35), even-strength points (21) and multiple-point games (13). | The Athletic: Dugan could be a Hobey winner – and a Golden Knight – by season's end
Fortress Invitational Team Winning Percentages (National Rank)
.909 – Cornell (1st)
.722 – Ohio State (7th)
.711 – Army West Point (8th)
.632 – Providence (14th)
---
Must Read/See/Hear Material
The Athletic: Calmly shining: Knight surging in first season at BC
Mankato Free Press: WCHA is loaded with veteran defensemen
Post Bulletin: Zmolek, Scheid share a bond on the blue line
NHL.com: Barron a 'throwback' at Cornell
NHL.com: Makar's season top story of 2019
NCHCHockey.com: Up in the Air by Luke Bafia
TheAHL.com: Griffins' Pearson chases degree – and NHL
---
Five More Storylines No One Should Be Without
Mitchell leads Denver – Massachusetts visits Denver this weekend for a top-10 showdown and a rematch of a 2019 NCAA semifinal. The Pioneers and defenseman Ian Mitchell (Calahoo, Alta./Spruce Grove-AJHL/CHI) will be looking to avenge their overtime loss in that game. Mitchell, a top Blackhawks prospect, returned to campus for his junior season to lead Denver as its captain. | Friday's game is on Altitude, NESNplus
Pietila powers MTU – Host schools won each of the holiday tournaments held before New Year's Day, including Michigan Tech at Detroit's Great Lakes Invitational. The Huskies, who visit Arizona State this weekend, were fueled by a championship game hat trick from Logan Pietila (Howell, Mich./Dubuque-USHL). Pietila is a freshman whose twin brother Blake (Howell, Mich./Cedar Rapids-USHL) is a goaltender on the team. The two Pietilas were teammates on the Compuware U16 team that won the USA Hockey national championship in 2017.
Holiday Tournament Champions
Catamount Cup: Vermont
Great Lakes Invitational: Michigan Tech
Ledyard Classic: Dartmouth
Mariucci Classic: Minnesota
Canisius's goal leader – Canisius came out of the holiday break with its first sweep of the season, entering this weekend's home-and-home against RIT on a high note. Senior Nick Hutchison (Hicksville, N.Y./Salmon Arm-BCHL) leads the Golden Griffins with eight goals, including three last weekend. Hutchison – whose sister, Cailey, plays for the NWHL's Metropolitan Riveters – scored his 50th career goal Sunday, making him one of just six active players with 50 career goals.
Most Career Goals, Active Players
62 – Marc Michaelis, Minnesota State
58 – Nate Sucese, Penn State
54 – Max Humitz, Lake Superior State
52 – Johnny Walker, Arizona State
50 – David Cotton, Boston College (CAR)
50 – Nick Hutchison, Canisius
Seniors fuel Notre Dame – Notre Dame ended the first half on a high note, shutting out Penn State, 3-0. Seniors account for the top three scorers on the Fighting Irish, who face Western Michigan in a home-and-home this weekend. Mike O'Leary (Halifax, N.S./Dubuque-USHL) leads the group with 17 points in 18 games. O'Leary's role – and goal total – has grown in each of his four seasons in South Bend. | Friday's game is on NBCSN
Brosseau paces Clarkson – No. 4 Clarkson was unbeaten in its last six of the first half and hosts Rensselaer and Union to open 2020. The Golden Knights are paced by captain Devin Brosseau (Saint-Lambert, Que./Nanaimo-BCHL), who last year was ECAC Hockey's Student-Athlete of the Year and the MVP of the ECAC Tournament. He trails only Providence's Dugan in points per game nationally (1.53) and has nine multiple-point games in his 15 games played.
---
Fries at the Bottom of the Bag
Friday will mark Dartmouth head coach Bob Gaudet's 1,000th career game behind the bench, all in ECAC Hockey. Boston College's Jerry York is the only other active coach with 1,000 career games in one conference … North Dakota finished the decade with the most victories (254 since Jan. 1, 2010), edging Boston College (247) and Denver (246) … Robert Morris hosts Ontario Tech in a Saturday exhibition in Johnstown, Pa., at the arena that famously hosted the movie Slapshot.