Thursday, January 2, 2020
TSN Unveils January Schedule
11 games delivered to Canadian audiences this month.
---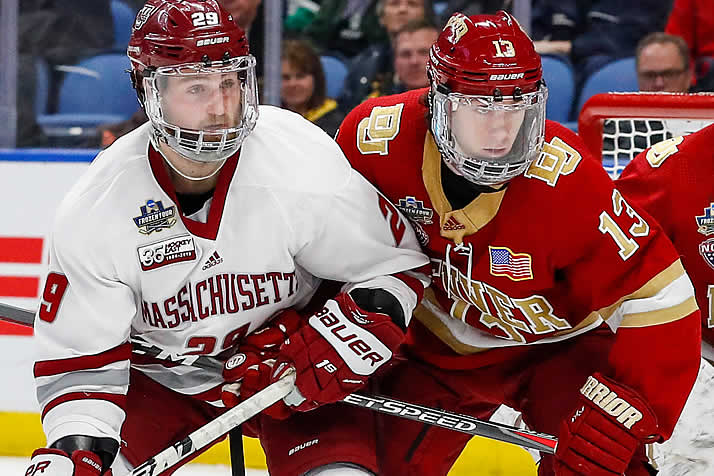 January's schedule begins with a 2019 Frozen Four rematch Friday night (Photo by Matt Dewkett).
TSN's coverage of NCAA hockey will feature 11 games in January, including four televised on TSN, bringing the talent and excitement of U.S. college hockey to Canadian audiences.
January's schedule begins Friday with a 2019 Frozen Four rematch on TSN as No. 9 Massachusetts visits No. 7 Denver. The four televised games in January are:
Fri., Jan. 3 – Massachusetts at Denver (TSN, 9 p.m. ET)
Wed., Jan. 15 – Maine at Connecticut (TSN, 7 p.m. ET)
Fri., Jan. 17 – Michigan State at Wisconsin (TSN, 9 p.m. ET)
Fri., Jan. 24 – Ohio State at Minnesota (TSN, 8 p.m. ET)
"These games give Canadian fans the chance to see some tremendous talent in exciting on-campus settings," said College Hockey Inc. Executive Director Mike Snee. "We are thrilled that our partnership with TSN can bring these games to the Canadian audience."
College Hockey Inc.: Full Canadian TV Schedule
TSN and TSN Direct subscribers will have access to 11 NCAA games on TSN.ca and the TSN App in the next month. That schedule of streaming games begins Friday and features:
Appearances from six teams in the current USCHO.com Poll
Historic NCAA hockey rivalries like Michigan-Notre Dame
Top prospects for Canadian teams like Cole Caufield (Wisconsin/MTL), Emilio Pettersen (Denver/CGY) and Will Lockwood (Michigan/VAN)
First-round NHL draft prospect and Bragg Creek, Alta., native Dylan Holloway (Wisconsin)
TSN NCAA Hockey Schedule | January 2020
Day
Date
Game
Time (All ET)
Network
Fri.
Jan. 3
Western Michigan at Notre Dame
7 p.m.
TSN.ca/TSN App
Fri.
Jan. 3
Massachusetts at Denver
9 p.m.
TSN/TSN.ca/TSN App
Fri.
Jan. 10
Michigan at Notre Dame
7 p.m.
TSN.ca/TSN App
Fri.
Jan. 10
Ohio State at Wisconsin
9 p.m.
TSN.ca/TSN App
Sat.
Jan. 11
Ohio State at Wisconsin
8 p.m.
TSN.ca/TSN App
Wed.
Jan. 15
Maine at Connecticut
7 p.m.
TSN/TSN.ca/TSN App
Fri.
Jan. 17
Michigan State at Wisconsin
9 p.m.
TSN/TSN.ca/TSN App
Sat.
Jan. 18
Michigan State at Wisconsin
8 p.m.
TSN.ca/TSN App
Fri.
Jan. 24
Wisconsin at Notre Dame
7 p.m.
TSN.ca/TSN App
Fri.
Jan. 24
Ohio State at Minnesota
8 p.m.
TSN/TSN.ca/TSN App
Sat.
Jan. 25
Wisconsin at Notre Dame
6 p.m.
TSN.ca/TSN App