Monday, February 3, 2020
Beanpot Highlights TSN in February
18 games delivered to Canadian audiences in February.
---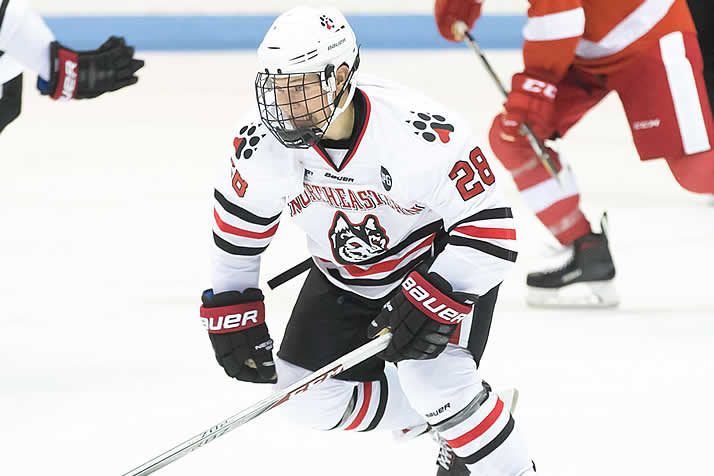 Northeastern seeks its third straight Beanpot championship in 2020.
Live coverage of the annual men's and women's Beanpot tournaments from Boston highlights a busy month of NCAA hockey on February. Eighteen games in the month will be available to Canadian audiences, including seven televised on TSN that all feature nationally ranked teams.
The seven televised games in February are:
Mon., Feb. 3 – Harvard vs. Northeastern (TSN2, 5 p.m. ET)
Mon., Feb. 3 – Boston College vs. Boston University (TSN2, 8 p.m. ET)
Fri., Feb. 7 – Providence at Massachusetts (TSN2, 7 p.m. ET)
Mon., Feb. 10 – Beanpot Championship (TSN5, 7:30 p.m. ET)
Tues., Feb. 11 – Women's Beanpot Championship (TSN2, 8 p.m. ET)
Sat., Feb. 15 – Denver at North Dakota (TSN, 8 p.m. ET)
Fri., Feb. 28 – Michigan State at Notre Dame (TSN, 7 p.m. ET)
The Beanpot features four Boston-based schools in an annual tournament held on the first two Mondays (men's) and Tuesdays (women's) of February. This year's tournaments feature: • Three men's teams ranked among the nation's top 20 in the USCHO.com Poll • Three women's teams ranked among the nation's top 10 in the USCHO.com Poll
"The Beanpot is a unique college hockey tradition and a fitting highlight to this schedule of games on TSN," said College Hockey Inc. Executive Director Mike Snee. "We are thrilled that our partnership with TSN can bring these games to the Canadian audience."
College Hockey Inc.: Full Canadian TV Schedule
TSN and TSN Direct subscribers will have access to 18 NCAA games on TSN.ca and the TSN App in the month. That schedule of streaming games features:
Appearances from 10 teams in the current USCHO.com Poll
Historic NCAA hockey rivalries like Minnesota-Wisconsin and Denver-North Dakota
Top prospects for Canadian teams like Cole Caufield (Wisconsin/MTL), Emilio Pettersen (Denver/CGY) and Will Lockwood (Michigan/VAN)
North Dakota's trio of top Ottawa prospects Shane Pinto, Jonny Tychonick and World Junior Championship gold medalist Jacob Bernard-Docker
First-round NHL draft prospect and Bragg Creek, Alta., native Dylan Holloway (Wisconsin)
TSN NCAA Hockey Schedule | February 2020
Day
Date
Game
Time (All ET)
Network
Sat.
Feb. 1
Minnesota at Wisconsin
9 p.m.
TSN.ca/TSN App
Mon.
Feb. 3
Harvard vs. Northeastern (Beanpot)
5 p.m.
TSN2/TSN.ca/TSN App
Mon.
Feb. 3
Boston College vs. Boston University (Beanpot)
8 p.m.
TSN2/TSN.ca/TSN App
Tue.
Feb. 4
Women's: Harvard vs. Northeastern (Beanpot)
5 p.m.
TSN.ca/TSN App
Tue.
Feb. 4
Women's: Boston College at Boston University (Beanpot)
8 p.m.
TSN.ca/TSN App
Fri.
Feb. 7
Providence at Massachusetts
7 p.m.
TSN2/TSN.ca/TSN App
Fri.
Feb. 7
Michigan State at Minnesota
8 p.m.
TSN.ca/TSN App
Sat.
Feb. 8
Michigan State at Minnesota
6 p.m.
TSN.ca/TSN App
Mon.
Feb. 10
Beanpot Championship
7:30 p.m.
TSN5/TSN.ca/TSN App
Tue.
Feb. 11
Women's Beanpot Championship
8 p.m.
TSN2/TSN.ca/TSN App
Fri.
Feb. 14
Minnesota at Notre Dame
7 p.m.
TSN.ca/TSN App
Sat.
Feb. 15
Minnesota at Notre Dame
6 p.m.
TSN.ca/TSN App
Sat.
Feb. 15
Denver at North Dakota
8 p.m.
TSN/TSN.ca/TSN App
Sat.
Feb. 15
Penn State at Wisconsin
8 p.m.
TSN.ca/TSN App
Mon.
Feb. 17
Michigan State vs. Michigan
7 p.m.
TSN.ca/TSN App
Fri.
Feb. 28
Michigan State at Notre Dame
7 p.m.
TSN/TSN.ca/TSN App
Sat.
Feb. 29
Michigan at Minnesota
6 p.m.
TSN.ca/TSN App