Wednesday, February 12, 2020
Notes: Across the Border
Lake Superior State set to face off in Sault Ste. Marie, Ontario.
---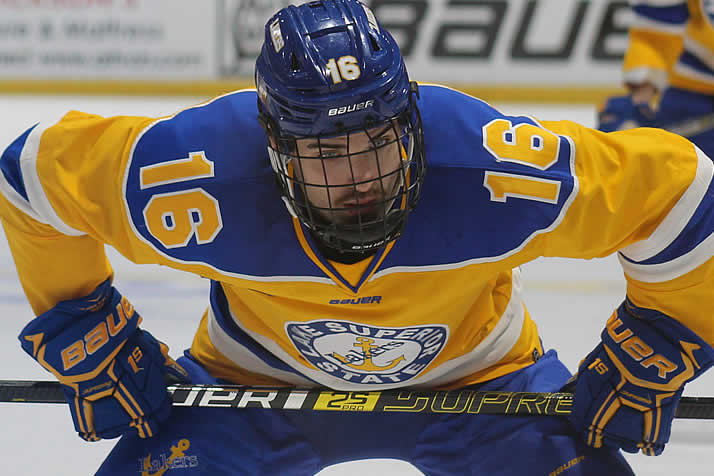 Ashton Calder ranks second on the Lakers with 20 points.
By Nate Ewell
Lake Superior State takes NCAA hockey across the St. Mary's River on Saturday as the Lakers host Alabama Huntsville in Sault Ste. Marie, Ontario. Friday the teams will meet in Sault Ste. Marie, Mich. Fittingly, it's a local who is leading LSSU into the weekend, as sophomore Ashton Calder (Sault Ste. Marie, Mich./Lincoln-USHL) has goals in three straight games and nine points in his last seven outings. Saturday marks the first NCAA Division I men's game in Canada since Jan. 7, 2012, when North Dakota and Clarkson met in Winnipeg.
---
Must Read/See/Hear Material
New York Times: The Beanpot gets a global boost
Boston Globe: A storybook night for sports at the Beanpot
New Haven Register: Quinnipiac's Whelan draws high praise
Chicago Sun-Times: Caggiula, Toews united by college hockey roots
NHL.com: Stadium Series puts Air Force hockey in spotlight
College Hockey News: Final Minute of Play
---
Five More Storylines No One Should Be Without
Falcons' high-flying D – Colorado Springs rivals Air Force and Colorado College play a Friday-Monday home-and-home, with Monday's game headed outdoors at Falcon Stadium. The Falcons feature a pair of high-scoring defensemen in junior Zack Mirageas (Newburyport, Mass./Bloomington-USHL) and freshman Brandon Koch (Hastings, Minn./Wenatchee-BCHL). Zack's brother, Ben, is a junior at Providence, while Brandon's brother, Matt, was an Air Force captain and the team's leading scorer last season.
Home sweet home at Maine – Maine plays five of its six remaining games at Alfond Arena, where the Black Bears are 10-0-2 this season. Meanwhile, they find themselves in the thick of a crowded Hockey East race, where five points separate the top six teams and seven points separate the top nine. Maine currently sits tied for third, and the top four earn home-ice advantage in the first round of the Hockey East Tournament. Tim Doherty (Portsmouth, R.I./Boston Jr. Bruins-USPHL) and Eduards Tralmaks (Riga, Latvia/Chicago-USHL) have both scored eight of their team-leading 13 goals at home.
Best Home Record
14-1-0 – North Dakota
10-0-2 – Maine
7-0-2 – Cornell
13-2-1 – Minnesota State
10-2-0 – Quinnipiac
Rookies in spotlight – The NCHC's two top-scoring freshmen are in the spotlight as Denver visits North Dakota for a top-10 showdown. The Pioneers' Bobby Brink (Minnetonka, Minn./Sioux City-USHL/PHI) holds a one-point lead on the Fighting Hawks' Shane Pinto (Franklin Square, N.Y./Tri-City-USHL/OTT) among NCHC rookies, though Pinto holds the advantage in goals, 13 to 10. | Friday's game is on CBSSN
Most Points, Freshmen
32 – Cole Caufield, Wisconsin (MTL)
31 – Nick Abruzzese, Harvard (TOR)
29 – Trevor Zegras, Boston University (ANA)
26 – Alex Newhook, Boston College (COL)
26 – Braeden Tuck, Sacred Heart
Quinnipiac's big man in goal – Quinnipiac is on an 11-2-1 run entering a home showdown with Clarkson Friday. The Bobcats have been powered by the development of junior goaltender Keith Petruzzelli (Wilbraham, Mass./Muskegon-USHL/DET), who ranks sixth among drafted goaltenders with a .918 save percentage. That's a significant increase from his .897 mark through his first two seasons. The 6-foot-5 Petruzzelli has held opponents to less than three goals in 19 of 28 games this season.
Family ties fuel Irish – Notre Dame is unbeaten in three straight entering a series with Minnesota. The Fighting Irish have a family feel among their top performers, as two of the team's top four scorers also have brothers on the team. Sophomore Alex Steeves (Bedford, N.H./Dubuque-USHL) leads Notre Dame with 22 points, while brother Matt (Bedford, N.H./Muskegon-USHL) has chipped in four. Senior captain Cal Burke (Boxborough, Mass./Cedar Rapids-USHL) trails closely behind with 19 points, while his younger brother, Cam (Boxborough, Mass./Sioux Falls-USHL) has a pair of goals. | Friday's game is on NBCSN; Saturday's is on NBC Sports Chicago
---
NHL Note of the Week
With the acquisition of Jason Zucker (Denver), the Pittsburgh Penguins have had alumni of 16 different NCAA schools play for them this season. | NHL Matchup Tool
---
Fries at the Bottom of the Bag
There are two weeks left to apply for the College Hockey Inc. Scholarship, presented by JLG Architects … The nation's longest active winning streaks belong to American International (7), Arizona State (5) and Maine (5) … Four of the nation's top 10 scorers are from New York.