Wednesday, February 5, 2020
Notes: Allison Healthy, Thriving
Western Michigan is 5-1-1 in its last seven games.
---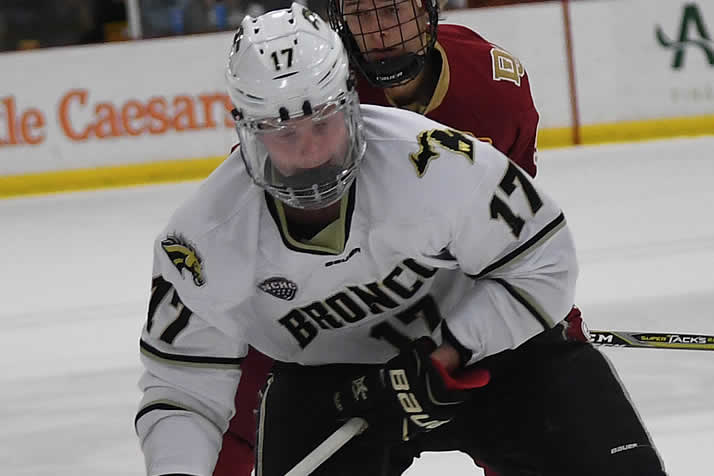 Wade Allison has 89 points in 97 career games.
By Nate Ewell
After being limited to seven of the first 16 games, Western Michigan senior Wade Allison (Myrtle, Man./Tri-City-USHL/PHI) has been healthy and played in 10 straight. Allison has a six-game point streak entering this weekend's non-conference series with Rensselaer, including six goals in that time. When healthy, he has proven to be one of the most dangerous players in the country, and he's critical to the Broncos' success – when he plays they are 9-5-3, but when he's out they are just 3-5-1.
---
Must Read/See/Hear Material
The Daily Gazette: Union's Kosack opens doors for 'Kozi's Kids'
Boston.com: Four Beanpot stars share stories of NHL dads
The Athletic: As the Rangers wait, Barron eyes an NCAA title for Cornell
The Athletic: BC's Knight looks like the NHL goalie of tomorrow
The Rink Live: Sjodahl, Rosen forge Swedish connection for BSU
The Rink Live: SCSU's Ahcan is 5-foot-8, but powerful, skilled
The Rink Live: 'Farm boy' Nelson is the Gophers' next big thing
Star Tribune: Freshman spurs Gophers' recent revival
Centre Daily Times: Hults' 'pro mentality' culminates in 4-point weekend
---
Five More Storylines No One Should Be Without
Wilson back for Army – After being limited to just 16 games last season due to injury, Army West Point forward Michael Wilson (Fond du Lac, Wisc./Minnesota Magicians-NAHL) is back to health and enjoying a standout senior season. The second-team all-conference selection as a sophomore leads the Black Knights in goals (11) and points (20) as they stand third in Atlantic Hockey entering this weekend's game at Bentley.
Michigan claws its way back – Michigan is 7-3-1 since its 4-9-2 start. Senior Jake Slaker (San Diego, Calif./Bloomington-USHL) has been the hottest Wolverine in that time and has 14 points in his last 13 games (8 goals-6 assists). Slaker grew up around the game in the Atlanta area, where his father, Dirk, was the team doctor for the IHL's Atlanta Knights.
Kolias shines in new position – Union scored nine goals last weekend, an explosion for a team averaging less than two per game to that point. Chipping in two assists each night was senior Vas Kolias (Schaumburg, Ill./Youngstown-USHL). Kolias is a defenseman by trade who has moved to left wing of late. The offensive touch he has traditionally shown from the blueline certainly seems to translate to the new position.
Latta leads UAH – Alabama Huntsville snapped a 12-game winless streak with a 3-1 win against Michigan Tech and continues its homestand with a series against Alaska this weekend. Freshman Josh Latta (West Vancouver, B.C./Vernon-BCHL) leads the Chargers in goals (7), assists (9) and points (16), one of five freshmen nationally to lead his team in scoring outright.
Freshmen Leading their Team in Scoring
Josh Latta, Alabama Huntsville
Rylee St. Onge, Alaska Anchorage (shares team lead)
Vladislav Firstov, Connecticut
Jake Willets, Ferris State
Matt Brown, UMass Lowell
Ben Meyers, Minnesota (shares team lead)
Jacques Bouquot and Andrew Lucas, Vermont
Cole Caufield, Wisconsin
Young UML guns – UMass Lowell doesn't just have a freshman leading the team in scoring; the top three scorers for the River Hawks are all first-year players. Leading the way is Matt Brown (Wood Ridge, N.J./Des Moines-USHL) with 21 points through 25 games. Despite the reliance on youth UMass Lowell stands firmly in the mix of a crowded Hockey East race – the River Hawks are two points behind the conference co-leaders, one of eight teams within three points of first place. | Saturday's game is on NESN
Most Points, Freshmen
90 – Merrimack
89 – Boston University
76 – Providence
74 – Minnesota
72 – UMass Lowell
---
NHL Note of the Week
Last week Minnesota Duluth alum Alex Iafallo became the 13th former NCAA player to record a hat trick in the NHL this season. | NHL Matchup Tool
---
Fries at the Bottom of the Bag
Northeastern seeks its third straight Beanpot championship Monday when it faces Boston University (7:30 p.m. ET, NESN, NHL Network, TSN5) … With four or five weeks remaining in the regular season (depending on the conference), three of the six Division I conferences have ties atop their standings … 42 players have a hat trick this season; UConn sophomore Jonny Evans (North Delta, B.C./Powell River-BCHL) is the only player with two hat tricks.