Wednesday, February 26, 2020
Notes: RPI on a Roll
Burgess scores five times as Engineers continue hot stretch in ECAC Hockey.
---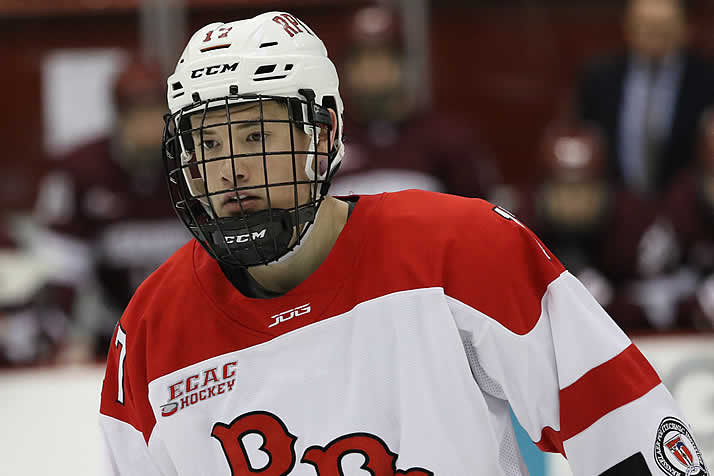 Todd Burgess scored four goals in his 100th career game Saturday night against Princeton (Photo by Perry Laskaris).
By Nate Ewell
Rensselaer enters the final weekend of the regular season in position to earn home ice in the first round of the ECAC Hockey tournament thanks to a 9-3-0 stretch in the conference. Senior Todd Burgess (Phoenix, Ariz./Fairbanks-NAHL/OTT) was the key to last weekend's sweep, scoring five goals in wins against Quinnipiac and Princeton. Burgess, who missed his entire freshman season recovering from injury, has points in six straight games and career highs in goals (13) and points (19). The Engineers close the regular season at Harvard and Dartmouth.
---
Must Read/See/Hear Material
Front Office Sports: NHL bankrolls college hockey expansion as youth game explodes
Grand Forks Herald: Thome's moment comes after years of battling through setbacks
The Rink Live: Reedy's ritual a part of second-half success
Bangor Daily News: Sister's guidance helps UMaine freshman
Daily Collegian: How Liam Folkes broke barriers to become a superstar
Massachusetts Daily Collegian: The playmaker and the pest
The Gopher Hockey Blog: College hockey 2020 trade deadline
---
Five More Storylines No One Should Be Without
Hutsko healthy and thriving – Boston College and Massachusetts are the only teams to have clinched Hockey East tournament spots, with BC holding an edge in the race for the regular-season title. The Eagles' top goal scorer is junior Logan Hutsko (Tampa, Fla./U.S. NTDP/FLA), who has battled injuries during his career but has 27 points in 23 games since missing four contests earlier this season. A Florida native who was drafted by his home-state Florida Panthers, Hutsko has either scored or assisted on the game-winning goal in eight of BC's last 12 victories. | BC games on Thursday and Saturday are on NESN
Niagara's rookie goalie – Niagara hosts Robert Morris in the last series of the regular season and could host a first-round playoff series in Atlantic Hockey, even after starting the season 0-8-1. Freshman Chad Veltri (Pittsburgh, Pa./Youngstown-USHL) has emerged as the starter in goal for the Purple Eagles, posting a 6-4-0 mark while starting 10 of the last 11 games. His .927 save percentage ranks tied for first among freshmen goaltenders nationwide.
Best Save Percentage, Freshmen
.927 – Spencer Knight, Boston College (FLA)
.927 – Chad Veltri, Niagara
.916 – Magnus Chrona, Denver (TBL)
.915 – Mitchell Gibson, Harvard (WSH)
.915 – Jared Moe, Minnesota (WPG)
Brown sparks UAA – Alaska Anchorage visits Fairbanks with a chance to secure the final playoff spot in the WCHA. Senior Luc Brown (Napanee, Ont./Wellington-OJHL) leads the Seawolves in scoring with 17 points in just 16 games – all in the new year. UAA has averaged an additional 0.31 goals per game with Brown in the lineup.
Preston's progression – Ohio State, Minnesota and Notre Dame enter the last weekend of Big Ten play with a chance to catch idle leader Penn State for the league title. The Buckeyes' top goal scorer is sophomore Quinn Preston (Trenton, Mich./Dubuque-USHL) with 13, including a pair as OSU swept Michigan State last weekend. Preston's development has picked up on the same trajectory as last year, when he scored four of his five goals in the second half of the season. | OSU games on Friday and Saturday are on BTN
Ahcan stars for SCSU – St. Cloud State is unbeaten in six straight (4-0-2) to reach .500 for the first time since Oct. 12 entering a home series vs. Denver. Senior defenseman Jack Ahcan (Savage, Minn./Cedar Rapids-USHL) is one of three players tied for second on the team in scoring. Ahcan is a skilled offensive defenseman with a physical edge that belies his 5-foot-8 frame. He surpassed the 100-career-point mark during St. Cloud's current unbeaten streak. | Friday's game is on CBSSN; Saturday's is on FOX Sports North+
Longest Active Unbeaten Streaks
11 – American International (11-0-0)
7 – Cornell (7-0-0)
7 – Bemidji State (6-0-1)
6 – Minnesota State (5-0-1)
6 – Bowling Green (4-0-2)
6 – St. Cloud State (4-0-2)
Most Career Points, Active Defensemen
119 – Philip Beaulieu, Northern Michigan
118 – Alec Rauhauser, Bowling Green
107 – Brinson Pasichnuk, Arizona State
104 – Adam Brubacher, RIT
101 – Jack Ahcan, St. Cloud State
---
NHL Note of the Week
Seven of the top eight NHL rookies in plus/minus rating played NCAA hockey. | NHL Matchup Tool
---
Fries at the Bottom of the Bag
Vermont's Stefanos Lekkas (Elburn, Ill./Sioux Falls-USHL) has set a Hockey East record with 3,816 career saves … 13 games this weekend are on national/regional sports networks … Rivalry games this weekend include Alaska-Alaska Anchorage, Michigan Tech-Northern Michigan and Boston College-Boston University.