Tuesday, March 10, 2020
Experience the Freakout
Rensselaer's annual tradition is filled with energy and history.
---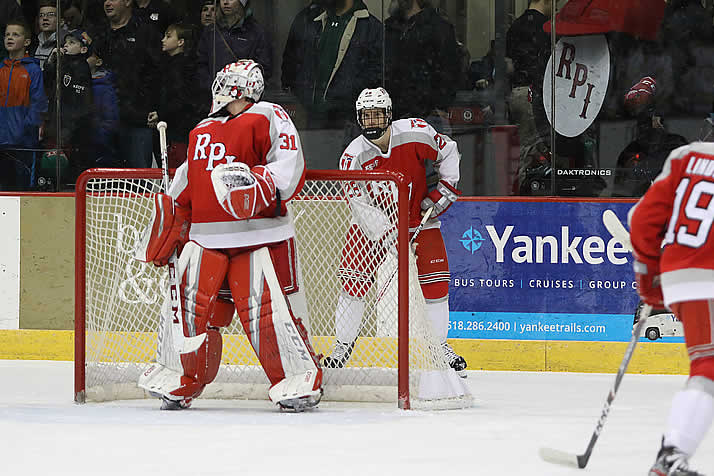 RPI prepares to break out in front of mascot Puckman (Photo by Liz Brady).
By Nathan Wells
Owen Savory stands alone. The RPI sophomore goaltender, the lone player not on the blue line for the Canadian and American national anthems, prefers to be close to his net.
By now it's tradition. He was not 100% sure what to do during his first start. Savory stayed back, being there for the rest of the Engineers after the starting lineups were announced.
RPI won that night. So it stuck.
On this night though, he's not alone. Not this night. From the moment RPI came out in road red sweaters for warmups against Vermont, hundreds of standing home fans lined the glass to cheer on the Engineers. That includes nearly 60 returning alumni from the program, many of whom skated on the Houston Field House ice hours earlier. The cheers and European-style atmosphere does not let up until Savory leaves the ice to end the game, concluding a weekend tradition nearly a half century in the making.
"It's unbelievable, the vibe around our room during the day and the alumni around. You could shake their hands and see the impact they had on the program," said Savory. "I think when you skate out there for the anthem and the whole crowd yells 'RED,' that's for our whole team. It gives us chills and that's why we sacrifice because they did a long time ago."
Welcome to The Big Red Freakout – part party, part reunion, part celebration of all things Engineers hockey – a night that serves as the biggest event of the home hockey calendar.
---
The crowd at noon is slightly different. Students have yet to make their way up the hill for Saturday night's festivities. The only noise being made in the quiet, cold and dark stands comes from a group of young children, already indoctrinated into the "Go Red, Go White" cheers red-clad fans will make hours later.
Built in 1949, Houston Field House and its glass windows overlooks the Upstate New York town of Troy. Only Northeastern and Princeton have played hockey longer in their buildings. 4,800 fans can fit inside, walking in at glass level and looking up at banners containing decades of history and each of the previous 42 Big Red Freakouts.
The players on the ice at noon know all too well. Each participated in one.
"It was amazing. The crowd was unreal. It was the most electric crowd in college hockey," 2010 graduate Paul Kerins said about playing in a Freakout. "It was like nothing I've ever seen before. The feeling in the community and the city at that time, you try to treat every game the same, but there's no doubt that game brought a little extra intensity to it because you knew that everybody would be watching."
Eight years had passed since Kerins came back for a Freakout, making the chance to skate on his old ice and unofficial three-point alumni game afternoon all the more special.
To understand the Big Red Freakout is to understand RPI men's hockey history. This year's event planned to honor the 1995 ECAC conference tournament championship team, the last Engineers team to accomplish the feat, as well as celebrate the 35th anniversary of the 1985 RPI national championship team. Members of both squads were there, led by 1985 captain Mike Sadeghpour.
"It's incredible," 1995 graduate Eric Perardi said about looking up at the ECAC conference tournament championship banner he helped win. "I'm a father of five now. I have three kids who play hockey. You don't realize when you're doing it, when you're here and you win something like that – and now it's been 25 years and no one has won it here since – how special it really was."
The alums had previously already met with head coach Dave Smith and been given a "State of the Union" for the hockey program, as 2015 graduate Luke Curadi put it. A night earlier, RPI matched its win total from last season by routing Dartmouth 7-1. "Things are looking great from our perspective," said Curadi, now the USHL Director of Player Personnel.
Now for an hour, the living history of the building was being matched by decades of Engineer hockey on the ice. Helmets hiding gray hairs hunched over on the bench mixed together with those who recently finished pro careers. Each shared different memories of the Freakout, seeing it evolve along with the Engineers program.
"I remember when I first got here my freshman year, everyone had talked about the Freakout and wait until you're a part of the Freakout," said 2009 graduate Mathias Lange. "The atmosphere in and around that weekend and the game itself, you don't know what to expect. When the first Freakout happened, the crowd was really good. We had so many alums coming back and that was special."
Lange, the current RPI Operations Coordinator and newly back with the Engineers after a decade playing goalie in German pro hockey leagues, returned with a new perspective.
"The whole culture in Germany and European hockey is so different, but if there's one game that resembles the European atmosphere, it would be the Freakout Weekend," he said.
---
In his third season coaching the Engineers, Smith preaches positivity. He wants his players to be comfortable in desperation and controlling the game for them rather than their opponents.
Mixed in the pursuit of perfection is a slow improvement. RPI has seen its share in 2019-20, going from six to 10 to 17 wins during his time in Troy. Smith's team was 11th out of 12 ECAC teams last season. This weekend, the Engineers will host Harvard in the ECAC conference tournament after earning a first-round bye as the No. 4 seed.
"The word slowly is interesting because it's in a year that's 365 sleeps. We go to bed, we wake up and think about how we can better, how we can work together. We have," he said. "To the guys' credit, they have woken up and attacked that as a mission. It's refreshing and rewarding and it feels good."
One reason for the improvement is Savory, who has spent the opening month of 2020 among the nation's elite. In five January games, the sophomore appropriately nicknamed "Saves" allowed three goals. Two came in the final minute. Against Dartmouth, the only thing separating him from perfection was 0.4 seconds.
On that night, missing perfection was an opportunity to grow. Tied at 1 entering the second period, the Engineers responded by scoring three second-period goals in 91 seconds and six unanswered.
"You just regroup in the room and just go back to what was working when plays were going right for us," senior forward Todd Burgess said. "Being hard and simple was what was working best for us tonight."
Entering the 43rd annual Freakout, Smith did not want his senior class to go through their college careers without a Freakout win. That it was a possibility spoke to where RPI's program finds itself. As alums spoke glowingly about winning the event three or four times during their time wearing the RPI sweater, the current crop knew of the Freakout tradition without experiencing winning ways.
Until this year.
---
On this night, the Freakout unites RPI's campus. People come from all over to Troy. RPI is the type of university where one can walk a block and see six different states on license plates. No matter where, they all become immersed in the Big Red Freakout.
The atmosphere on Freakout night can be felt in the shops and buildings. It culminates inside Houston Field House, where nearly 4,000 people find their way inside to the sounds of the band playing. Reminders of 1985 can be seen throughout RPI's locker room. 1995 can be seen in the banners above. 2020 can be found going through those doors and onto the ice.
"People cheering them when they're walking out of the dressing room into the tunnel. That's the tradition and history that RPI hockey brings." Smith said.
Mascot Puckman – which looks exactly as it sounds, a human in a puck with an engineering hard hat and hockey stick – greets the players before faceoff against Vermont. That has not changed in over 30 years. Many other Freakout aspects have changed for the older alums, whether it's the fans not lining up at the Union for tickets like they traditionally did, or students being on their phones, or the building not being as packed as it once was.
When the puck drops, another reminder of the sport changing goes on display.
"The game has evolved so much. The kids are so skilled. They move the puck so well, they shoot the puck so hard. There's a lot more time and space and puck possession," said Perardi. "In our game, it was a lot more hitting, dump and chase, forechecking. It was really fun to watch those kids move the puck around."
During Freakout night, the crowd remains true to the name. It becomes apparent quickly that goals will come at a premium. Savory continues his elite run, stopping eight shots in the first five minutes. His Vermont counterpart, backup Tyler Harmon, matches and yet the atmosphere remains higher than Friday's seven-goal output. Fans unravel banners. The band keeps playing. The noise does not stop.
By now it's tradition.
Students spend intermission on their phone. They also utilize their phones for cheers, making good use of their proximity to the visiting penalty box. Any Catamount who spends time in the box quickly learns how any member of their family thinks they suck.
"The fans were great tonight. It's always a fun game to play in. It was awesome," senior forward Chase Zieky said.
It takes until Zieky puts a second-period rebound in front of the net past Harmon for the Big Red Freakout crowd to get a red light to freak out. (A "Ghostbusters" clip of Annie Potts yelling "We got one!" shown afterwards summed it up a little too well.) A man holding a flag runs around the rink. Houston Field House wants more, seeing an opportunity to unroll Freakout streamers in Engineers victory once again.
They do not get a second. "Saves" and Harmon combine for making 71 of 72. Zieky, who had scored against Yale last season in his only other Big Red Freakout appearance, takes the small step of scoring in a winning RPI performance. Goals or failed 2-on-0 chances, the "Go Red, Go White" chant sounds nearly 2000 times louder than the pair of kids yelling it hours earlier. As the closing seconds tick down, the Freakout crowd completes a full 60 minutes freaking out, ending a 1-0 game that on most nights would be nowhere near as entertaining.
---
Smiling postgame, RPI senior captain Will Reilly basked in the glow of one of the best crowds and wins he had experienced. Four years with the Engineers and being surrounded by generations of RPI hockey throughout the weekend slowly led up to this moment. He had finally seen what a European atmosphere transported to Upstate New York looked like in a winning environment.
"It's always special to play here, but the Big Red Freakout, with all the alumni here, having them around the rink this morning for meetings was really cool," he said. "It was electric tonight. Every hit we made, every blocked shot, we really fed off that. It was really fun to play in."
In two straight Saturdays the Engineers had taken both the Mayor's Cup, contested between RPI and Capital Region rival Union, and a Big Red Freakout. The former was on display in Houston Field House all weekend. The latter flowed through the building and streets of Troy postgame. They remember these nights.
The returning alumni were honored during the first intermission. Cheers for all – a loud "LUUUUUKE" could be heard for Curadi – served as a reminder of how the sport's traditions bring people together.
Past and present rolled into one throughout the weekend. Lange, the returning RPI alum on staff, wanted his younger players to take away the networking aspect, getting to know the alumni for their future and talking with them to understand their own experience. The college hockey bond goes far beyond the sweater, photos or banners. It goes beyond a single game. They're a part of something bigger.
"All of these guys, all the older guys that are here – and I say older sparingly because no one is really that old – they're all good to the younger guys," Curadi said. "Everyone gets along and cares."
Freshman Simon Kjellberg was in awe experiencing his first Freakout in the face of those in red who had seen dozens more. Savory, proud of his new blue suit he had picked up over Christmas, was able to see the positivity and results his head coach preached.
"The feeling in the building tonight after a win is really cool. It's the Freakout," Smith said after experiencing his own first Freakout win. "It's ... just the buzz is here. To have our guys experience that, the seniors haven't had that feeling. You could just see them. Just smiles on their face.
"Can you imagine how disappointing it would be to have a senior class go through school and not experience that? Now they have a Mayor's Cup and now they have a Freakout in back-to-back weekends. That's what I noticed."
It was not perfect. But each added to the tradition. They won that night.
Nathan Wells is a freelance writer covering college hockey for outlets including NCAA.com. His work has regularly appeared in The Athletic, Minneapolis Star Tribune, St. Paul Pioneer Press, Minnesota Hockey Journal, SB Nation College Hockey, and College Hockey News. You can follow him on Twitter (@gopherstate) and read more of his writing here (www.thegopherhockeyblog.blogspot.com).