Wednesday, March 11, 2020
Notes: Favored Status
A look at each top seed as all six conference tournaments are underway.
---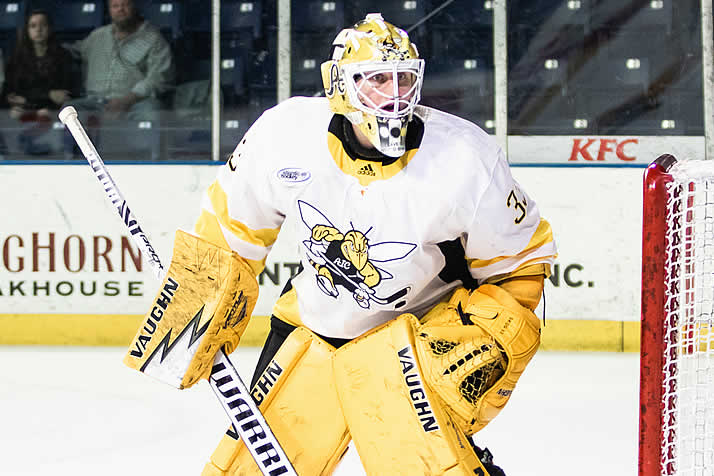 Michigan State's John Lethemon ranks third nationally in save percentage (.937).
By Nate Ewell
All six Division I men's conferences are in the postseason this weekend, either quarterfinals (Atlantic Hockey, ECAC Hockey, Hockey East, NCHC) or semifinals (Big Ten, WCHA). Favorites won 11 of 14 series last weekend; this week's notes look at the top seed in each conference.
Last year's NCAA Cinderella story, American International, won its second straight Atlantic Hockey title thanks to a 12-1-0 record down the stretch. The Yellow Jackets' top 15 scorers are all back from last season's team, but one new face has contributed to their second-half success. Junior goaltender Stefano Durante (Brampton, Ont./Cobourg-OJHL) – the backup last season – started 10 games of AIC's 11-game winning streak. He and incumbent starter Zacharias Skog (Goteburg, Sweden/Omaha-USHL) have combined for a .918 team save percentage, significantly higher than last season's .889.
---
Must Read/See/Hear Material
The Athletic: Behind the scenes with Wisconsin's future NHL stars
Bangor Daily News: Smallest player shines for resurgent Maine
Minnesota Hockey Mag.: Odeen Tufto: Sleeping giant
The Rink Live: Fitzgerald brings energy, humor to SCSU lineup
Mankato Free Press: Duehr's late surge gives Mavericks more depth
Grand Forks Herald: Keane requested to sit out so all seniors could play
Duluth News Tribune: Confident Kopeke scoring for Bulldogs

---
Five More Storylines No One Should Be Without
Penn State's balancing act – Penn State earned the top seed and accompanying bye in the Big Ten, thanks in large part to a balanced offense that features four 30-point scorers and six players in double-digits in goals. The Nittany Lions are one of seven teams nationwide with four 30-point scorers, including junior Cole Hults (Stoughton, Wis./Madison-USHL/LAK), who ranks 10th among all defensemen with 30 points.
Teams with Four 30-Point Scorers
Arizona State: Sanchez, Walker, Pasichnuk, Maniscalco
Boston College: Newhook, Mattila, Hutsko
Boston University: Farrance, Harper, Zegras, Curry
Harvard: Abruzzese, Drury, Dornbach, Rathbone
Minnesota State: Michaelis, Tuomie, Sowder, Gerard
Penn State: Sucese, Barratt, Limoges, Hults
Sacred Heart: Cotton, Lee, McIlmurray, Tugnutt
Galajda's bounce-back – A .921 save percentage would rank in the nation's top 20, but it represented a bit of a dip last year for Cornell's Matthew Galajda (Aurora, Ont./Victoria-BCHL) after his All-America rookie season. He's back to that form this year as a junior, posting a .931 mark while starting every game for the 23-2-4 Big Red. Galajda's 60 career wins trail only three seniors among active goaltenders.
Most Career Wins, Active Goaltenders
76 – Peyton Jones, Penn State
76 – Hunter Shepard, Minnesota Duluth
73 – Frank Marotte, Clarkson
60 – Matthew Galajda, Cornell
58 – Cale Morris, Notre Dame
58 – Tyler Wall, UMass Lowell
BC's young guns – Boston College has the nation's largest senior class (11), but an all-freshman line has grabbed headlines for the Eagles, particularly in the second half. Alex Newhook (St. John's, Newf./Victoria-BCHL/COL) was February's National Player and Rookie of the Month while skating alongside classmates Matt Boldy (Millis, Mass./U.S. NTDP/MIN) and Mike Hardman (Hanover, Mass./West Kelowna-BCHL). They lead BC into this weekend's Hockey East quarterfinal series against Providence. | NHL.com: High praise for Avalanche prospect
Most Points, Freshmen
113 – Boston University
112 – Merrimack
111 – Boston College
106 – Wisconsin
102 – Harvard
UND's elite D – Top NCHC seed North Dakota boasts one of the more active defense corps in the nation. Leading the way is junior Matt Kiersted (Elk River, Minn./Chicago-USHL), a top undrafted NHL free agent who ranks second on the Fighting Hawks with 29 points. He is one of four UND blueliners to sit in double-digits in points entering the postseason, which opens this weekend against Colorado College.
Most Points, Defensemen
113 – Arizona State
103 – North Dakota
97 – Minnesota State
96 – Harvard
93 – Western Michigan
Minnesota State's German connection – Three of the five Germans playing Division I men's hockey this season are Minnesota State Mavericks, including the team's top two scorers in Marc Michaelis (Mannheim, Germany/Green Bay-USHL) and Parker Tuomie (Bremerhaven, Germany/Sioux Falls-USHL). Michaelis, the national leader in career scoring, has 11 points in six games since returning from injury Feb. 21. The duo leads the WCHA regular-season champion Mavericks into a best-of-three semifinal series this weekend against Michigan Tech.
Most Career Points, Active Players
162 – Marc Michaelis, Minnesota State
143 – Tanner Laczynski, Ohio State (PHI)
140 – Nate Sucese, Penn State
132 – Parker Tuomie, Minnesota State
128 – Mitchell Fossier, Maine
---
NHL Note of the Week
An average of 24 undrafted free agents have signed NHL contracts in each of the last five years | NHL Matchup Tool
---
Fries at the Bottom of the Bag
Bowling Green, Michigan Tech and Princeton produced playoff series upsets last weekend … Cornell and Rensselaer have announced plans to host playoff games that are closed to the public due to the spread of COVID-19.