Saturday, April 11, 2020
Perunovich Leads Award Honorees
Minnesota Duluth defenseman claims Hobey Baker Award.
---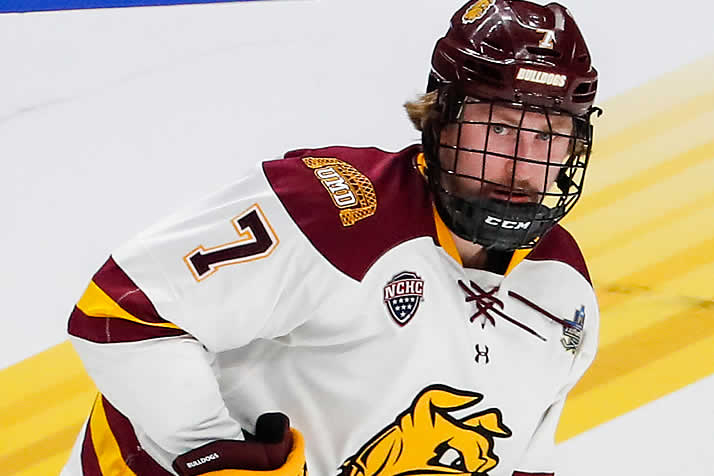 Scott Perunovich earned All-America honors in each of his three collegiate seasons (Photo by Matt Dewkett).
After winning national championships in each of his last two seasons, Minnesota Duluth's Scott Perunovich took home the nation's highest individual honor when he was named the 2020 Hobey Baker Award winner Saturday night.
College hockey's top honors were revealed Saturday night on SportsCenter by ESPN's John Buccigross, who typically would have been calling the national championship game in Detroit had the season not been cut short. Other award winners:
Mike Richter Award: Jeremy Swayman, Maine
Hockey Humanitarian Award: Amanda Conger, Saint Anselm
Tim Taylor National Rookie of the Year: Alex Newhook, Boston College
Derek Hines Unsung Hero Award: Jared Pike, American International
AHCA All-America Teams – listed below
Perunovich, a junior defenseman from Hibbing, Minn., finished the season with a career-high 40 points in 34 games, with a +18 rating. He stood tied for 10th nationally in scoring and second among defensemen. He has agreed to terms with the NHL's St. Louis Blues.
Perunovich becomes the second defenseman in a row and third in four years to win the Hobey, following Cale Makar (2019) and Will Butcher (2017). He is Minnesota Duluth's sixth Hobey Baker Award winner.
Perunovich earned All-America honors for the third time, landing on the West's first team. Eleven schools were represented in the 12 first-team All-America spots, with only Minnesota State boasting two honorees (Dryden McKay and Marc Michaelis).
Maine's Jeremy Swayman, the first-team East All-America goaltender, claims the Mike Richter Award as the nation's top netminder for 2019-20. Swayman faced more shots than any goaltender in the nation and produced the nation's second-best save percentage (.939).
2020 AHCA All-Americans
First Team East CCM Hockey All-Americans
Jeremy Swayman, JR, University of Maine
(Anchorage, AK)
Goalie
David Farrance, JR, Boston University
(Victor, NY)
Defense
Jack Rathbone, SO, Harvard University
(West Roxbury, MA)
Defense
Morgan Barron, JR, Cornell University
(Halifax, NS)
Forward
Jack Dugan, SO, Providence College
(Rochester, NY)
Forward
John Leonard, JR, University of Massachusetts
(Amherst, MA)
Forward
Second Team East CCM Hockey All-Americans
Frank Marotte, SR, Clarkson University
(Longueuil, PQ)
Goalie
Yanni Kaldis, SR, Cornell University
(Montreal, PQ)
Defense
Mike Lee, SR, Sacred Heart University
(Hamden, CT)
Defense
Nick Abruzzese, FR. Harvard University
(Slate Hill, NY))
Forward
Jason Cotton, SR, Sacred Heart University
(Parker, TX)
Forward
Tyler Madden, SO, Northeastern University
(Deerfield Beach, FL)
Forward
First Team West CCM Hockey All-Americans
Dryden McKay, SO, Minnesota State University
(Downers Grove, IL)
Goalie
Ian Mitchell, JR, University of Denver
(Calahoo, AB)
Defense
Scott Perunovich, JR, Univ. of Minnesota Duluth#**
(Hibbing, MN)
Defense
Jordan Kawaguchi, JR, University of North Dakota
(Abbotsford, BC)
Forward
Hugh McGing, SR, Western Michigan University
(Chicago, IL)
Forward
Marc Michaelis, SR, Minnesota State University
(Mannheim, Germany)
Forward
Second Team West CCM Hockey All-Americans
Hunter Shepard, SR, University of Minnesota Duluth*
(Cohasset, MN)
Goalie
Cole Hults., JR, Penn State University
(Stoughton, WI)
Defense
Connor Mackey, JR, Minnesota State University
(Tower Lakes, IL)
Defense
Alec Rauhauser, SR, Bowling Green State University
(Bismarck, ND)
Defense
Noah Cates, SO, University of Minnesota Duluth
(Stillwater, MN)
Forward
Cole Koepke, SO, University of Minnesota Duluth
(Hermantown, MN)
Forward
Nate Sucese, SR, Penn State University
(Fairport, NY)
Forward
* First Team in 2018-19; ** Second Team in 2018-19; # First Team in 2017-18