Tuesday, June 16, 2020
43 Named to U.S. Junior Camp
World Junior Summer Showcase
---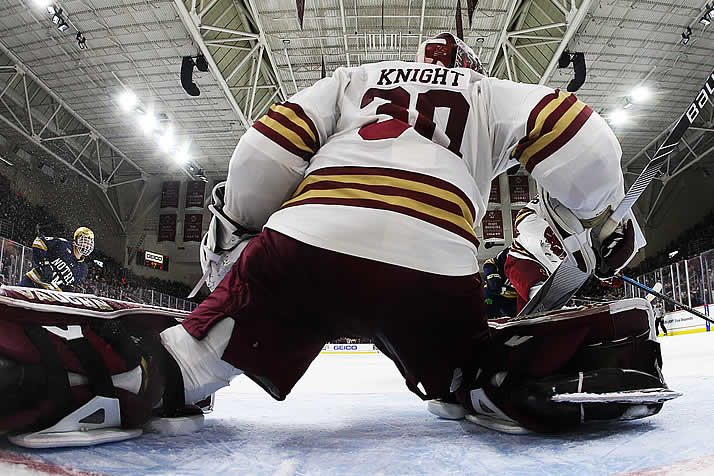 Boston College's Spencer Knight returns in goal for the U.S. National Junior Team.
USA Hockey has invited 38 NCAA players and recruits to the 2020 World Junior Summer Showcase, the organization announced Tuesday.
The event, set for July 24-Aug. 1 in Plymouth, Mich., will feature 43 players in contention for spots on the U.S. National Junior Team that will compete at the 2021 World Junior Championship.
The NCAA players in camp represent 14 schools. Boston University leads all programs with eight representatives, followed by Boston College, Harvard, Michigan and Wisconsin with four each.
Unlike previous years the WJSS will not include competition against teams from other countries due to the COVID-19 pandemic. It will allow the national team's staff – which includes head coach Nate Leaman of Providence – to work with and evaluate the players.
"We're excited to have our players and staff together," said John Vanbiesbrouck, general manager of the U.S. National Junior Team and assistant executive director of hockey operations at USA Hockey. "While Finland, Sweden and Canada won't be joining us as we've been used to in past years, this will provide a great opportunity to have our players back on the ice and begin the process in earnest of building our team for the World Junior Championship."
Nine players on the roster are returnees from last year's U.S. National Junior Team, including collegians Spencer Knight (Boston College), Cam York (Michigan), John Beecher (Michigan), Bobby Brink (Denver), Cole Caufield (Wisconsin), Alex Turcotte (Wisconsin) and Trevor Zegras (Boston University).
Joining Leaman on the coaching staff are assistant coaches Ted Donato (Harvard), Kris Mayotte (Michigan), Steve Miller (Ohio State) and video coach Theresa Feaster (Providence).
The 2021 World Junior Championship will be held Dec. 26, 2020, through Jan. 5, 2021, in Edmonton and Red Deer, Alberta.
2020 World Junior Summer Showcase U.S. Roster
Name
Birthdate
2019-20 Team
NCAA Team

Goaltenders
Drew Commesso
7/19/02
U.S. National Under-18 Team (NTDP)
Boston University
Spencer Knight
4/19/01
Boston College (H. East)
Logan Stein
4/26/01
Waterloo (USHL)
Ferris State
Dustin Wolf
4/16/01
Everett (WHL)

Defensemen
Brock Faber
8/22/02
U.S. National Under-18 Team (NTDP)
Minnesota
Domenick Fensore
9/7/01
Boston University (H. East)
Drew Helleson
3/26/01
Boston College (H. East)
Ryan Johnson
7/24/01
Minnesota (Big Ten)
Tyler Kleven
1/10/02
U.S. National Under-18 Team (NTDP)
North Dakota
Jackson LaCombe
1/9/01
Minnesota (Big Ten)
Case McCarthy
1/9/01
Boston University (H. East)
Jake Sanderson
7/8/02
U.S. National Under-18 Team (NTDP)
North Dakota
Hunter Skinner
4/29/01
London (OHL)
Jayden Struble
9/8/01
Northeastern (H. East)
Henry Thrun
3/12/01
Harvard (ECAC)
Alex Vlasic
6/5/01
Boston University (H. East)
Marshall Warren
4/20/01
Boston College (H. East)
Cam York
1/5/01
Michigan (Big Ten)

Forwards
John Beecher
4/5/01
Michigan (Big Ten)
Matthew Beniers
11/5/02
U.S. National Under-18 Team (NTDP)
Harvard
Brett Berard
9/9/02
U.S. National Under-18 Team (NTDP)
Providence
Matthew Boldy
4/5/01
Boston College (H. East)
Thomas Bordeleau
1/3/02
U.S. National Under-18 Team (NTDP)
Michigan
Bobby Brink
7/8/01
Denver (NCHC)
Brendan Brisson
10/22/01
Chicago (USHL)
Michigan
Cole Caufield
1/2/01
Wisconsin (Big Ten)
Sam Colangelo
12/26/01
Chicago (USHL)
Northeastern
John Farinacci
2/14/01
Harvard (ECAC)
Sean Farrell
11/2/01
Chicago (USHL)
Harvard
Michael Gildon
6/21/01
Ohio State (Big Ten)
Cross Hanas
1/5/02
Portland (WHL)
Arthur Kaliyev
6/26/01
Hamilton (OHL)
Owen Lindmark
5/17/01
Wisconsin (Big Ten)
Robert Mastrosimone
1/24/01
Boston University (H. East)
Patrick Moynihan
1/23/01
Providence (H. East)
Josh Nodler
4/27/01
Michigan State (Big Ten)
Dylan Peterson
1/8/02
U.S. National Under-18 Team (NTDP)
Boston University
Landon Slaggert
6/25/02
U.S. National Under-18 Team (NTDP)
Notre Dame
Sam Stange
4/20/01
Sioux Falls (USHL)
Wisconsin
Lukas Svejkovsky
11/28/01
Medicine Hat (WHL)
Luke Tuch
3/7/02
U.S. National Under-18 Team (NTDP)
Boston University
Alex Turcotte
2/26/01
Wisconsin (Big Ten)
Trevor Zegras
3/20/01
Boston University (H. East)