Tuesday, September 29, 2020
Alums Add Names to Cup
Former college stars help propel Tampa Bay to Stanley Cup.
---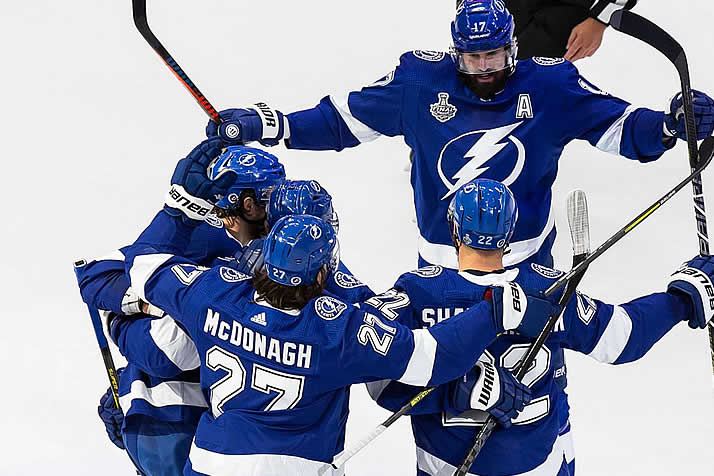 The Lightning capped the 2020 season with the franchise's second Stanley Cup championship.
Five former college players helped lead the Tampa Bay Lightning to the Stanley Cup championship and will have their names added to the legendary trophy.
Blake Coleman (Miami), Alex Killorn (Harvard), Ryan McDonagh (Wisconsin), Curtis McElhinney (Colorado College) and Kevin Shattenkirk (Boston University) are the NCAA alumni who suited up for the Lightning in the Cup Final.
Coleman scored the second goal in Tampa Bay's 2-0 Cup-clinching victory Monday night. He and Killorn both finished the playoffs with five goals, providing crucial offensive support for the Lightning.
McDonagh and Shattenkirk were two defensive stalwarts – often paired together. Shattenkirk finished second among Lightning defensemen in points (13) and plus/minus rating (+8).
Each player added to their school's legacy on the Cup:
Coleman is the fifth Miami alum to win the Cup and first since Jeff Zatkoff with Pittsburgh in 2016
Killorn is the third Harvard alum to win the Cup, following Craig Adams (2006, '09) and George Owen (1929)
A Wisconsin alum will have his name on the Cup as a player for the 21st time in McDonagh
Colorado College sees an alum win the Cup for two years in a row (Jaden Schwartz) and the third time overall with McElhinney (also Doug Lidster, 1994)
Shattenkirk becomes the ninth Terrier to win the Cup as a player (12 times, with Nick Bonino, Jay Pandolfo and Scott Young each winning it twice)
In addition to the players, several NCAA alumni played prominent roles in the Tampa Bay front office and coaching staff. They include:
Head Coach Jon Cooper (Hofstra – club hockey, varsity lacrosse)
Assistant Coach Todd Richards (Minnesota)
Assistant Coach Jeff Halpern (Princeton)
Assistant Coach Derek Lalonde (SUNY Cortland)
Assistant Director, Player Personnel John Rosso (Omaha)
Assistant Director, Amateur Scouting Darryl Plandowski (Northern Michigan)
Pro Scout Tony Hrkac (North Dakota)
Pro Scout Stephen Gionta (Boston College)
Amateur Scout Brian Putnam (New Hampshire)
Goaltending Scout Jared Waimon (Stonehill)