Friday, September 18, 2020
Alums Seek to Hoist Cup
12 schools have had players in Dallas and Tampa Bay lineups.
---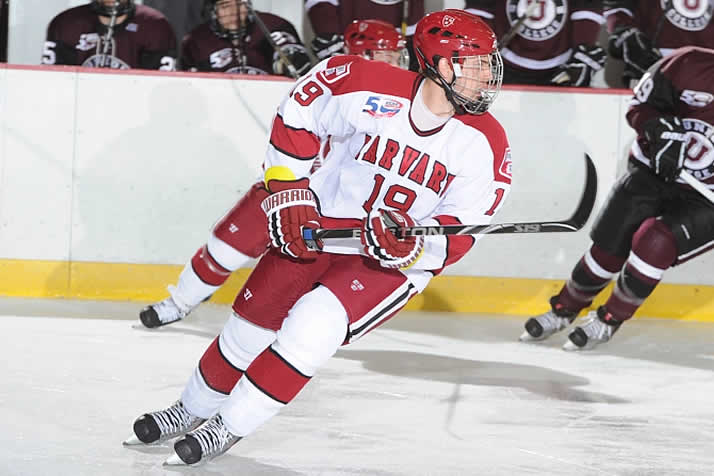 Tampa Bay's Alex Killorn seeks to join George Owen (1929) and Craig Adams (2006, '09) as Harvard alumni to win the Stanley Cup as players.
A dozen schools have had alumni in the lineups of the Dallas Stars and Tampa Bay Lightning in pursuit of the Stanley Cup this summer and fall in Toronto and Edmonton.
Now those alums are just four wins from hoisting the Cup as the Stars and Lightning prepare to face off in the Stanley Cup Final, beginning Saturday.
Boston University and Wisconsin are the two schools assured of a winner, with Jake Oettinger (Dallas) and Kevin Shattenkirk (Tampa Bay) representing the Terriers and Joe Pavelski (Dallas) and Ryan McDonagh (Tampa Bay) representing the Badgers. Other schools with alumni who have appeared for Dallas and Tampa Bay in the postseason are Colorado College, Harvard, Maine, Massachusetts, Miami, Michigan, Northeastern, Notre Dame and Princeton.
Pavelski shares the Stars' team lead with nine goals in the postseason, just one shy of the NHL lead. Northeastern product Jamie Oleksiak is tied for the team lead with a +5 rating while chipping in four goals from the blue line.
Tampa Bay has had critical contributions at forward from Blake Coleman (Miami) and Alex Killorn (Harvard), while Shattenkirk and McDonagh have been two of their best on defense.
Both front offices feature numerous college connections. Marty Turco (Michigan) and Scott White (Michigan Tech) are among the top executives in Dallas, while Tampa Bay's coaching staff is riddled with NCAA alumni. Head coach Jon Cooper played NCAA lacrosse at Hofstra while he is assisted by three former college hockey players: Jeff Halpern (Princeton), Derek Lalonde (SUNY Cortland) and Todd Richards (Minnesota).
The puck drops in the Stanley Cup Final on Saturday at 7:30 p.m. ET in Edmonton.