Thursday, October 8, 2020
65 Selected in NHL Draft
Twenty-five schools had a player or recruit taken in the 2020 NHL Draft.
---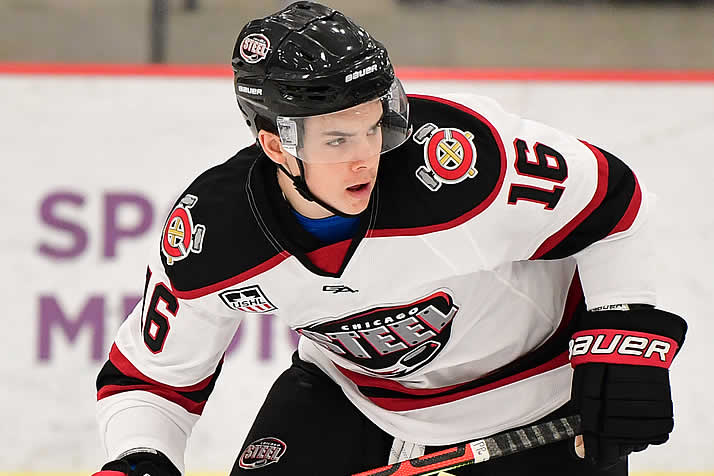 Northeastern freshman Sam Colangelo was the first NCAA player selected in the second round Wednesday (Photo by Dan Hickling / Hickling Images).
Sixty-five NCAA players were selected in the 2020 NHL Draft, which was held over two days on Tuesday and Wednesday. That total matches the second-most NCAA selections in the last 13 drafts, trailing only the 70 that were taken last year.
Twenty-five schools – nearly half of the 61 in Division I – had at least one player or recruit chosen in the draft, which opened with three first-round NCAA selections on Tuesday night. Rounds two through seven, held Wednesday, each featured between eight and 13 NCAA selections.
Sortable: NCAA Selections in 2020 NHL Draft
Harvard led all schools with seven players or recruits selected, followed by North Dakota (six), Michigan (five), Northeastern and Massachusetts (four each).
Other notes:
The 65 NCAA selections matched the second-most in the last 13 drafts, trailing only the 70 NCAA selections made last year.
Twenty-five of the NHL's 31 teams selected at least one NCAA player, led by Toronto and Montreal with five each. Montreal has selected 189 NCAA players all-time, the most of any NHL franchise.
Boston College and Michigan each had players selected for the 25th consecutive draft, the longest active streak of any NCAA school.
North Dakota freshman defenseman Jake Sanderson was the first NCAA player selected at fifth overall by Ottawa, the fourth year in a row that an NCAA player went in the top five picks.
The majority of the NCAA selections will be freshmen this season. Five players who spent 2019-20 in college were taken, led by Wisconsin sophomore Dylan Holloway (14th overall, Edmonton).
The NCAA selections featured 40 forwards, 22 defensemen and three goaltenders.
They included 44 Americans, 15 Canadians, three Russians and one player each from Czech Republic, Finland and Sweden.