Updated: Thursday, November 19, 2020
Season Plans Coming Into Focus
Fighting Hawks pegged as preseason favorites.
---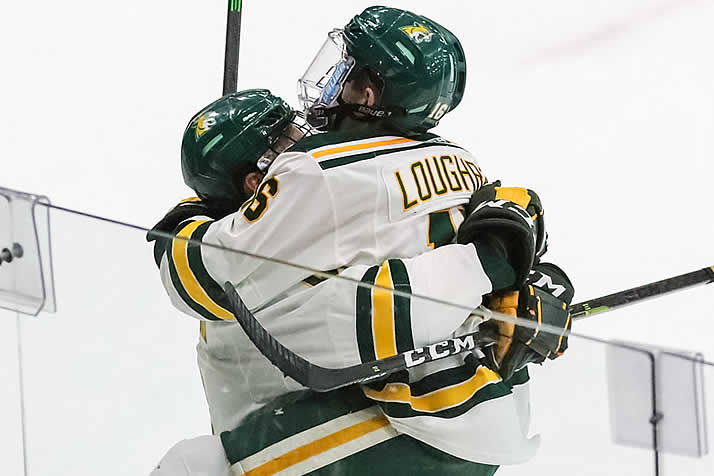 Griffin Loughran is the nation's top returning goal scorer after posting 23 goals last year.
The 2020-21 college hockey season, while delayed, is inching closer by the day, with the first pucks set to drop on Friday, Nov. 13.
National Polls| Daily Scoreboard
Each conference's return-to-play format varies to some degree. College Hockey Inc. has gathered each below and will update this page as additional details are announced.
Atlantic Hockey: Atlantic Hockey announced plans to begin its season the weekend of Nov. 13-14. The schedule features 24 games and allows for up to 28 games for member institutions. The league will be split into eastern (AIC, Army West Point, Bentley, Holy Cross, Sacred Heart) and western (Canisius, Mercyhurst, Niagara, RIT, Robert Morris) pods, with Air Force separate as a geographic outlier. The league also announced plans to include Long Island University as a scheduling partner. | Composite Schedule
Big Ten: The Big Ten announced plans to begin its season Nov. 13, when Wisconsin visits Notre Dame. The Big Ten will play a 24-game conference schedule, plus an additional four games per school against Arizona State hosted at Big Ten venues. | Composite Schedule
ECAC Hockey: ECAC Hockey announced plans to play conference games in the new year between its four institutions participating in 2020-21: Clarkson, Colgate, Quinnipiac and St. Lawrence. Each school will play non-conference games in November and December. | Composite Schedule
Hockey East: Hockey East announced plans to play a 20-game conference schedule, with each of the 11 teams facing the others twice. Three of the final five weekend of the regular season are designated as "flex weekends," and currently have non-conference games against other Hockey East teams scheduled. If games are postponed during the regular season, these flex weekend games will be rescheduled with those postponed games. | Composite Schedule
NCHC: The NCHC announced plans to play a 26-game conference season beginning in a "pod" in Omaha, Neb., on Dec. 1. The league will be split into two divisions for scheduling purposes in 2020-21: East (Miami, Minnesota Duluth, St. Cloud State, Western Michigan) and West (Colorado College, Denver, North Dakota, Omaha). Teams will play each of their divisional opponents six times and each cross-divisional opponent twice, with all cross-division games taking place in the pod. | Composite Schedule
WCHA: The WCHA announced plans to play an 18-game conference schedule, with all but three of the contests slated to be played in January and February 2021. League teams will play an additional total of 38 non-league games beginning Nov. 20. | Composite Schedule
Independents: Arizona State and Long Island have entered into scheduling agreements with the Big Ten and Atlantic Hockey, respectively.