Thursday, November 12, 2020
Top 2020-21 Preseason Storylines
Long-awaited puck drop finally here on Friday.
---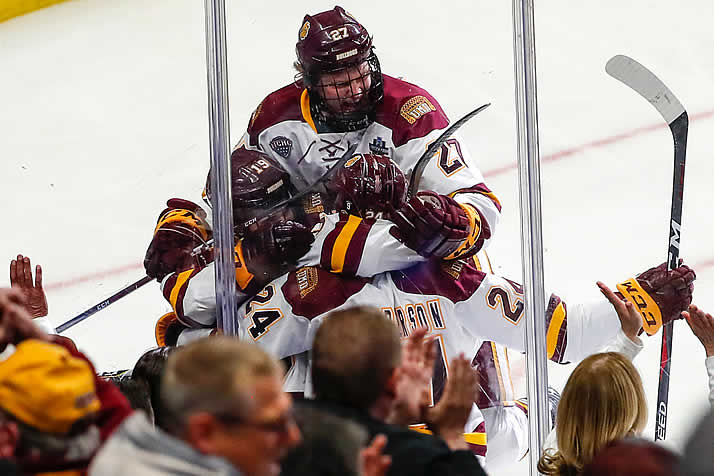 Minnesota Duluth has claimed each of the last two national championships (Photo by Matt Dewkett).
After a start delayed by the coronavirus pandemic, the NCAA Division I men's hockey season opens Friday, Nov. 13, as the race to the 2021 Frozen Four begins. The first weekend features seven games, with several more teams joining the fray in the following week.
What is already a unique season is sure to feature even more intrigue as the puck drops. Regular-season games have always been incredibly meaningful in college hockey, but may take on even more importance in a shortened schedule with limited non-conference play. Competition for conference titles and national tournament berths will be fierce.
College hockey enters 2020-21 enjoying an era of tremendous parity and success in developing players for the professional ranks. Below are some of the top storylines and elite performers to watch as the season gets underway.

National Polls| Podcast: Season Preview

Season like no other – As with so many aspects of like, the pandemic has had a major impact on college hockey. After last season was cut short and this season delayed, there will have been 250 days between Division I games when the puck drops Friday.
The season to come features a mix of conference formats, even with a "pod" for the NCHC in Omaha. Limited non-conference games will make conference races more important than ever, while altering the NCAA Tournament selection criteria that typically relies on a mathematical formula.

Seeking three – The last two NCAA Tournaments ended with Minnesota Duluth hoisting the national championship trophy. The Bulldogs lost some key pieces, including Hobey Baker Award winner Scott Perunovich and goaltender Hunter Shepard. Lots of talent returns, however, and Noah Cates and Cole Koepke make UMD the only team in the country to bring back two All-Americans. They lead a returning group that scored 90 goals last season – only three teams bring back more. The Bulldogs will seek to become just the second school to win three straight crowns (Michigan, 1951-53).
Most Returning Goals, 2020-21 Roster
96 – Bowling Green
96 – North Dakota
93 – Minnesota
90 – Minnesota Duluth
86 – Michigan Tech
84 – Denver
84 – Providence
83 – Arizona State

Anybody's game – While UMD has come out on top in the last two tournaments, college hockey has been in a stretch of tremendous parity recently. More than half of all Division I teams have made the 16-team NCAA tournament in the last five tournaments (33), with 13 schools making at least one Frozen Four appearance in that time. Eight of the top 15 teams in both preseason polls are pursuing their first NCAA championship.
NCAA Tournament Appearances, Last 5 Tournaments (Frozen Four participants in italics)
5 – Denver, Minnesota Duluth, Providence
4 – Boston University, Harvard, Notre Dame, St. Cloud State
3 – Cornell, Michigan Tech, Minnesota State, North Dakota, Northeastern, Ohio State, Quinnipiac
2 – Air Force, Boston College, Clarkson, UMass Lowell, Michigan, Minnesota, Penn State, RIT, Yale
1 – American International, Arizona State, Bowling Green, Ferris State, Massachusetts, Miami, Omaha, Princeton, Union, Western Michigan

Big names back – The sudden end to the 2019-20 season gave many teams and players a sense of unfinished business, one reason that many stars elected to return to school rather than turn professional. They range from first-round picks like Alex Newhook at Boston College (the 2019-20 rookie of the year) to undrafted free agents like Jordan Kawaguchi at North Dakota (the nation's top returning scorer).
Did you know? This is the first time in more than 20 years that no players from either Michigan or Minnesota left early to sign NHL contracts.

National Scoreboard | National Stats

Who takes home the Hobey? – Three of the 10 finalists for the 2020 Hobey Baker Award return in 2020-21, one year after we had no returnees up for the award. That trio – Boston University defenseman David Farrance, North Dakota forward Jordan Kawaguchi and Minnesota State goaltender Dryden McKay – represent all three position groups on the ice and start the discussion of 2021 candidates.
Top Returning Scorers (2019-20 Points)
45 – Jordan Kawaguchi, North Dakota
44 – Nick Abruzzese, Harvard
44 – Tyce Thompson, Providence
43 – David Farrance, Boston University
42 – Alex Newhook, Boston College

New faces – Only two schools have hired new head coaches from outside their programs in 2020 – Interstate-89 "neighbors" Dartmouth and Vermont. Both tabbed NHL assistant coaches to lead them forward, with Dartmouth hiring Reid Cashman from the Washington Capitals and Vermont adding Todd Woodcroft from the Winnipeg Jets.
That is not counting the new hire at Long Island, which is a new program entirely. The Sharks announced plans to join Division I in April and Brett Riley – at 29 the youngest head coach in Division I – has assembled a roster and a schedule since then. LIU has a scheduling agreement with Atlantic Hockey and will play 24 of 26 scheduled games against teams from that conference.
Youngest Head Coaches:
Brett Riley, Long Island – Turns 30 Jan. 25
David Carle, Denver – Turns 31 Nov. 9
Erik Largen, Alaska – Turns 34 Oct. 17
Matt Curley, Alaska Anchorage – Turns 37 Jan. 17
Reid Cashman, Dartmouth – Turns 38 March 14

Young guns – A talented freshman class comes to campus in 2020, led by two first-round NHL Draft picks (North Dakota's Jake Sanderson and Michigan's Brendan Brisson) and three candidates to be top-10 picks in 2021 – all teammates of Brisson at Michigan. In fact, the No. 1 overall selection in next year's draft could come down to a choice among Wolverines Owen Power, Kent Johnson and Matty Beniers.

First things first – Eleven NHL first-round draft picks will play in the NCAA ranks this season, leading nearly 200 NHL draft picks on college rosters. All 31 NHL teams have prospects in the college game, while 44 NCAA rosters feature at least one NHL draft pick.

Show stoppers – Twelve of the top 20 goaltenders in save percentage last year return in 2020-21, including half of the Mike Richter Award semifinalists: Zach Driscoll (Bemidji State), Matthew Galajda (Cornell), Spencer Knight (Boston College), Strauss Mann (Michigan) and Dryden McKay (Minnesota State).
Active Career Shutout Leaders
Matthew Galajda, Cornell – 19
Dryden McKay, Minnesota State – 14
David Hrenak, St. Cloud State – 9
Tommy Nappier, Ohio State – 8
Matt Murray, Massachusetts – 8
Zach Driscoll, Bemidji State – 8

Smart guys – The talent U.S. college hockey players display on the rink is matched by their performance in the classroom. Hockey is among the very best NCAA Division I men's sports in the NCAA's two biggest academic metrics – the Graduation Success Rate (92%) and Academic Progress Rate.
A number of NHLers have worked to complete their degrees after leaving campus as well. Recently Chris Kreider (Boston College), Torey Krug (Michigan State) and Colton Parayko (Alaska) are among those to have joined the ranks of graduates.