Thursday, April 15, 2021
Commits Fill U.S. U18 Roster
At least 21 future collegians to lead U.S. pursuit of gold in Texas.
---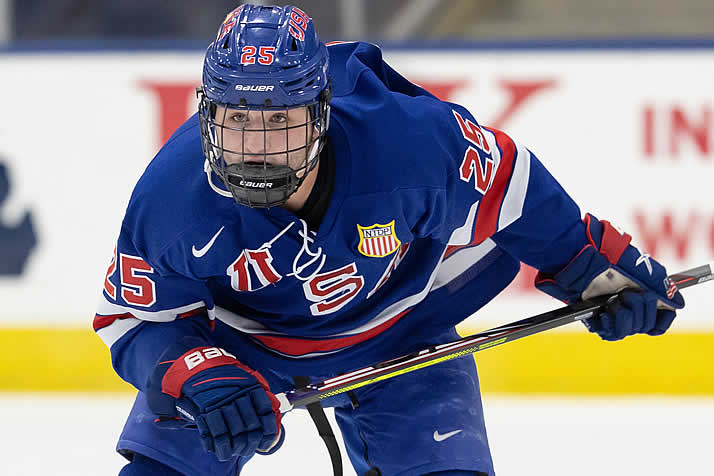 Dylan Duke is committed to Michigan, one of 12 schools with recruits on the U.S. roster (Photo by Rena Laverty / USA Hockey's NTDP).
Twenty-one NCAA commits headed to 12 different schools will lead the United States at the 2021 IIHF Under-18 Men's World Championship, USA Hockey announced Thursday.
The 10-nation tournament will be held April 26-May 6 in Frisco and Plano, Texas. Twenty-four of the 25 players on the roster are members of USA Hockey's National Team Development Program.
Notre Dame leads all schools with six recruits on the roster, while Boston College, Boston University, Denver and Northeastern each have a pair.
Canada will also feature a pair of NCAA recruits on its roster: Corson Ceulemans (Wisconsin) and Guillaume Richard (Maine).
The U.S. will be led by former Yale assistant coach and current NTDP coach Dan Muse. Yale's Keith Allain will be among his assistants, along with Mike Leone, Greg Mauldin, Nick Fohr and David Lassonde.
The U.S. is in search of its 11th gold medal in tournament history after most recently claiming gold in 2017 in Poprad, Slovakia. Team USA has medaled in a record 16 consecutive tournaments, including six golds in the last 10 tournaments.
2021 U.S. Under-18 Men's National Team
Goaltenders
1
Braden Holt
N/A
29
Gibson Homer
Uncommitted
30
Kaidan Mbereko
Uncommitted

Defensemen
2
Sean Behrens
Denver
5
Ty Murchison
Arizona State
10
Ethan Straky
Notre Dame
17
Aidan Hreschuk
Boston College
18
Jacob Martin
Wisconsin
20
Lane Hutson
Boston University
24
Ty Gallagher
Notre Dame
27
Roman Schmidt
Boston University

Forwards
4
Jack Hughes
Northeastern
7
Jack Devine
Denver
8
Justin Janicke
Notre Dame
9
Liam Gilmartin
Providence
11
Chaz Lucius
Minnesota
12
Sasha Pastujov
Notre Dame
14
Rutger McGroarty
Notre Dame
15
Ryan St. Louis
Northeastern
19
Red Savage
Miami
22
Isaac Howard
Minnesota Duluth
23
Logan Cooley
Notre Dame
25
Dylan Duke
Michigan
26
Andre Gasseau
Boston College
28
Charlie Stramel
Uncommitted