Friday, April 9, 2021
UMass, SCSU to Meet for Title
A first-time champion will be crowned Saturday in Pittsburgh.
---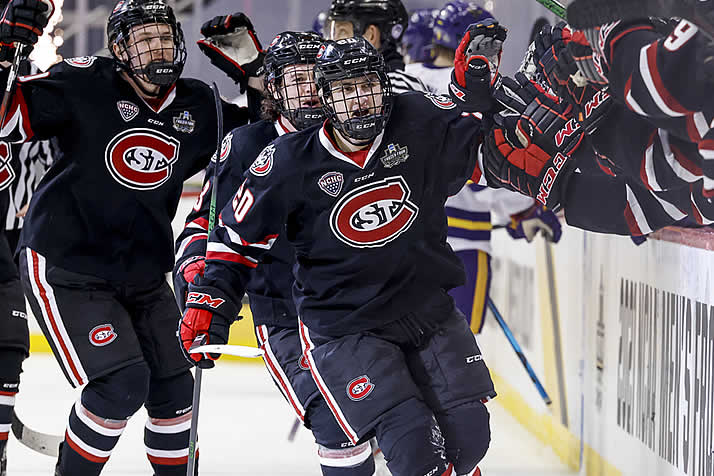 Nolan Walker's 10th goal of the season stood as the winner in the first semifinal (Photo by Matt Dewkett).
After two spectacular semifinals that both featured lead changes and dramatic winning goals, Massachusetts and St. Cloud State will play for each school's first national championship Saturday night at Pittsburgh's PPG Paints Arena.
The title game faces off at 7 p.m. ET and will be televised on ESPN and TSN. ESPN's pregame show is scheduled for 6 p.m. ET.
St. Cloud State won the first semifinal with a 5-4 victory against Minnesota State. Massachusetts toppled two-time defending champion Minnesota Duluth, 3-2 in overtime. Both teams overcame third-period deficits and won in thrilling style. Both did so despite missing their leading goal scorers but got contributions from throughout their lineups to win.
---
Late Goal Lifts SCSU
Nolan Walker's deflection goal with 53.2 seconds remaining in regulation put the exclamation mark on the first semifinal.
"Fortunately tonight I thought our players came through at opportunistic times because Mankato made it a man's game," said St. Cloud State head coach Brett Larson. "They played a man's game and they made the ice very difficult out there. I was happy that we were just able to convert when we did finally get a chance."
The Huskies jumped out to a 3-1 lead on goals from Spencer Meier, Kyler Kupka and Will Hammer, only to surrender three straight goals to the Mavericks. Midway through the third period Minnesota State held a 4-3 advantage.
Joe Molenaar, inserted in the lineup due to Easton Brodzinski's injury, scored his first career goal on a rebound at 10:14 of the third, tying the score. The game seemed destined for overtime until Walker deflected Seamus Donohue's one-timer from the point for the game winner.
---
UMass Ends UMD's Reign
Garrett Wait finished off an impressive overtime performance by Massachusetts in the nightcap, tapping in a pass from Bobby Trivigno and sending the Minutemen to the national championship game.
Although UMass scored first (Zac Jones on the power play), Minnesota Duluth carried the play for much of the first two periods. The Bulldogs held a 26-11 shots on goal advantage and a 2-1 lead on goals from Tanner Laderoute and Cole Koepke.
Even in the third period, shots were 10-4 for UMD, but UMass began to exert more pressure. Anthony Del Gaizo scored his second goal of the season at 8:25 of the third to tie the score and set the stage for Wait's winner. UMass controlled play throughout the extra session, outshooting UMD 13-2.
The loss ends a remarkable run by Minnesota Duluth, which appeared in three straight national championship games and won it all in 2018 and '19. The Bulldogs were seeking to become just the second team to win three tournaments in a row (Michigan, 1951-53).
---
Title Game Notes
- Pittsburgh hosts a championship-game meeting of two teams seeking their first titles for the second time; in 2013 Yale beat Quinnipiac in the final.
- The winner will be the 22nd school to win a title and the first first-time champion since Providence won in 2015. The Friars capped a three-year stretch of first-time winners (2013-15).
- Both teams are making their second Frozen Four appearances.
- Both teams have won 88 games in the last four seasons, tied for fourth nationally.
Most Wins, Last Four Seasons
114 – Minnesota State
91 – Minnesota Duluth
89 – Bowling Green
88 – Massachusetts, St. Cloud State
- Both semifinals were decided by one goal for the second time in the last three NCAA Tournaments. In 2018, the championship game was also decided by one goal. Half of St. Cloud State's 20 wins have been by one goal, and its 10 one-goal wins are two more than any other team in the nation.
- The title game will feature three of the top four goal-scoring defensemen in the nation.
Most Goals, Defensemen
9 – Zac Jones, Massachusetts (NYR)
9 – Matthew Kessel, Massachusetts (STL)
8 – Ronnie Attard, Western Michigan (PHI)
7 – Nick Perbix, St. Cloud State (TBL)
- The title game could feature a matchup of two European goaltenders (Massachusetts' Filip Lindberg of Finland and St. Cloud State's David Hrenak of Slovakia). Each of the first 72 NCAA champion goaltenders has come from either the United States or Canada.
- The team with more shots on goal was 8-1 in the regionals, but 0-2 in the semifinals.
- The 2021 tournament has averaged 6.4 goals per game through the semifinals, the highest scoring tournament since 2010 (6.7).
- The 2021 tournament has featured 10 players recording multiple-goal games, twice as many as the last tournament.
- The winner will finish the season with the fewest victories of a national champion since Michigan State in 1966 (16-13-0).
- If Massachusetts (19-5-4) wins, it will finish with the fewest losses for a national champion since Maine in 1992-93 (40-1-2).
---
Frozen Four Semifinals Photo Gallery
Photos by Matt Dewkett