Wednesday, February 22, 2012
Developing Story: Jack Maclellan
---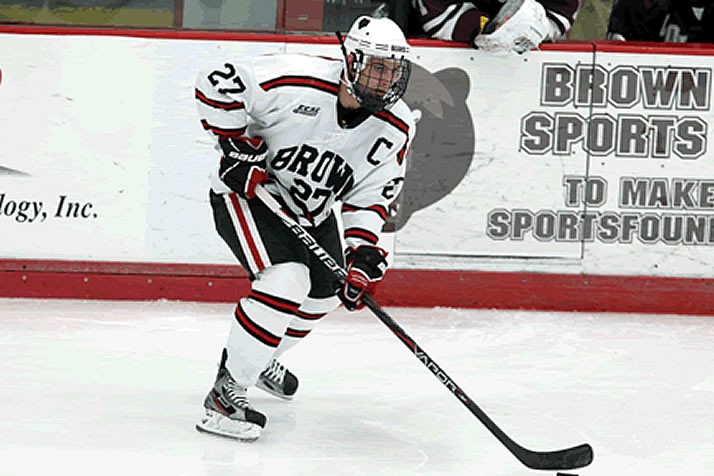 Jack Maclellan is one point shy of his third straight 30-point campaign.
In Developing Story, a regular feature on collegehockeyinc.com, we highlight current college hockey players who have developed their skills during their careers – either on the ice or off – and in turn made a bigger impact on their team's success.
Ice time is valuable, as anyone who has tried to rent 50 minutes at their local rink can attest. It's also a necessity for anyone hoping to improve their game and advance to the next level.
That's where Brown University's Meehan Auditorium has proven invaluable for senior forward Jack Maclellan.
In addition to extensive practice time, Maclellan has taken advantage of extra ice time, in particular developing his skating to help him become an elite player in ECAC Hockey and a top NHL prospect.
"At Brown we get a lot of access to ice," the Bears' captain said. "As much as we practice as a team, the ice is available other times as well, and I took advantage of that from day one. Whether it's in the morning between classes or on days off, you can get out there and work on individual skills."
Maclellan cites his skating as the most improved part of his game, although he said he has developed in all areas.
He scored two goals and totaled six points as a freshman, in his first season out of the Alberta Junior Hockey League. The speed of the college game opened his eyes and he set out to gain an extra step that he felt he had in juniors. While a player's skating stride tends to be fairly ingrained, Maclellan has improved his footspeed through sprints, plyometrics and other efforts.
That work propelled Maclellan to three straight 14-goal seasons. He's got 15 this year and his next point will be his 30th. The undrafted free agent seems poised to follow in the footsteps of former teammate Harry Zolnierczyk, who has split this season between the Philadelphia Flyers and Adirondack Phantoms.
"Harry is a really close friend, and the fact that he was going through the same thing a year ago that I hope to do really helps," Maclellan said. "I talk to him a lot and I have learned a lot about what might be ahead. It definitely makes it a lot easier."
Zolnierczyk's development took longer than Maclellan's – he didn't score his first college goal until the playoffs of his sophomore season. But hard work put Zolnierczyk in position to earn an NHL contract, and Maclellan has followed that lead.
"I've tried to take advantage of what we have here," he said. "I've had every opportunity to improve, not just my skating but every aspect of my game."