Tuesday, February 14, 2012
Developing Story: Jordie Johnston
---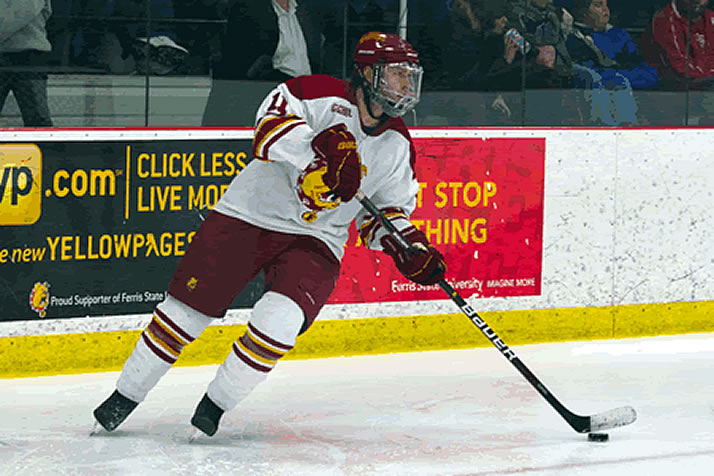 As a senior, Jordie Johnston has surpassed his first three seasons' totals in goals (16), assists (12) and points (28).
In Developing Story, a regular feature on collegehockeyinc.com, we highlight current college hockey players who have developed their skills during their careers – either on the ice or off – and in turn made a bigger impact on their team's success.
Jordie Johnston had 10 goals his first three years at Ferris State, finding himself a regular contributor, to be sure, but far from an offensive force.
Top-Ranked Bulldogs
Johnston's Ferris State team is No. 1 in the nation for the first time in the program's history. According to their top scorer, that hasn't changed the outlook in Big Rapids.
"It's nice to be acknowledged," he said, "but everybody here knows what our job is. We remember how much is ahead of us."
More on NCAA hockey's focus on player development
That's changed this season, as the senior left wing leads the top-ranked Bulldogs in goals (16) and points (28), thanks in part, he says, to some extra work with associate coach Drew Famulak.
"I spend time shooting pucks every day after practice, sometimes a handful, sometimes 50 to 100, depending on how much time I have," he said. "It's become a ritual. And I like having my coach pass to me – this sounds bad – because his passes aren't as good as my teammates'. It makes me move my feet and get off shots that are more difficult."
Famulak brushes off what many might perceive as a slight.
"We always tell him, very rarely does it come right in the wheelhouse," Famulak said. "You need to move your feet to get in position to shoot."
According to Famulak, the routine's roots lie in an unlikely place. Head coach Bob Daniels was visiting the Ferris State men's basketball team's practice in the fall, talking to the coaches about the extra shooting drills their players did. The basketball coaches felt like their players, even in practice, weren't taking enough shots. Daniels brought that philosophy to the rink.
The extra work has paid immediate dividends for Johnston. The former Saskatchewan Junior Hockey League Player of the Year averages a goal every other game for the No. 1 Bulldogs, and his first career hat trick – Jan. 6 vs. Colgate – sparked the team's current 9-0-3 run.
"Right now I think my confidence is where it should be," he said. "I am confident in my game, I know what to do on the ice, I know how I can help the team. When I take my focus off scoring goals, I find that it's coming more naturally."
Famulak contends that there's good reason Johnston's confidence is up – so is his skill level. That bodes well for the Bulldogs and the Rosetown, Saskatchewan, native, who plans to pursue pro hockey after graduation.
For now, he's focused on helping his team live up to its No. 1 ranking, and he'll keep preparing by firing less-than-perfect passes into the net after each practice.