Thursday, January 24, 2013
CHI Unveils New Stats Platform
New system offers unprecedented detail, insight and customization.
---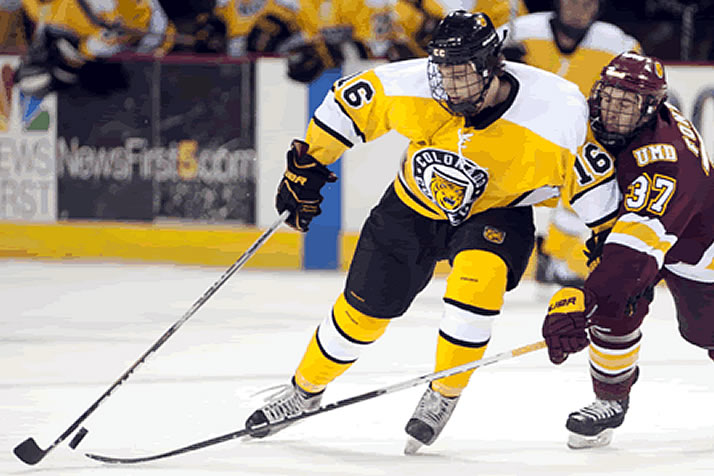 Alexander Krushelnyski shares the national lead with 15 points in the third period and overtime.
College Hockey, Inc. is proud to unveil a new national statistics platform on collegehockeyinc.com that provides unprecedented detail and insight into NCAA Division I men's hockey stats.
The new platform, designed by CHI partners Tim Danehy of collegehockeystats.net and Dan Parkhurst of SportDesigns.com, allows users to view and interact with college hockey stats in completely new ways. It adds to College Hockey, Inc.'s existing live scoring platform, which includes a mobile site, and team and individual stat pages. The new stats system mirrors in part what is available on nhl.com, but with several significant additions.
Users can sort skater, goaltender and team statistics any number of ways, from position or draft status to period, days of the week and even time in a period. Each request can be sorted by national, conference or team levels.
If you wanted, you could find the top-scoring junior defenseman on Friday nights since Thanksgiving (North Dakota's Dillon Simpson).
More relevant – and revealing – are facts like these 12, which until now have been impossible to find in one place:
Nebraska-Omaha has scored the most goals in the first minute of a period this year (6); New Hampshire has scored the most in the last minute (9).
Denver has the nation's highest scoring defense corps with 81 points, 29% more than the next closest teams.
Boston College's Steven Whitney and Colorado College's Alexander Krushelnyski lead the nation with 15 points each in the third period and overtime.
The Florida Panthers boast three of the top nine scorers who have been drafted by NHL teams, led by North Dakota's Corban Knight (33 points).
Princeton's Andrew Calof and Western Michigan's Dane Walters have each scored 7 goals to give their team the lead, tied for the most in the nation.
Minnesota's Nick Bjugstad leads the NCAA with 12 points since Christmas.
Nine freshmen goalies appearing in at least 33% of their team's minutes boast a save percentage above .920.
Bentley's Andrew Gladiuk and Quinnipiac's Jeremy Langlois lead the country in multiple-goal games with 4 each.
All five conferences are represented among the top five faceoff teams in the nation (Western Michigan, Massachusetts, Quinnipiac, Minnesota and Holy Cross).
The only player in the country with more than one overtime goal is Wisconsin's John Ramage, who has 2 that were scored on consecutive nights (Jan. 11-12).
Two goalies share the lead with 3 assists each: Mercyhurst's Max Strang and Colorado College's Josh Thorimbert.
Colgate has scored more goals than any other team in non-conference games (54).
In addition to sophisticated filters that allow users to explore stats like these, each column on the page is sortable. The leader in each category on a page is highlighted, and explanations of each category are available by hovering over the top of the column. Links for each player lead to their game-by-game statistics.
We hope you enjoy the new stats platform; please send us any feedback or reach out to us on Twitter.