Wednesday, January 9, 2013
Notebook: Save by Kevin(s)
LSSU's goaltending tandem has the Lakers on a roll, plus much more.
---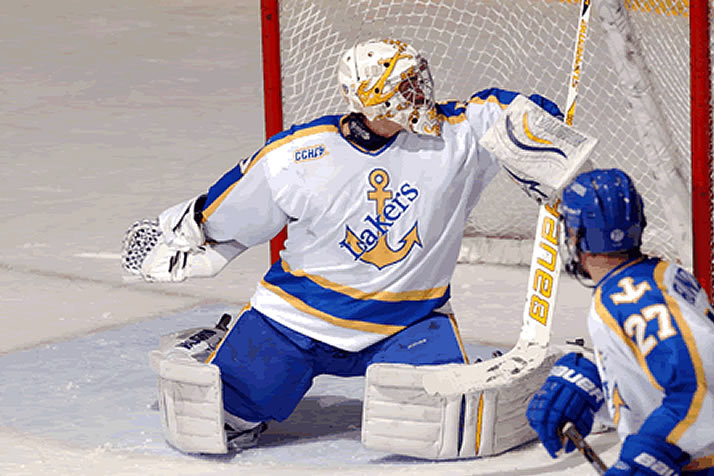 Lake Superior State's Kevin Kapalka and fellow goaltender Kevin Murdock have allowed just three goals during the Lakers' five-game winning streak.
By Nate Ewell
Note of the Week
LSSU's terrific tandem – Lake Superior State has won five in a row and allowed just three goals in those games, a credit to the Laker goaltending tandem of two juniors, Kevin Kapalka and Kevin Murdock. Beyond their class and their first names, however, the duo has quite different backgrounds. Kapalka, an Ontario native, has starred since he set foot on campus, earning CCHA All-Rookie honors in 2010-11. Murdock, from Florida, came to LSSU as a transfer after starting his college career at Minnesota State. The two have alternated starts during the winning streak headed into the Lakers' visit to Western Michigan this weekend.
Must Read/See/Hear Material
Father-son hockey reunion matches Nos. 1 vs. 2 – Star Tribune
Hockey-playing O'Regan brothers clash for first time – Boston Herald
Gostisbehere in no rush to get to NHL - Camden Courier Post
From the green to the Big Red – USCHO.com
BC's Thin Blue Line – College Hockey News
Junior Hockey Lifestyles – College or CHL? – Jr Hockey Recruit
Five More Notes No One Should Be Without
Calof scores on and off ice – Princeton head coach Bob Prier knows what to expect from junior Andrew Calof, on and off the ice. Friday Calof recorded his first career hat trick in a 3-2 overtime win against Harvard and he leads the Tigers in scoring for the third year in a row. A chemical and biological engineering major and the son of a college professor from Nepean, Ontario, Calof aims to extend his four-game point-scoring streak and build on the Tigers' 4-3-3 ECAC Hockey record with home games against Union and RPI this weekend. Then he and his teammates will turn their attention to final exams for two weeks before returning to action in late January.
Friday's game is on NBC Sports Network
Texan sharpshooter – Sophomore Cason (CASE-in) Hohmann is just 5-foot-8, but the Texan keeps coming up big for Boston University. His overtime goal Friday against RPI gave him a team-leading 18 points, 10 more than he had as a rookie. Undrafted in his first year of eligibility, Hohmann leads all NHL Draft-eligible college players in scoring.
BU's Wednesday game is on NBC Sports Network
Army's big Mac – Army-Air Force series always warrant attention, but this weekend offers a bit of a twist: the defending Atlantic Hockey-champion Falcons are chasing the Black Knights in the standings. Army has received a boost from sophomore defenseman Mac Lalor, whose 11 points have surpassed his total from all of last year. Lalor – son of Mike Lalor, who played 687 NHL games – has shown versatility as well, jumping up to forward for one game last month against Merrimack and scoring two goals.
Saturday's game is on CBS Sports Network
Pioneers right the ship – Denver, which withstood an 0-5-3 stretch prior to Christmas, has bounced back with three straight wins against Eastern visitors since the break. Sophomore Juho Olkinuora has a save percentage of .977 in those wins vs. BU and Cornell (twice) and has emerged as head coach George Gwozdecky's top option in a competitive goaltending battle with Sam Brittain and Adam Murray. The Pioneers welcome the WCHA-leading Mavericks of Nebraska-Omaha for two games this weekend.
Friday's game is on NBC Sports Network; Saturday's game is on ROOT Sports
Back from Ufa – Tuesday's game between Minnesota and Notre Dame welcomed back the first of a wave of golf medalists back to NCAA teams, as 13 players return from the U.S. National Junior Team this week. The third USA Hockey team to win the World Junior Championship included assistant coaches Mark Osiecki, who returns to lead Ohio State against Ferris State this weekend, as well as Minnesota assistant coach Grant Potulny and Denver assistant coach David Lassonde.