Thursday, January 17, 2013
UAH to Join WCHA
WCHA admits Chargers as the conference's 10th member, starting in 2013-14.
---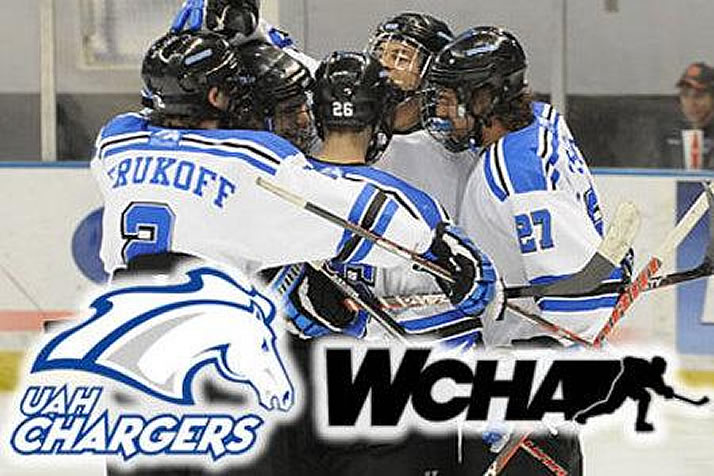 The WCHA men's membership voted Thursday to admit the University of Alabama in Huntsville (UAH) as a full-time men's conference member. The vote of approval was taken after UAH submitted an application for membership and made a formal presentation to a WCHA group of member-team Presidents and Athletic Directors at a meeting held in conjunction with the NCAA Convention in Dallas, Texas.
The addition of University of Alabama in Huntsville into the WCHA will bring future men's league membership to 10 teams. Their membership will be effective as soon as 2013-14.
WCHA men's membership in 2013-14 currently consists of Alaska Anchorage, Alaska, Bemidji State, Bowling Green, Ferris State, Lake Superior State, Michigan Tech, Minnesota State and Northern Michigan .
In issuing a joint statement on behalf of the Association, Dr. Richard Davenport, President of Minnesota State University, Mankato and Chair of the WCHA President's Group, and Bruce McLeod, Commissioner of the WCHA, said "The WCHA is delighted to have reached in principle an agreement to officially welcome University of Alabama in Huntsville into the Association family as a full-time men's member. This is a significant day for the Chargers, the community of Huntsville, the conference itself, and college hockey in general. Growing the game and assisting developing programs however possible has always been a charge of the WCHA and this is another positive evolution in our history.
"Each of our member institutions are 100% committed to keeping the WCHA among the premier conferences in all of collegiate athletics and our respective ice hockey programs both strong and vibrant. The University of Alabama in Huntsville is a dynamic, top-quality institution with an excellent academic and athletic reputation and without question the Chargers are going to be a great fit and a successful, contributing member.
"Just as the entire UAH campus and the Huntsville community are exhilarated to now have a welcoming home for their men's hockey program, the WCHA is also extremely proud and gratified to be providing that home."
Said Alabama-Huntsville President Robert Altenkirch, "We're pleased that our ice hockey team is going to have the opportunity to compete and grow in a NCAA Division 1 conference. We believe that our affiliation with the Western Collegiate Hockey Association will be a tremendous boost to our recruiting, scheduling and our ability to be competitive on the ice.
"We want to thank the WCHA and its member institutions for their confidence in allowing us to be a part of their conference. Their affirmative vote will invigorate our ability to maintain our great hockey tradition."
UAH Director of Athletics Dr. E.J. Brophy said, "All athletic programs experience special defining moments, and our hockey program's acceptance today into the Western Collegiate Hockey Association is certainly one of those moments. The WCHA is a preeminent hockey conference in America, and I know that our student-athletes, coaches, fans, friends, alums and the people of Huntsville are ecstatic and proud of this giant step for our ice hockey program.
"The last time we were in a conference, we won the conference tournament and advanced to the NCAA tournament, which will be our immediate and ambitious goal when we begin play in the WCHA. It is a banner day for the Chargers."
The men's Western Collegiate Hockey Association, home to a record 37 national championships teams since it's founding in 1951, has been operating as a 12-team conference for the 2011-12 and 2012-13 seasons. Current members are University of Alaska Anchorage, Bemidji State University, Colorado College, University of Denver, Michigan Technological University, University of Minnesota, University of Minnesota Duluth, Minnesota State University, University of Nebraska Omaha, University of North Dakota, St. Cloud State University and University of Wisconsin.
On March 21, 2011, the Big Ten Conference announced the formation of a new Division 1 men's college hockey league that would include current WCHA-members Minnesota and Wisconsin and begin play in 2013-14. On July 13, 2012, Colorado College, Denver, Minnesota Duluth, Nebraska Omaha and North Dakota announced they would be leaving the WCHA following the 2012-13 season to form another new league, known as the National Collegiate Hockey Conference, which also begins play in 2013-14. Then on Sept. 22, 2011, St. Cloud State announced they were leaving the WCHA for the NCHC.