Thursday, October 24, 2013
Hockey Maintains Strong Grad Rate
Men's hockey among top five NCAA men's sports in Graduation Success Rate.
---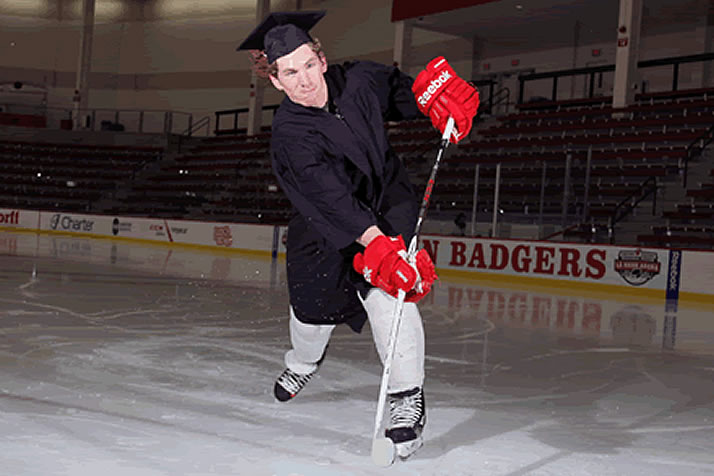 The NCAA's annual Graduation Success Rate (GSR) study, released Thursday, shows Division I men's hockey student-athletes who entered in 2006 graduating from school at an 86.8% rate, significantly higher than the average of other sports and the overall student population.
Only four men's sports - fencing, gymnastics, lacrosse and skiing - had better four-year GSR scores than hockey (85%) for the classes entering in 2003 through '06. The average of all men's sports in Division I was 75%, while the average for men's and women's Division I sports was 81%.
NCAA.org: Division I student-athletes make the grade | NCAA Hockey and Education
"The NCAA's report confirms the success our student-athletes enjoy in the classroom as well as on the ice," College Hockey Inc. Executive Director Mike Snee said. "These young men are able to pursue their hockey dreams while getting a world-class education. It's a testament to them, as well as our schools and coaches, that the vast majority will leave school with a degree."
INFOGRAPHIC: College hockey's Graduation Success Rate
Fourteen Division I programs earned a perfect 100% score in the GSR for the class that entered school in 2006. They are: Air Force, Bowling Green, Brown, Canisius, Colgate, Harvard, Holy Cross, Michigan, Notre Dame, Princeton, Rensselaer, Sacred Heart, St. Lawrence and Union.
The NCAA's GSR measures the percentage of enrollees who graduate from an institution within six years, with allowances for transfers into and out of an institution. Student-athletes who leave an institution while in good academic standing before exhausting athletics eligibility are removed from the calculation.
Many of those who leave school to pursue NHL careers complete their degree through online classes or classes in the offseason. Columbus Blue Jacket Jack Johnson, who spent two seasons at Michigan, is one.
"I can't play hockey forever, unfortunately," Johnson told AnnArbor.com in 2010. "I will have the second half of my life ahead of me, and I want that degree."
Vancouver Canucks defenseman Kevin Bieksa studied finance at Bowling Green while becoming an NHL prospect.
"I wanted a fall-back plan," he said. "I didn't want to put all my eggs in one basket, so I thought I'd go to school and get an education. If I could make the NHL out of college, great, and if not, I had a degree."
Bieksa and Johnson are part of a growing number of former NCAA players in the NHL, currently comprising 30% of all NHL rosters. That's up from 21% just 10 years ago. What's more, most of those players have earned or are very close to earning their degree: 70% of NHLers who played college hockey spent at least three years on campus.
For more on the NCAA GSR, visit ncaa.org.