Thursday, January 23, 2014
Developing Story: Brant Harris
Saskatchewan native has grown into power forward role to lead UConn.
---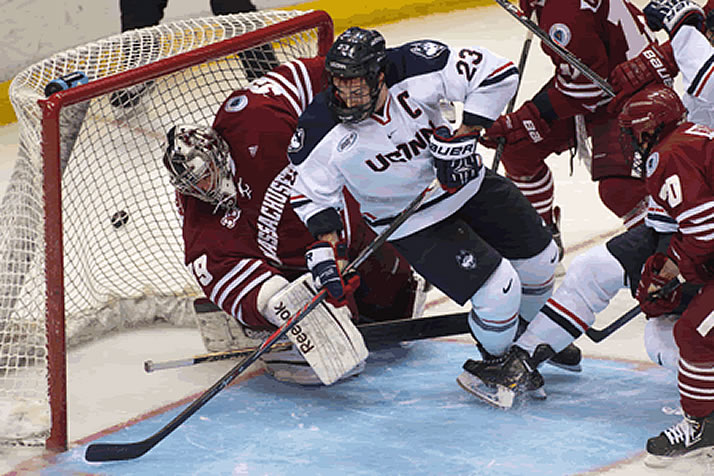 Crashing the net is a key part of UConn senior Brant Harris's game (Photo by Steve Slade).
By Nate Ewell
In Developing Story, a regular feature on collegehockeyinc.com, we highlight current college hockey players who have developed their skills during their careers – either on the ice or off – and in turn made a bigger impact on their team's success.
Brant Harris (Estevan, Sask./Melfort-SJHL) came to Connecticut four years ago having shown offensive ability in the SJHL, but undrafted and without an athletic scholarship – the Huskies, at the time, didn't offer them. A few months from now he's a candidate to leave school with an NHL free agent contract in hand.
NCAA Player Development | Brant Harris Player Page
In the course of four years on campus Harris has improved his two-way play, gained strength, and fulfilled the role of a power forward befitting his 6-foot-1 frame.
"Personally I realized that I was not strong enough," Harris said of his evolution since freshman year. "I have learned to use my body a lot more effectively and gotten a lot stronger."
Harris, who scored 33 goals the last two seasons, missed the start of this year with an injury. Nevertheless he ranks third on the Huskies in scoring, averaging nearly a point per game, and has scored eight goals.
After a recent two-goal effort against Robert Morris, head coach Mike Cavanaugh talked about Harris's evolution into a true power forward, going hard to the net and creating space for himself in front of the crease. His goals that night epitomized that – a deflection from the slot and a finish of a drive to the net on a two-on-one.
Strength powers Harris
Added strength has helped Harris play that style.
"It's a short year, in a way, compared to other levels of hockey, with gaps during the week between games," he said. "That makes it easy to maintain and build strength. It's huge to have that time as opposed to playing games and traveling like in junior hockey."
Harris and his fellow seniors have had an interesting four years, particularly the last two – Cavanaugh is their third head coach in that time. Harris's classmate, Billy Latta (West Chester, Pa./Chicago-USHL) – who himself has emerged as a dangerous offensive threat and the team's leading scorer – said that each coach has contributed to the team's development.
"We've had a lot of twists and turns, but you only have four years and you better make the most of every opportunity," Latta said. "Each of our coaches – Coach [Bruce] Marshall, Coach [David] Berard, now Coach Cavanaugh and all of the assistants – have helped teach us along the way."
Chasing a title
Now Latta, Harris and the rest of the seniors have UConn in pursuit of an Atlantic Hockey championship after making a long run in the Atlantic Hockey tournament last season. Their class holds down the team's top three scoring positions, and features starting goaltender Matt Grogan (Gilbert, Ariz./Bismarck-NAHL).
"To win a championship, the hardest thing to do is believing that you can win it," Cavanaugh said. "Thanks to the run they made last year, they believe it. Half the battle is over."
Next year will be a new era for the Huskies, competing in Hockey East – and Harris will be taking his next step in pursuit of the NHL dream. Before then, Cavanaugh and his new charges, led by their blossoming power forward, will try to capture an Atlantic Hockey crown.