Tuesday, January 21, 2014
Dryden Recalls Cornell Career
The legendary Ken Dryden joined 'Hockey On Campus' this weekend to reflect on his NCAA career.
---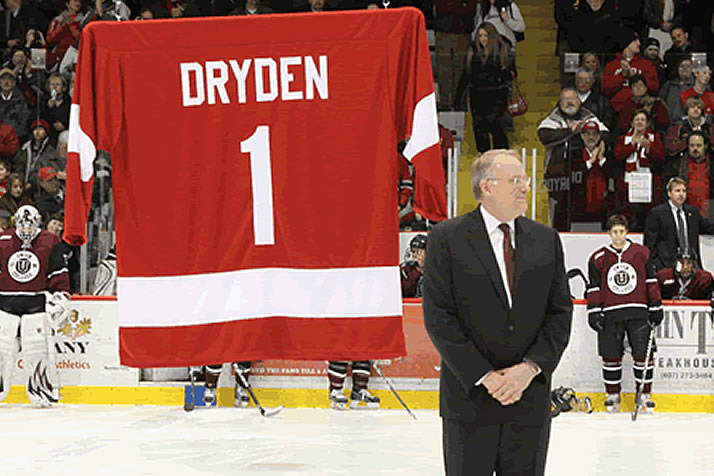 Ken Dryden's No. 1 was retired at Lynah Rink on Feb. 26, 2010.
Cornell legend Ken Dryden, one of the greatest players in NCAA hockey history, joined host Bernie Corbett this weekend on "Hockey On Campus" to discuss his path to the NHL and more.
Full Interview: Ken Dryden (.mp3)
Dryden, who went from Cornell to the Montreal Canadiens and a Hockey Hall of Fame career in the NHL, is described by Corbett as "a true renaissance man," earning noteworthy success as an author, lawyer, politician and businessman beyond the ice.
"It was just absolutely great," Dryden told Corbett of his Cornell experience. "I had come from playing Junior B hockey in the Toronto area in front of 150 people. To walk into Lynah Rink and 4,000 people sounding like 24,000, it was fantastic.
"We all do our best when we are doing something that seems to matter, and matter to the people around us. Hockey at Cornell mattered."
Hockey on Campus on College Hockey News | Subscribe on iTunes
Hockey On Campus airs each Saturday (9 a.m. ET) and Sunday (10 a.m. ET) morning on NHL Network Radio on SiriusXM radio.