Friday, January 24, 2014
Five Great All-Access Shows
As NCAA teams embrace 24/7-style shows, fans and recruits get a whole new perspective
---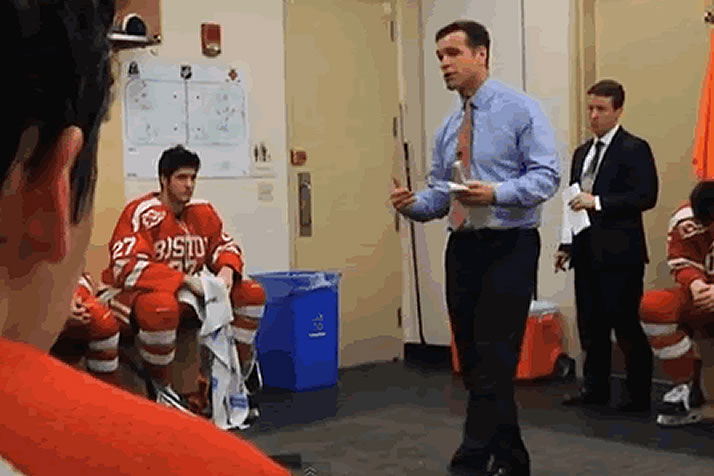 David Quinn welcomes cameras into the BU dressing room for The Season.
By Nate Ewell
One of the best recent developments in the coverage of hockey is the rise of all-access shows like HBO's 24/7 and NHL Revealed that take viewers inside the dressing rooms and on the benches. As we wrote in March 2012, those shows have spread to college hockey as well, with more and more NCAA programs embracing the concept.
These shows give fans a closer look at their favorite teams and show potential players a side of each program that they might not otherwise see. Many offer cinematography that is second-to-none, and wireless mics let you hear all of the action.
We're fans of any and all of these programs, but here are five - in no particular order - that have stood out to us lately:
North Dakota: Through These Doors
The pioneer among NCAA all-access shows, Through These Doors appears weekly on undsports.com.
This episode: See a day in the life of senior captain Dillon Simpson as he and UND take on Northern Michigan.
Best scene: The team chatter at breakfast, particularly over the Canadians vs. Americans game earlier in the week.
Boston University: The Season
Now on its third episode, The Season has provided a great look at David Quinn's first year behind the Terrier bench.
This episode: Follow BU to Madison Square Garden for Red Hot Hockey vs. Cornell.
Best scene: The Terriers lead a clinic in Harlem and they seem to enjoy it as much or more than the kids.
Michigan State: Spartan Hockey All-Access
All-Access has introduced viewers to every corner of the Michigan State program.
This episode: Follow coaches, players and staff as they prepare for and play against Penn State in a home series.
Best scene: Head coach Tom Anastos and freshman Villiam Haag debate hanging a Swedish flag at Munn Ice Arena.
Western Michigan: Skating with the Broncos
In just the first of three parts, Skating with the Broncos promises a great look at WMU's Great Lakes Invitational title.
This episode: The Broncos travel to Detroit and get their first look at Comerica Park.
Best scene: Shane Berschbach wears a mic and a GoPro camera for practice the day before the tournament.
Minnesota: Pride on Ice
Now on the second episode, the best may be yet to come with the recap of the outdoor Hockey City Classic coming up.
This episode: The Gophers start the season strong and earn the No. 1 national ranking.
Best scene: Assistant coach Mike Guentzel offers coaching tips - and plenty of other commentary - while mic'd up in practice.
Worth noting: Penn State (Hockey Valley, BTN) and Notre Dame (Shipping Up to Boston, NBCSN) have also produced outstanding behind-the-scenes programming that has been shown on broadcast TV.
What all-access shows is our list missing? Let us know on twitter @collegehockey.